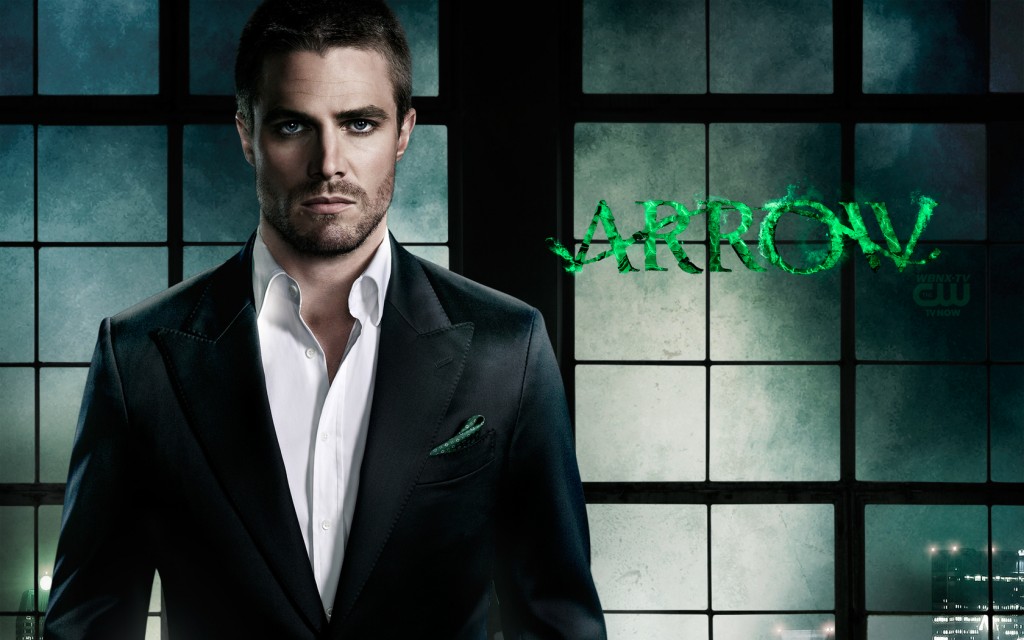 It's clear that after two seasons, that Arrow has secured serious fanboy cred, and is probably THE superhero/comic book TV show. Not only does it have a panel tonight (Friday), but it's a part of the WB TV 3 hour sploosh fest tomorrow night at Hall H.
I wonder how many push ups Stephen Amell will do for us.
And we're on: Arrow is CW's most watched show for past two years, which is a dubious distinction, but a distinction nonetheless.
Damian Holbrook of WB promises that we'll be more excited and informed about season 3 after this panel.
Special sneak peak is happening! We see Oliver going on a DATE with Felicity, and then her bruised/bloodied/definitely not dead. Diggle's pissed. Lance is alive. Laurel and Ollie are business partners. Amanda Waller is Ollie's captor. Roy has a new leather outfit. We meet Ray Palmer (Brandon Routh). He of course tells someone that they have failed this city.
Here's the clip, with an added reveal of Season 3's Big Bad, Ra's al Ghul:
So we got Paul Blackthorne, John Barrowman, Willa Holland, Stephen Amell, Colton Haynes, David Ramsey, Greg Berlanti, Andrew Kreisberg and Marc Guggenheim. No Emily Bett Rickards…who's filming/breaking hearts.
Kreisberg was terrified to write season 2, the hardest thing he had to write. Didn't know how to top the first season, and didn't wanto to fizzle out.
Always planning for John Barrowman to be a regular in season 3. He's used to disappearing and coming back as Captain Jack, of course.
Season 3 is already mapped out. Marc Guggenheim shows the cork boards on his phone. "Shower scene" is joked about, and Amell/Barrowman high five.
Thought the most shocking thing to do with season 2 would be a happy ending after the first season.
In Season 3, Ollie is completely embracing hero side. Amell is a champion for the show as much as Ollie is for Starling City. Made promise that the show wasn't going to suck, and aimed to keep it. "That's what drives us every day." Amell is a more soft spoken gent than I'd have guessed.
Willa and Colton's  first scene was their kissing scene. Directed to make it more "mouth to mouth."
New Thea in season 3 completely:"I've been hitting the gym a little bit…that's all I can say." Speedy is coming, folks.
"Daddy Diggle" is the best thing I've heard today. Ramsey: "Does he stay with the team…or is he leaving?" Tensions heightening, stakes raised for character going forward.
John Barrowman has yet to read his scripts for what's coming. Planning to read them in his hotel room tonight. "Can't wait." Clearly a huge fan and gets thrills from doing it.
Blackthorne is on the panel and he's British, and has survived the finale. "This man has had the craziest police career." Troof. He's apparently the Captain in season 3. Compared to Jim Gordon. Will he be visiting the CSI's in Central City? See below.
Episode 108 of Flash and 208 of Arrow will be a crossover event. "We'll be seeing people from both shows crossing over." Things that happen in Central City and Starling City will affect each other.
Who would they like to work on with Flash? Amell responds Jesse L. Martin…and not Robbie Amell hilariously. "I want to do a sandwich scene with both of them." -Barrowman.
Felicity shows up in Central City in Flash 1×04.
Wanted to make big additions in season 3. Wanted to bring Ted Kord on the show, but apparently they have plans for him. Interesting. Got Superman instead, and apparently he has a hankering for Felicity. Insert love triangle here.
Felicity and Oliver's first date: they go for Italian. "Weren't trying to" fuck with people with the confessions and gonna address it. Apparently the date goes horribly (she probably ends up battered this night, because that's how it works), however.
"It's really cool to have the second nicest suit on the show now," Amell jokes, in regards to Roy's new red duds.
Merlyn is gonna want to see how much he can control Thea. Going to go for the emotional side, or at least that's what Barrowman thinks.
Emily apparently provides the best Arrow voice impression.
Safe to say no Island this year, but we haven't seen the last of it (because the show opens with Ollie on the island). Didn't want to do this again: "Oh a new set of bad guys showed up on the island, how fortunate for our storytelling." New opportunity to put in new characters, or play with characters we've seen.
Colin Donnell will appear in 3×02 as Tommy in some sort of flashback.
Will meet Katana this year.
Thea's cover story for her disappearance is backpacking in Europe.
Apparently gonna be "worth the wait" when Roy and Thea see each other again. Yawn. Thea gets a haircut.
Diggle jokes that if he leaves Team Arrow, he'd go to the Suicide Squad. Diggle's "heart is here," and just as "invested as Oliver is."
The secret identity stuff is the least interesting to them. Much more interesting when people know and have conversations about them. Agreed, though it's still hilariously campy.
Apparently we'll all be excited to see Laurel's journey this season. Doubtful.
Unlikely pairings gonna happen? Always looking to put unique pairings together.
Favorite scenes of their compatriots? Blackthorne: I always fast forward when Barrowman's on. Barrowman: Selfish with the railway scene when he's shot. Holland: early season 1 scene with a Kardashian reference. Amell: last scene between Thea/Roy. Haynes: Upcoming scene in season 3, where Diggle gets pissed at Oliver that we saw in the trailer. Kreisberg: Everyone in the infamous Moira death episode.
Everyone misses Susanna, but thought it was her time to go.
Who are superheroes you'd like to see get shows, or appear on Arrow? DC Comics has been very supportive, work with Geoff Johns on Flash. Bringing Robbie Amell/Firestorm onboard. Happy with the characters we're getting.
Stephen is asked to recite the intro. Impressive. He's also pitting out, which makes me feel better about myself.
There's a not-so-straight-Arrow joke following a Diggle/Ollie on deserted island, and it kills.
When asked if he can shoot an arrow that well? Amell isn't modest: I'm really good. Of course I would win, in a contest with Katniss and Hawkeye. He can run up a wall and shoot an arrow in his target. So Arrow is real, folks.
We will see some Felicity flashbacks from her time at MIT. Know her backstory and her father. It's not Anthony Ivo, which apparently was a rumor. The title of Felicity flashback episode is called ORACLE.
Everyone on the show is nerds/fans, and cue thanking the fans, because it's a fan-driven show. Drink.