SPOILERS ahead for Game of Thrones.
Games of Thrones is a show largely about the terrible things that men do to one another. Throughout its five years on the air, the show, like the books upon which it is based, has repeatedly shown us all manners of death and rape and horror. At its best, the series has played on our built-in conditioning that comes from lifetimes of devouring fiction in its various media, subverting our expectations that the good guys eventually win, or that good guys can even exist for long. Disappointment and agony are arguably linked to the very core of this series.
Which is why I've been finding it difficult over the past 12+ hours, or even going back a few weeks to the S5E6 Sansa rape, to explain why I'm so disgusted and put off by two of Season 5's big developments: the rape of Sansa Stark and the burning alive of Shireen Baratheon. Rape has been a frequent player in the show, and spousal rape was featured prominently as early as the pilot, with Drogo raping Daenerys (and the fact that she then fell in love with her rapist is also a troubling treatment of the subject). Murder is nearly omnipresent, including that of children and innocents; Season 2 opened with Joffrey's extermination of all his dead father's bastard children, including babies literally snatched from their mothers' breasts. All of that was horrific and unpleasant to watch — but we moved on. So why am I having such a hard time now?
I think the single biggest factor is sheer fatigue. The series has gone to the well of horror so many times that by any reasonable standard, it should be drying up by now. I've paid attention, and have no expectation of a happy ending. But at some point, this is ceasing to be an edgy and subversive structure, and more just a parade of terrible tragedies. The lesson we all learned from Ned Stark's death in Season 1, and again with the Red Wedding in Season 3, has already been made abundantly clear. This isn't a traditional hero's journey, and most of the characters will, at best, occupy shades of gray, if not be outright monsters. We all get it already. The more this series keeps hammering home the same point, over and over, the less interesting it becomes. The subversion factor is gone. The series is too big, and its nihilism too prevalent; Game of Thrones is now a monolith unto itself, and as such, it's parade of horrors has nothing to subvert.
It certainly has ceased to be surprising. Ned dying was genuinely shocking. The Red Wedding perhaps shouldn't have been in retrospect, but it still was. But when the default of the series is to go automatically for the worst possible outcome, we become conditioned to it. It's been five years; we've adjusted to the formula. As dismayed as I was about what happened to Shireen last night, I certainly wasn't surprised. It had been telegraphed for weeks, if not years. I still held out hope til the end that it would be averted, but that was out of sheer desperation, a hope without real hope. This show signals its moves by the mere act of building a character up. Ser Barristan fondly remembers bygone days with a dearly departed prince, and then gets gutted in an alley. Sansa is ready to take affirmative action to have actual agency in avenging her family, and then gets repeatedly raped and abused and locked in a tower. Shireen gets a healthy dose of fatherly love early this season, just so the show could crudely make it all the more painful to watch its abandonment. Even going back to the Red Wedding, there was the show's creation of Talisa Stark, a TV departure from the utterly bland Jeyne Westerling of the books. Before the episode "The Rains of Castamere," book fans speculated online about a so-called Honeypot Theory, in which Talisa would turn out to have been working with the Lannisters all along to lead Robb to his doom. It could have been quite the surprise, if done right. But the reality was much simpler. Show creators David Benioff and D.B. Weiss weren't going for some grand twist. They just wanted to turn the knife a little harder in the Red Wedding by adding a likable wife and an unborn child to the body count.
And we've reached the point where it feels like that's all the show has to offer anymore. It can build characters up, quite well in fact, and make it hurt even worse when it kills them. And in doing so, it will add nothing. It will teach no new lesson about this world. It will subvert nothing, because there's nothing left to tear down in this creation. It will just drag itself from one horror to the next, and mix in some impressive action scenes to try to make you forget how terrible it is what you're watching.
So let's take a moment and remember. In just the second half of this season, we've seen a teenage girl be forced to marry a monster, then brutally raped as the camera work does its best to place our sympathies with Theon, as if witnessing the brutality compares to the victim's pain. And the context was crucial there. Sansa's entire Season 5 arc up to episode 6 had revolved around her no longer being a "bystander to tragedy"; the show was intentionally giving us hope that she was on the verge of acquiring real power and taking an active role in righting wrongs. Then it tore her back down in the worst way possible, stripping her of any semblence of agency and using her rape as a mere prop to reinforce the evil of a character whom we already hated plenty enough.
Then last night, we watched an intelligent, charismatic little girl dote upon everyone around her with love, then shriek in fear and pain and she's led to be burned alive. While there has been a fair amount of well-earned criticism of Shireen's fate, I've been amazed by the number of defenders it also has. I think perhaps the show has made us so desensitized to its tragedies that not everyone fully processes what they're seeing. This was a child, screaming in terror for her father as he watched impassionately and murdered her in the pursuit of selfish gains. This was taking one of the only innocent characters on a show that delights in its moral grayness and condemning her to a fearful and agonizing death, without her ever even understanding why her love and loyalty is being repaid with such unswerving hatred and selfishness. This was killing a mockingbird, and making the audience listen to its cries.
And look, I get that this is all fiction. Shireen's actress, Kerry Ingram, is still alive, and if there's any better justice in real life than in Game of Thrones, has a wonderful career ahead of her, befitting her impressive young talent. Sansa's actress, Sophie Turner, was even oddly chipper about that rape scene. Life moves on, and such. But if we're going to celebrate the high points in such fiction, then its low points likewise deserve to be called out for what they are. And Game of Thrones has reached a point where it is no longer good fiction.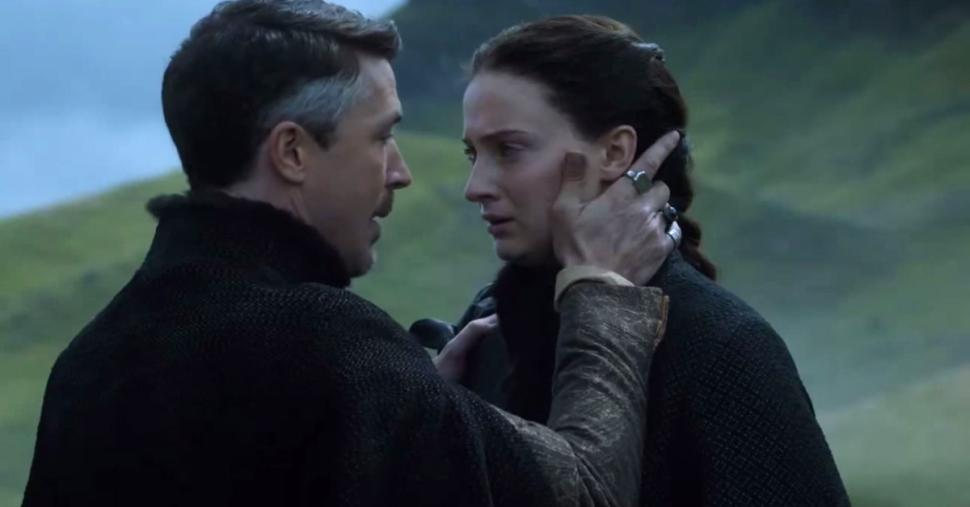 It is a show that relies too heavily on shock value, seemingly unaware that it has largely lost the ability to surprise via horror. (As a book reader, I know the main event that will occur in next week's finale, but even if I didn't, I can't imagine it would surprise me much just from having paid attention to the show's reliable pattern.) It is a show obsessed with building up its villains to the point where they're closer to caricatures. We already hated Ramsey without him raping Sansa, but the show doesn't know where to stop as it tries to make us reach peak hate levels before presumably killing him. We remembered Ser Meryn's abuses in King's Landing, but the show decided to make him a pedophile too, as if desperately reminding us that we're supposed to hate him (we know!) via a terrified girl prostitute so that his obviously inevitable showdown with Arya will theoretically be slightly sweeter. And it wanted to hammer home that this is a cruel and injust world by murdering a terrified child, but we knew that, too. We knew all of it. And heaping more injustices upon the pile doesn't make the rare bits of sunshine sweeter if you can only focus on all the darkness you had to muck through to get there.
It just blows my mind that slightly less than a month ago, I wrote these halfway point power rankings, declaring Game of Thrones the "best show on earth" in passing, as if that statement didn't even need argument. And to me, it didn't; I have LOVED this series. At that point, it still seemed as if we might be building to something better, with the show using its increasing divergence from the books to build a new way — as Dany would later put it, to break the wheel. It seems impossible that it could squander so much good will in such a short amount of time, yet here we are. The show's passing of the books no longer feels like a possible blessing, as it can't seem to present its atrocities in a digestible form without George R.R. Martin's words as a guide. And this is not to let Martin completely off the hook. His books are filled with even more horrors, and according to Weiss and Benioff, his series has its own version of Shireen's death in its future (though it doesn't really make sense, for where things are at in the books, that it could happen in as awful of a way with Stannis' direct involvement). And yet, for his faults, which themselves warrant further consideration, Martin has usually managed to make suffering a means to an end, rather than the show's increasing use of suffering as an end unto itself.
So now, GoT's title of best show on earth passes perhaps to Orphan Black, or maybe Daredevil or even Community again. And as for Thrones itself, I honestly don't know where we go from here. After Sansa's rape at the end of episode 6, I couldn't enjoy episode 7 at all with that horrible taste still in my mouth, but then the impressive ice battle at the end of episode 8's "Hardhomme" won me back over again. But Shireen's murder left me cold again. Episode 9 ended with an incredible piece of drama as the Sons of the Harpy were unveiled, Drogon showed up in a deus ex machina, and Dany finally rode a dragon (albeit with surprisingly mediocre special effects). That was a scene that should have blown me away, and yet I genuinely was entirely numb to it after the events earlier in the episode. It had no effect on me. If anything, I think about the ending of "Hardhomme" now, and root for the White Walkers to just go ahead and wipe out everyone.
Now, we're on the verge of the season finale, with at least a couple other scenes that I know should blow me away, and I cannot muster the slightest enthusiasm for it. Right now, I don't even care if I watch the finale, or this show. I suppose I could follow Weiss and Benioff's lead here and make a dramatic and needless statement that I'm quitting Game of Thrones, but I really don't know yet if that's true. The finale is still six days away, and I may yet calm down and want to see it, or more likely, remain ambivalent but watch out of sheer curiosity and habit. Even if not, the next season is still a full 10 months away, plenty of time for this opinion to cool down and my excitement to possibly rekindle.
But in any event, I want to memorialize what I'm feeling about Game of Thrones now, using the immortal words of one of Shakespeare's best soliloquies, the "Tomorrow and tomorrow and tomorrow" from Macbeth. As the titular Macbeth nears his end, he accepts the futility of all life's endeavors, recognizing the inevitability that it will all be torn down and forgotten. All these struggles feel hollow, empty, and meaningless.
Life's but a walking shadow, a poor player
That struts and frets his hour upon the stage
And then is heard no more. It is a tale
Told by an idiot, full of sound and fury
Signifying nothing.
That is what Game of Thrones is becoming: a poor player itself, fretting upon its parade of horrors while it uses women as props in its bleak violence, then furiously trying to distract us with sound and fury and dragons. And what we're really being left with, is nothing.