Somewhere out there in the multiverse is a timeline where Community never got made. There's a timeline where it only ever got made in a sterilized, more traditional fashion, and every year was a gas leak year. There are surely several timelines for it getting canceled at various points in time — after early seasons, or during seasons. There might even be a timeline in which the show is a massive commercial success, killing it in the ratings and running for 10 years without anyone ever needing to stop and consider what a fucking miracle this show has been. But we, happily, live in the brightest timeline of all.
We live in the timeline where Community struggled for every scrap of existence it has ever had. We live in the timeline of constantly low ratings and nervous cancellation watches. We live in the timeline where the show got bumped at the last second to a midseason replacement option, forcing it to air a Halloween episode in February. We live in the reality where the show's creator had very public feuds with the show's most famous cast member and got fired. We live in the reality where fans held their breath through a gas leak that stole a year of greatness. We live where that creator was stunningly re-hired for a season, only to see the show canceled. We live where an online streaming service that no one knew existed gave the show a final gasp of life.
We live in the timeline where cast members left us, one by one. We live with their replacements who did such admirable jobs. We live with the tragedy of departures and the thrilling victories of the episodes that triumphed over them. We live in the world where Community lasted for six tumultuous but inspiring seasons and managed to somehow leave us wanting more.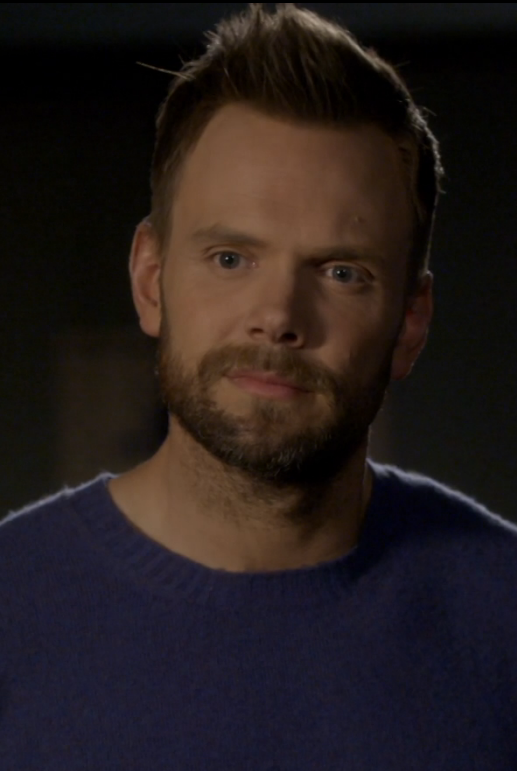 Yahoo! Screen released the 13th episode of Season 6 today, concluding the season and, almost definitely, the series itself. The online views haven't been released during the season, but from creator Dan Harmon's public comments, they've supposedly been surprisingly good — his voiceover in the finale indicated tens of millions of views, and even if that's an overstatement, it may indicate a stunning turnaround in viewership for a show that peaked in viewers with the series' pilot way back in 2009 (7.89 million, according to Nielson) and fell steadily from there. Given the need for Yahoo! Screen to get any viewers it can in order to take off as a competitor in a noisy marketplace of original content offerors, one could imagine an interest on its part in a Season 7.
And yet this feels like we've reached the final ending. The Season 6 finale, appropriately titled "Emotional Consequences of Broadcast Television," was the fourth straight Community season finale to at least partially double as a potential series finale — but it was also the best one, with the strongest sense of a real finale. The episode's central conceit revolved around the various characters' ideas for a "Season 7" in their shared lives, with ideas ranging from environmental activism to bringing back Shirley (a VERY welcome cameo by the wonderful Yvette Nicole Brown) and even adding a third black character (gasp!). But it was the way the show mocked even the most sensible contrivance (making the characters all become teachers at the community college) that showed the mindset of the series. This is a group that's done their part and is ready to move on.
So allow me to give a well-earned kudos to the probably final installment of that run and praise the surprisingly wonderful Season 6. When I watched the season's first two episodes, which Yahoo! released on the same day, I wasn't sold. They certainly had their moments, but the humor wasn't top-notch, and I couldn't help feeling like maybe the show was starting to wear thin. But against all odds, things turned around. The new group found its rhythm, and things started to pick up. The episodes became funnier. The chemistry became stronger. The show managed to make me forget about who wasn't there and just enjoy how delightfully committed everyone was who was still around.
With three members of the original cast gone, Community added two new series regulars. Keith David played Elroy Patashnik, formerly a 1980s technology wiz who reluctantly becomes the Greendale IT expert — a role he's not really qualified for, except, of course, at Greendale. Paget Brewster came on as Frankie Dart, the somewhat uptight specialist who tries to save Greendale, and basically ends up doing all the Dean's real work. Both additions eventually gelled despite some early uneasiness. Brewster, in particular, hit her stride as a superb straight (wo)man in a lot of bits; I was also happy to see her prominently in another show I love after fond memories of her excellent part in Andy Richter Controls the Universe, another underappreciated sitcom whose lifespan was far shorter.
The second half of Season 6 often reached near the levels of the show's first three seasons, including an all-timer for the series (episode 8, "Intro to Recycled Cinema"), the first paintball episode since Season 2 (episode 11, "Modern Espionage"), and a great mockery of the study group's self-image as the cool kids (episode 12, "Wedding Videography"). There were, of course, a couple duds or mild disappointments along the way, but such is life, and, perhaps more importantly, such is TV.
Abed summed it up best in making the speech about television that was the greatest moment in today's emotional finale:
"There is skill to it. More importantly, it has to be joyful, effortless, fun. TV defeats its own purpose when it's pushing an agenda, or trying to defeat other TV, or being proud or ashamed of itself for existing. It's TV. It's comfort. It's a friend you've known so well, and for so long, you just let it be with you. And it needs to be okay for it to have a bad day, or phone in a day. And it needs to be okay for it to get on a boat with Levar Burton and never come back. Because eventually, it all will."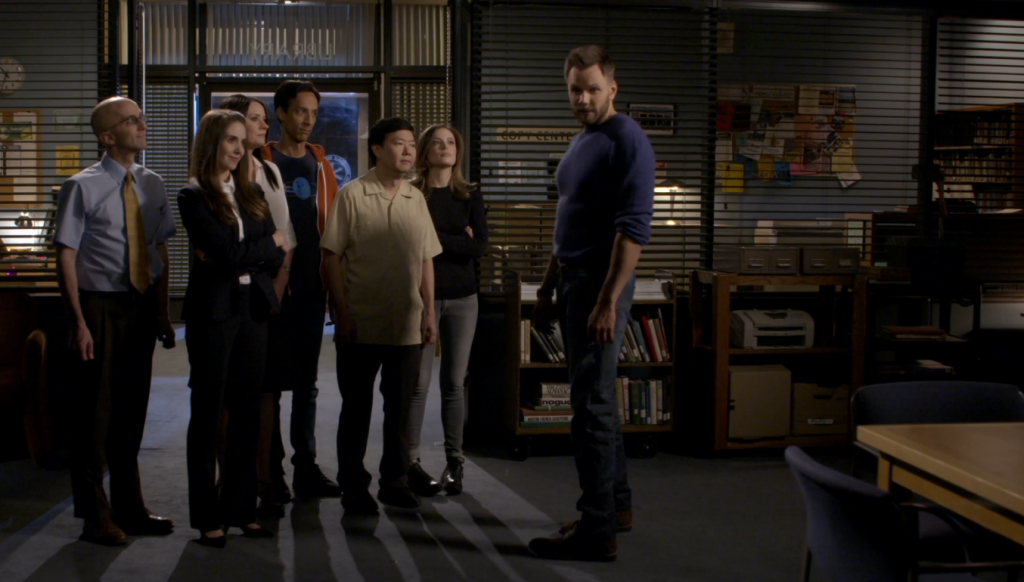 Community had bad days. It had days where it seemed to phone it in. Donald Glover got restless, so Troy left on a boat with Levar Burton and never returned. But all along, it was pushing that manifesto in Abed's speech. Entertainment can be such a tricky and challenging thing, with all the money and attention at stake, and god knows I've often made too much of the industry in all its forms. But there's something that feels pure and blissful about just surrendering yourself to such an inventive series like Community. Let the show be a comfort. Let it be your friend, and accept its flaws and revel in its successes.  Let it be what it is, and if you can, just love it for that.
I love Community for its actors and writers. I love it for its meta references. I love it for its originality, and how even elaborate homages bring out more of that creativity. I love it for its paintball. I love it for being self-aware and even self-deprecating. I love it for being honest with itself, almost angrily so at times. I love it for flaunting against expectations and tropes. I love it for being joyful, for being effortless, for being fun. I love it for giving me some of the greatest hours of television of my life, and for defying so many odds on its way to 110 episodes over six glorious seasons.
#andamovie