Over the past week or so, indie film has taken over the LA LIVE theater in downtown Los Angeles for the Los Angeles Film Festival, featuring screenings, galas, Q&A's and roundtable panels ("Coffee Talks") that provide a snapshot of some of the more captivating under-the-radar films to look forward to over the rest of 2015 and beyond. While Hollywood and the world continues to be obsessed with franchises and sequels, it's refreshing to see an entirely different side of film in the city that's churning them out.
What follows are 5 mini-reviews on what to look forward to.
Flock of Dudes
Dir. Bob Castrone
Writ. Bob Castrone, Brian Levin & Jason Zumwalt
Disclaimer: the screening I went to unfortunately had technical difficulties, and reportedly had anywhere between one scene or upwards to 20 (!) minutes missing from the final cut. So any thoughts or review is impossible. But I have to say something.
You've seen Flock of Dudes before: a bro-y comedy ensemble featuring a group of 30-something's that refuse to grow up.
In many ways, after Bridesmaids and Broad City, Flock of Dudes feels dated, a dying breed, or a relic of a different time, to the point where I wondered if perhaps we might be finally seeing the last of man-child comedy. Ha! In reality, I'm likely still battling Hangover fatigue and the unfortunate monstrosity that was Anchorman 2, and we're just suffering (enjoying?) through a lean period.
Flock of Dudes, thankfully, is fresher than both of those films, and is genuinely funny, with a great cast that will delight comedy nerds. Chris D'Elia (Undateable) is Adam, the man-boy who finally grows tired of his and his friend's hard partying friends, and instigates a break up with his pals played by Bryan Greenberg (How to Make it in America), Brett Gelman (Married, Drunk History) and Eric Andre (The Eric Andre Show). He's forced to move in with his newly engaged younger brother David (Pitch Perfect's Skylar Austin) and fiancé (HILARY DUFF ladies and gentlemen) in order to join adult society. Along the way, he falls for Hannah Simone (New Girl and Miss India America) because that's what people tend to do.
Unfortunately, I never bought Adam and Beth's (Simone's character) romance, which is a problem given that it becomes the central focus of the film. Despite a talented cast around them, Kumail Nanjiani (Silicon Valley) and Hannibal Buress (Broad City) were so good that I just wanted more of them, at the expense of the rest of the cartoonish ensemble.
(Weirdly, this movie felt oddly biographical: I became fed up with my hard-partying lifestyle before moving to Los Angeles; there's a character named Barrett, who until recently had been my roommate for 5 of the past 7 years; there's even a dig at Burbank, my adopted home.)
It's impossible to say what the movie would be in its intended form, but it certainly felt like we were witnessing a rough draft. Many of the scenes we did see felt like the wrong ones, or glimpses of the less funny B-roll. The whole thing felt rushed and off, and that's certainly attributable to the malfunctions, but nothing will make the truly bizarre and nonsensical Ray Liotta cameo any less painful.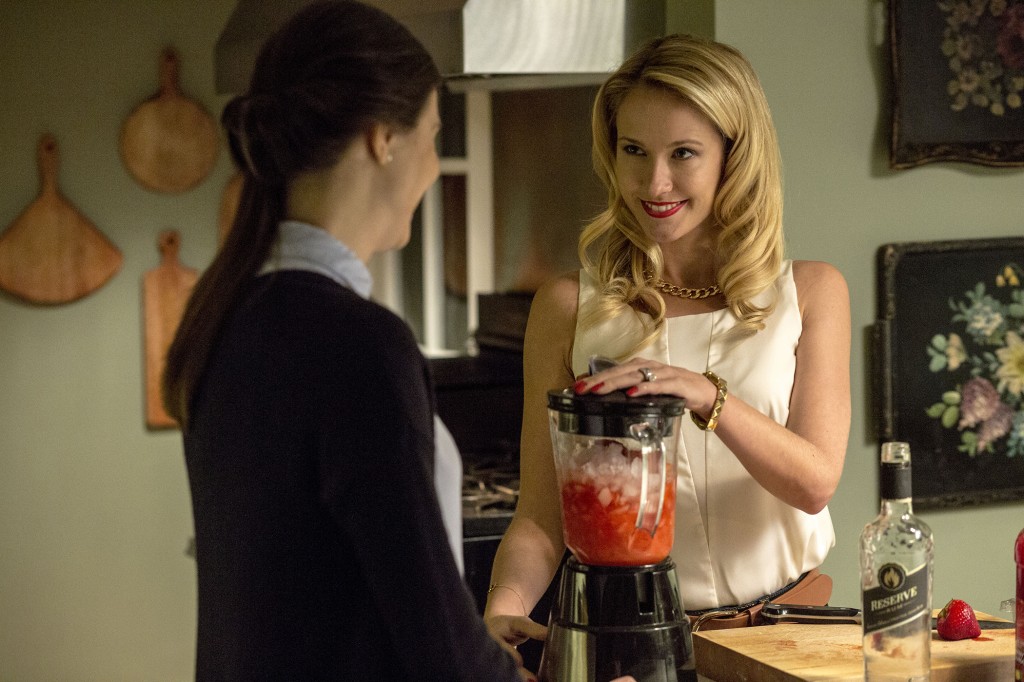 Caught
Dir. Maggie Kiley
Writ. Marcy Holland
It's hard to dream up a more fun actress than Anna Camp (Pitch Perfect, True Blood), and for two-thirds of the film, Caught seems to exist merely as a sandbox for the viciously hilarious and villainous Camp to go as bonkers as she wants. And, for the most part, Anna Camp Crazy Hour is a lot of freaking fun.
Camp plays Sabrina, a picture-perfect (and insane) housewife, who kidnaps Allie (Insidious: Chapter 3's Stefanie Scott) for sleeping with her husband Justin (Mad Men's Sam Page). She does it all under the auspices of a prank, with the wavering help from her coy, shy younger sister Paige (Amelia Rose Blaire around to stage a mini-True Blood reunion). Predictably, the kidnapping prank goes awry. This is hardly surprising given that Sabrina confesses, "I'm making this up as I go," a line that reflects the gleefully frenetic pace of Caught. In many ways, it feels like the filmmakers don't know where they're going either, and that's what makes Caught so unpredictable amidst its predictable premise.
Caught is at its best at its most insane, such as when the spurned Sabrina openly asks, "Do you think you can washboard someone in a Jacuzzi?" while making a blood-red strawberry margarita. It's impossible to dislike Anna Camp's characters, no matter what they do. She's a master manipulator of everyone else on screen and the audience. She just looks like she's won the lottery and getting filmed being bitchy, sassy and wacky is her reward.
Unfortunately, plot gets in the way of Caught, and drags down Acts 2 and 3 at moments. The film gets worse the more it tries to explain, or expand, or justify Sabrina's actions; we don't need to know why. We see all we need to see in Anna Camp's performance, and by trying to legitimize itself, Caught merely serves to explicate its flaws in logic.
Maggie Kiley and company enviably try to make us care about Allie (she's a track star! She has bad grades! She's poor! She has a single Mom!) and it kind of works, leading us to a weirdly effective happy ending.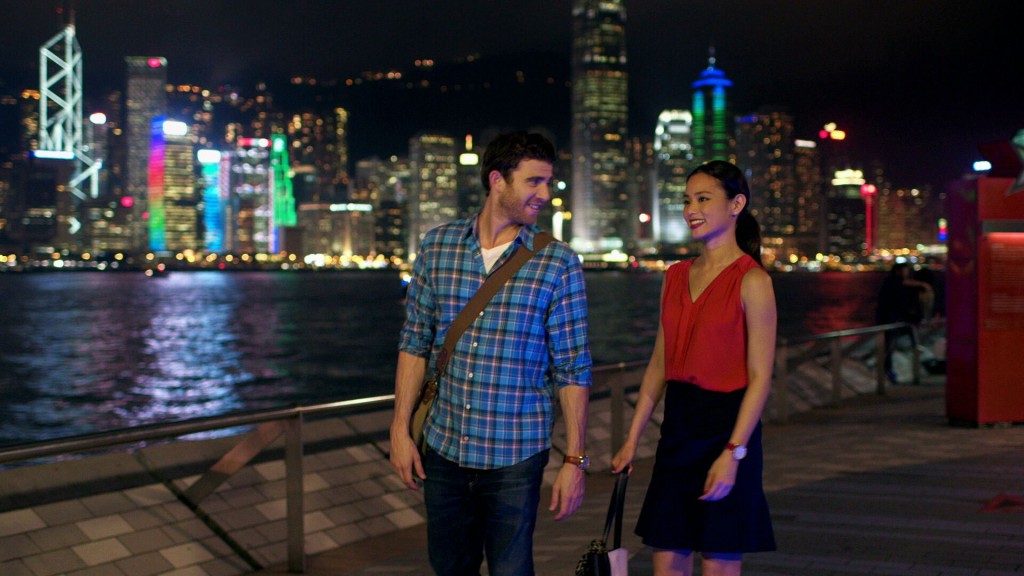 It's Already Tomorrow in Hong Kong
Dir. Emily Ting
Writ. Emily Ting
I'm a sucker for talky romances, and Emily Ting's beautifully shot It's Already Tomorrow in Hong Kong fits nearly perfectly within my erogenous zones as a viewer, a worthy successor to Richard Linklater's Before series.
Ruby (Once Upon a Time's Jamie Chung, who also stars in Flock of Dudes) is in Hong Kong on business. Josh (Greenberg, similarly pulling double duty at LAFF this year) is an ex-pat, having lived in Hong Kong for ten years, toiling in finance. This is a clever twist on audience's expectations: Chung plays a Chinese woman whose family is from Hong Kong…yet she's the tourist, and the New York native Josh is the Chinese speaking local.
The two meet outside a bar, and almost immediately, Josh walks her across the city to Ruby's friends, Ruby lost in the resplendent metropolitan. It's not ruining anything to say that they never get to Ruby's friends at the next bar. The two strangers don't stop walking-and-talking, flirting and getting to know each other over the course of the film, as we get to wallow in Greenberg and Chung's chemistry through a myriad of lustrous long takes through Hong Kong's nightlife. But, like in life, their "fateful" romance isn't easy, or assured. A twist comes early, and profoundly changes the proceedings. Like the Before trilogy, Ting plays with time, and we're gifted nearly two movies in one, and one of my favorite endings in a movie this year.
Beyond just a captivating romance, It's Already Tomorrow doubles as a postcard of Hong Kong, to the point where the city's tourism department should give Ting a stipend. Somehow, Chung is just as luminous as the backdrop; this is the best I've seen her, and what hopefully serves as a breakout role.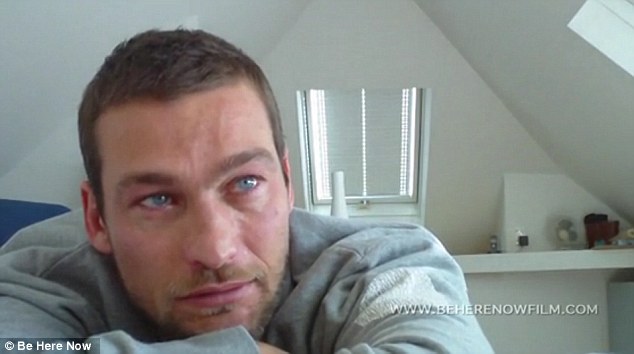 Be Here Now: The Andy Whitfield Story
Dir. Lilibet Foster
Even those who aren't Spartacus fans know the tragic tale of star Andy Whitfield and his ultimately life-ending battle with cancer.
After years of struggling to find work as an actor, Whitfield had found his calling as the hero of the arena and leader of the slave rebellion against their Roman captors: he was and IS Spartacus. But after a beloved first season, non-Hodgkin lymphoma was found in his body. After a successful round of chemo, he was on the verge of returning to the series for season 2, when it was discovered that the lymphoma had returned. This time, he wouldn't be so lucky.
Be Here Now is a documentary (funded by Kickstarter), shot over 18 months, chronicling Andy Whitfield's battle with cancer, doubling as a love story between Andy and his wife Vashti, as they maneuver cancer and parenting, with their two young kids. Whitfield is a hero, and a man who fought his disease in such a dignified, honorable and beautiful way. It's clear none of it would've been possible without Vashti, his more fiery other half. It's emotional just thinking about it, and this film provides perspective on life, rendering any problems you may have as silly.
Whitfield wanted to be filmed, in hopes that his story would bring awareness to the illness and inspire, to help the world in any way, and Be Here Now certainly has. What I was unaware of until this film, was that "Be Here Now," the Whitfield family motto, words that imbued added importance to the present, because of how fleeting it is, has been adopted the world over by the Be Here Now-ers, a group bonded by creed and matching tattoos. In a vacuum, "Be Here Now" sounds cliché or corny, but when Vashti implored the audience to "go for it, change the world" after the screening, I almost found myself in a tattoo parlor getting the words inscribed on my arm. I still may. The movie's message is that powerful.
Be Here Now has secured distribution, and is coming this Fall. Don't shy away from the heavy subject matter: it's not to be missed.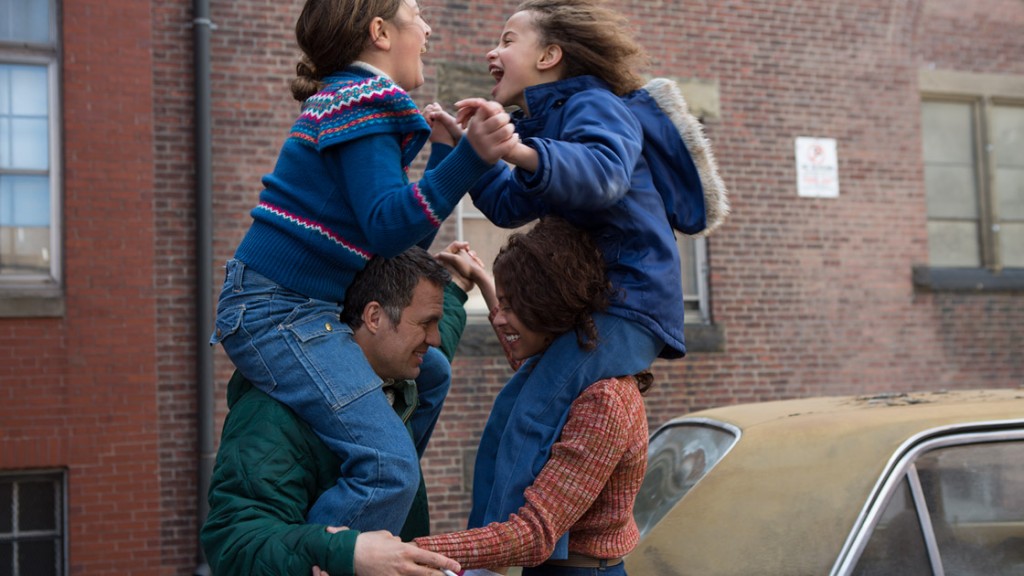 Infinitely Polar Bear
Dir. Maya Forbes
Writ. Maya Forbes
I love this movie. With a too-quirky title and a too-indie vibe, many might be hesitant to give Infinitely Polar Bear a chance. But Maya Forbes' (The Larry Sanders Show, The Rocker) personal film set in 1970s Boston is wonderful, thanks to the singular wonders of Mark Ruffalo, Zoe Saldana and immensely talented child actors Imogene Wolodarsky and Ashley Aufderheide.
Ruffalo plays Cameron, a loopy, well-meaning manic-depressive father who suffers a mental breakdown in front of his wife Maggie (Saldana) and kids Amelia (Wolodarsky) and Faith (Aufderheide) to open the film. The immediate scenes that follow are the only ones that don't truly work; the tone and mood feel fractured from the rest of the film, but perhaps that's because of the cloud of drugs and uncertainty surrounding Cam, diagnosed with a condition during a time when doctors didn't know what to do with it. The movie itself doesn't seem to know what to do with him either until Maggie goes to New York for her MBA in order to get a job and provide for her family, forced to trust Cam to take care of their children while she's away.
You'd be forgiven for rolling your eyes at the elevator pitch premise of man-can't-take-care-of-himself-but-must-take-care-of-his-kids, and the film is certainly heavy-handed, but it doesn't matter, because this is when the movie soars. It's impossible not to be charmed by the relationship and family that forms when Cam has to come to grips with being a parent while unable to come to grips with his wavering sanity.
Blessedly, Infinitely Polar Bear is funny. It never loses its edge; we're always wondering when Cam's crazy is going to come out (it's easy to make the parallel to Ruffalo's Hulk) and how bad it's going to get, but Forbes mostly tackles the gender, racial and classist politics of 1970s Boston with graceful aplomb, wit, insight and irresistible charm. It somehow also finds the time to tackle mental illness, parenting and separation and growing up to boot.
It's just so endearing to see this family figure things out (or not). I could watch Ruffalo try to take care of these two hilariously sassy kids forever (like a peculiar sitcom), and that's thanks to how funny and sharp Amelia and Faith are together and with Cam and Maggie. While the movie works because of her absence, Saldana's similarly terrific as a mother struggling to break into the male-dominated world of business while sorely missing her children, never quite sure if she's doing the right thing.
As a prospective viewer, the right thing is clear: see this movie.
You'll come to that same conclusion often at the Los Angeles Film Festival.