Until last weekend, I had never seen ADVENTURES IN BABYSITTING, a 1987 classic from director Chris Columbus. This is to say, that until last weekend, I had never lived.
The film, which you can guess at even if you don't already know the film by heart, is about Chris Parker (eternal teen crush Elisabeth Shue), a High school senior tasked with taking care of a hormonal High school freshman Brad (Keith Coogan) and his younger sister Sara (Maia Brewton).
Of course Brad has a crush on Chris, and of course he's way too old to have a babysitter (15), but that situation is as old as mankind itself, and just as relatable. I'm sure the cavemen were doing the same thing, and besides, this was the 80's, dammit. Throw in a comedic, sarcastic jackass sidekick in Daryl (Anthony Rapp of RENT fame, another Chris Columbus joint) and an annoying "best friend" of Chris' in Brenda (THE ARTIST and KINDERGARTEN COP's Penelope Ann Miller), and you have the makings of adventure.
Brenda is only one thing: the inciting incident, because she decides she wants to run away from home. She gets to the train station before she's out of money, crying and requiring rescue. That plot point is almost entirely forgotten (thankfully) once it successfully brings Chris and the kids out of the suburbs and into…the city, where all manner of hijinx and danger can happen. Brenda loses her glasses and sucks for the rest of the movie, providing ready made bathroom breaks.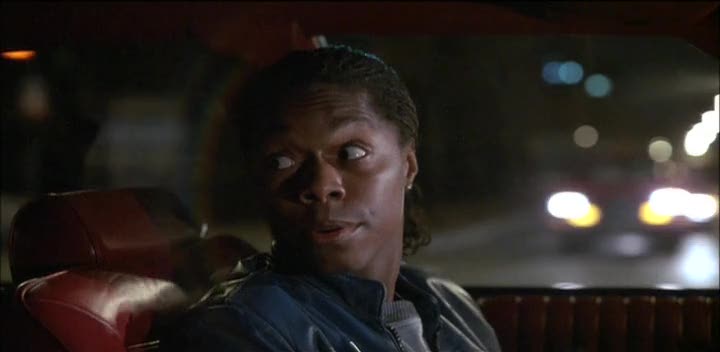 Once in the city, I'm not really sure how Chris and company become carjacked by "badass" criminal Joe Gipp, but Joe Gipp is awesome (above), and because Brad steals a Playboy with some vague super secret plans written in them once at Gipp's bosses lair, Chris and company have marked targets on their backs.
The 80's touchstone is probably the 79th most important film ever made, for many reasons. For one, it was Chris Columbus' directorial debut. The guy went on to define everyone's childhood with HOME ALONE, HOME ALONE 2: LOST IN NEW YORK and MRS. DOUBTFIRE. Say what you want about the first two HARRY POTTER films, but the guy presumably had the last say on almost all of the casting and created that rich, magical film world. Most would argue that Alfonso Cuaron truly fleshed it out, and added whimsy, depth and gravity to the proceedings, but Columbus gave him a strong foundation to explore. He clearly gets kids, and may be one of the best directors for children's movies ever, and he had a knack for creating a rollicking family movie from the get go.
(The less said about BICENTENNIAL MAN, the better.)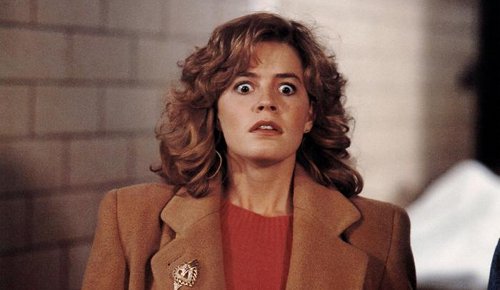 Chris Parker was perfect, not only because she had a guy's name, and that's hott (I blame DAWSON'S CREEK), but because she was portrayed by Elisabeth Shue (she's really good at the above look).
Elisabeth Shue is one of the most fascinating actresses of the 1980's. Her breakout role came as Ali in the original KARATE KID. When I watched that film for the first time as a kid, I was captivated by her the moment I saw her, much like the king, Ralph Macchio, who was about the most relatable teenager there is. There's nothing more embarrassing than this awkward meet up on their first date:
I also couldn't have rooted for their romance more during their theme park visit.
Soon, Elisabeth Shue became the dream girl, but an attainable one, because she always seems so nice, charming and genuine. She has that girl next door vibe, hell, she might have created it, and is one of the reasons our childhoods seem so depressing by comparison, since girls like Elisabeth Shue don't exist next door. Or if they did, I wouldn't be wasting my Friday afternoon writing about a movie that features Bradley Whitford's finest onscreen performance as dickhead boyfriend (his license plate actually reads "So Cool").
After KARATE KID, Shue apparently starred in LINK, where she had to outsmart a murderous orangutan, which has vaulted to the top of my To-Watch list. But it was her leading role in ADVENTURES IN BABYSITTING that truly launched her career and cemented her place as 80's heartthrob. She would go on to win Tom Cruise's heart in COCKTAIL and Michael J. Fox's in BACK TO THE FUTURE II and III (she replaced a wooden Claudia Wells in the sequels).
There was a lull in the early 1990's, or at least that's my assumption, since I've hardly heard of any of her roles during that time, until LEAVING LAS VEGAS, when she slayed embodying the hooker with the heart of gold trope. She had the pleasure of watching Nicolas Cage kill himself with alcohol, a thankless role that netted her Shue's only Oscar nomination. She followed that up with Woody Allen's DECONSTRUCTING HARRY in 1997, and has bounced around since (including a turn in the star-studded PIRANHA 3D), until landing a role in CSI in 2012.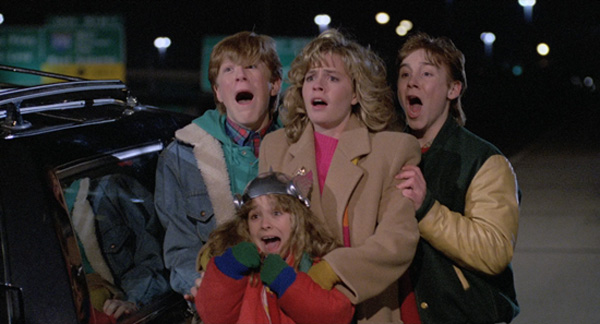 Shue's best performance was likely LEAVING LAS VEGAS (thus, Oscar recognition), but ADVENTURES IN BABYSITTING is probably my favorite. She's not simply the leading man's love interest. Here, she's the star and manages to do it all: slapstick comedy, romance, heartbreak, singing, dancing and Schwarzeneggerian one-liners. There might not be a better line than, "Don't fuck with the babysitter."
(This comes after Brad stupidly/adorably defends Chris in front of the Lords of Hell, by calling him a big city scum sucker, and then getting a knife in the toe a la Chandler on FRIENDS)
Her lip-syncing to The Crystals' "Then He Kissed Me" during the opening credits of ADVENTURES IN BABYSITTING is a veritable star is born moment. The exact time and place when Elisabeth Shue became the girl next door of the 1980's, a look and vibe that was copied and borrowed time and time again in many movies after. In most slasher flicks, the monstrous villain is running after a version of Elisabeth Shue, because we care about Elisabeth Shue.
That is literally a female version of Tom Cruise in RISKY BUSINESS. Then there's this hilariously bad "Babysitting Blues" performance to save their lives:
But…Elisabeth Shue is not the best part about ADVENTURES IN BABYSITTING, though the movie would've tanked without her.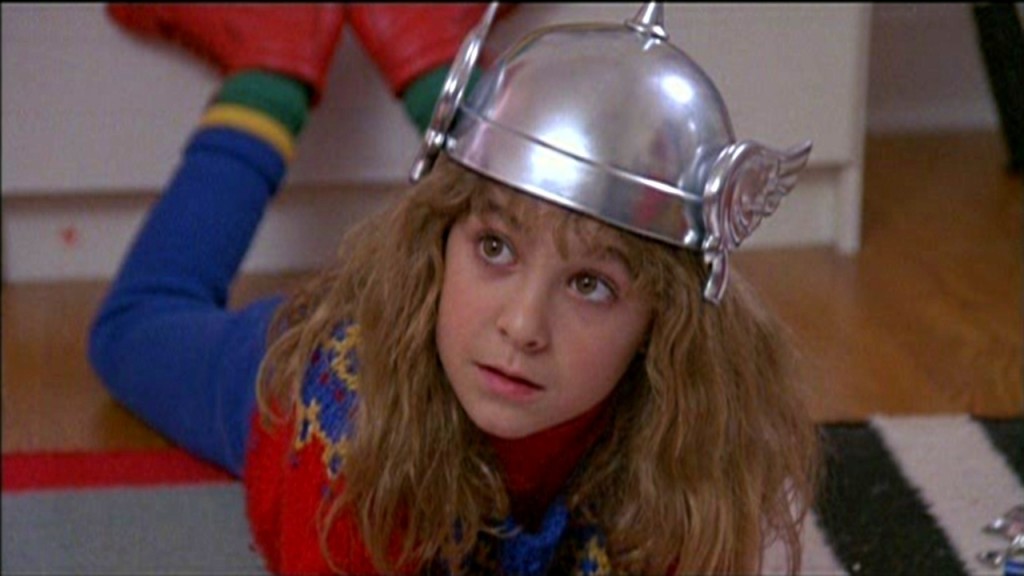 Nay, the best part was Sara, the youngest of the kids that Chris is responsible for. I don't know if I can remember a movie where the youngest child is the best, funniest and coolest of the ensemble. They're almost always annoying, living, breathing, spittling warnings against parenthood. Instead, Sara is a girl who wears Thor's helmet, draws Thor comics, and has a Thor poster on her wall. In the 1980's, almost thirty years before Chris Hemsworth would make the Norse God a sex symbol and supremely cool. Sara has all the best lines, is mischievous, sassy, and has a good heart. She is so great that I hope I run into her adult self and fall in love. Where are you, Maia Brewton?
This clip, which likely was buried in a time capsule to show future mankind (or the aliens of GALAXY QUEST) what life was like in 1987, is probably the greatest thing ever:
Can you imagine seeing that today? Thor is a legitimate plot point in the movie. She has a replica Mjolnir, she wears the helmet, wears a red cape and matching Weasley Christmas sweater, and their asses are saved BY Thor.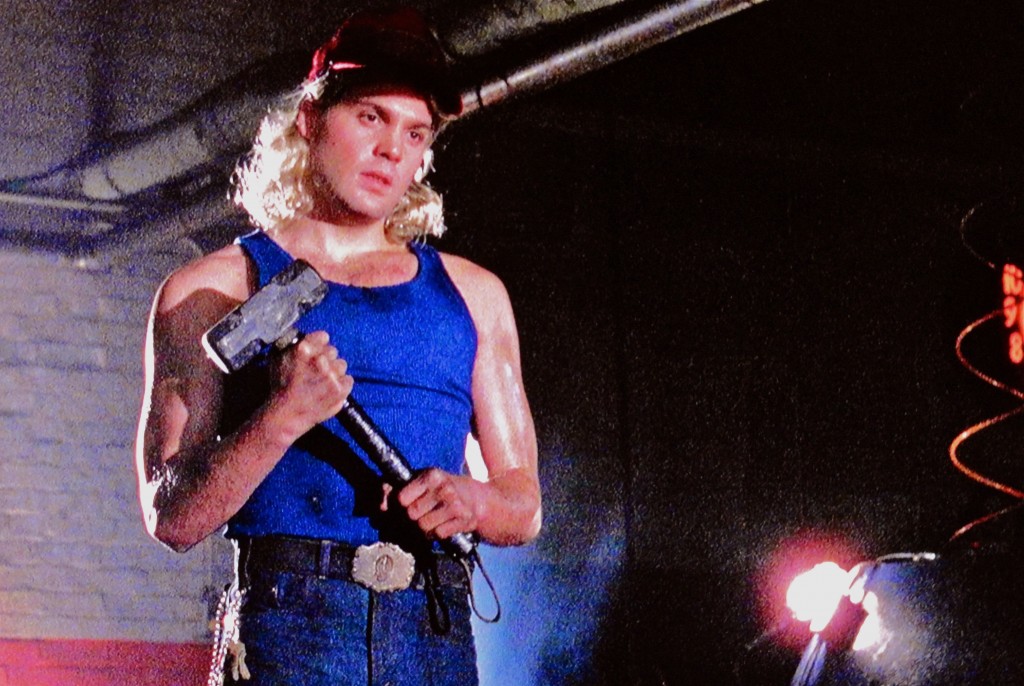 And by Thor, I mean Dawson, a blond giant mechanic who kinda looks like a Santa Mall version of Thor. Dawson is played by a blond Vincent D'Onofrio, which is one of the least heroic things I can think of. Even in 1987, it barely works:
But it's no less awesome to behold, which is what I could say for the entire 102 minutes of this movie.
ADVENTURES IN BABYSITTING is chock full of moments where you'll just giggle and comment, "Oh, the eighties," sigh and wish you were back there, at least for a John Hughes curated school dance.