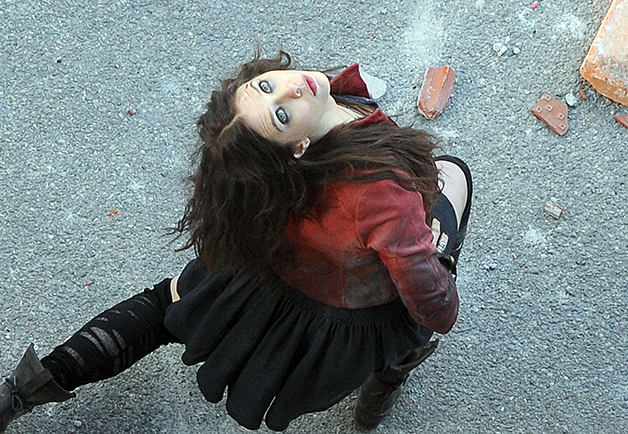 Well, this is why we're here. This is why I have permanent back damage and could sleep until next year's Comic-Con at this point.
What do we have in store for us? RDJ intro'd the panel two years ago. Hiddleston did last year. Is James Spader going to bring on some Ultron? Are we going to see the Vision? Are we going to see the complete Phase 3 cast (Inhumans, Black Panther, IM 4, Hulk, Thor 3, Cap 3?)? Is Benedict Cumberbatch or Joaquin Phoenix Dr. Strange or is it a mystery third person (I can grow that beard, bitches)? Josh Brolin is here. Do we get a taste of Thanos?! Can I possibly adore Elizabeth Olsen any more than I already do? Will a woman or a black character get their own movie? Will Bradley Cooper show up in a garish raccoon costume? Will we somehow fit the entire Guardians of the Galaxy movie into the time slot? Will I ejaculate all over my neighbors? Stay tuned.
We're on. Oh wait, we're not. The audience is chanting, clapping in unison, we're one minute away from the fucking wave.
For the record, the wave started exactly a minute later. The only time I've ever predicted something right this week.
Maybe the hour and a half gap before the WB TV panel will be filled merely by this panel starting so late. Which is disappointing, since I need a nap pre-Gotham.
Is a live blog truly live without me time stamping every comment? (Answer: No; but do you need to know I wrote this at 5:42:18 PM?).
Um, since when did Andy Serkis have an undisclosed role in Avengers: Age of Ultron? He's apparently helping to mo-cap Hulk.
Eddie Ibrahim is up again.
We get an awesome recap of the entire Marvel Universe, capped with some great footage of Guardians of the Galaxy, which is going to be the best movie Marvel has made, btw (the 10th Marvel movies). Then we see Thanos in his space chair, threatening mankind. Awesome.
Kevin Feige is here, and so is Chris Hardwick of course.
Hardwick: has made a visually stunning film that's hilarious. Big ups to James Gunn.
ANT-MAN time. Peyton Reed, the director. Paul Rudd and Michael Douglas are here (and Douglas is looking rough/awesome). Corey Stoll is here, the villain in the film: YELLOWJACKET. Playing the daughter of Hank Pym is EVANGELINE LILY as Hope Van Dyne. An interesting name choice.
This is the 20th anniversary of Peyton Reed's first Comic-Con. Paul Rudd is popping his Comic-Con cherry, and clearly slightly overwhelmed.
Rudd is excited by challenge, thrilled to be working with such great people.
Michael Douglas admits to "popping up enough cherries." Chris Hardwick wants to talk about that for the next hour, and so do I. Douglas has looked at Marvel from afar and has never really made a movie with the kind of technological tools this will have. Has clearly done his research: name-drops the year of Ant-Man's creation, his creator, Stan Lee. Talks about his powers. This is the story of a heist, because his partner, Corey/Yellowjacket. Most of the budget will be removing Paul Rudd's massive muscles.
Evangeline Lily on Hope Van Dyne: Very glad to announce it, and finally done evading press. Doesn't have a script yet. But she is Hank Pym's daughter, a crazy different detail from the source material. Professes love for us, been beloved in Hall H since Lost in 2005.
Corey Stoll on Yellowjacket: Was Hank Pym's mentee, genius scientist as well. Have taken over the company, in what "judgmental people think is in an evil direction." Attains some Pym particles (gross), and puts on a Yellowjacket suit.
Ant-Man starts filming in two weeks in Atlanta. Filmed something for us….we don't see Paul or Michael, but we hear them, bickering about the nature of being a hero, and how Rudd isn't a superhero, which is exactly why he's perfect (and not a moron, like Douglas posits heroes are). We see the suit, we see ants, we see him flying on them, and get a brief glimpse at the visual flair in this movie. It's fun.
Downey comes in a striking suit to Michael Jackson's Don't Stop Till You Get Enough. He throws roses from a briefcase into the crowd. Renner dances awkwardly. Mark Ruffalo comes in a little bit more unassuming. Chris Hemsworth. Cobie Smulders arrives, accepting a white rose from Downey. Samuel L. Jackson comes on, like he would. Chris Evans is buff as shit. Downey's announcing them as they come in. Aaron Taylor-Johnson as Quicksilver. Paul Bettany as Vision. James Spader as Ultron. Elizabeth Olsen as Scarlet Witch. This is insane.
Hardwick: "This is good. This is good. This is supposed to happen. Welcome, Avengers."
Downey: Keeps getting better, and the bench gets larger.
Renner admits to wearing pants, unfortunately. "Always thrilling, man….glad to be here. Very honored." Never envisioned this, but is blessed.
Ruffalo is fairly flabbergasted by the love. Hulk gets the first chant. Hardwick warns the crowd not to get him excited…
Hemsworth loves being part of this madness. What has he not been able to do yet? "Turn him into a woman. Great idea. I don't want to speak too early and jinx it, but it could be my Oscar." Incredible.
Smulders didn't expect this to keep going on, but hoped that. Joss brought her into the world, and "so grateful."
Evans and Hemsworth apparently compare muscle, and Hemsworth wins ("it's not a costume, he is Thor"). Steve is up to speed, but still looking for a place to belong. Searching for home.
Taylor-Johnson intimidated to join the group, but happy Joss wanted him in. Loves the banter, enjoys Marvel movies, and excited for a part in this one.
Bettany know has to work for his money. He used to go to a dark room for 45 minutes and walk out with a bag of cash. "The most exciting thing that has ever happened to my kids." "They had no interest in what I did until this month."
James Spader always thought the world could never be crazy or weirder than he thought. Until SDCC. "This place might be the weirdest, craziest place I've ever been." Thanks us. "I play an 8 foot robot in this movie…and I'd always played humans up to now." As startling and exciting as coming to Comic-Con for the first time. Everything was "so entirely new": the process, the people, the world he was entering.
Olsen: Fun to bring magic into the world…"mutated people," which elicits ooohs. Adds a new dynamic, not just "awesome punching." Apparently she stares at pencils for hours trying to make it move.
Then the world explodes when Scarlett introduces the video for Avengers: Age of Ultron. Um, SPOILERS follow. A delightful party scene with the team (that also includes Maria Hill and Rhodey): everyone takes turns trying to grab Thor's hammer, a la the sword in the stone. Tony and Rhodey try together, with their armor, to no avail. Bruce Banner tries and fakes getting excited/angry, and it's not funny (and so funny). Steve Rogers actually makes it move, slightly, a moment that gives me a partial chub. Thor announces that none of them are worthy…and that's when Ultron makes his appearance, agreeing, saying their existence is all that can save the world. Then he sends other Iron Man armor toward the team. Then shit goes DOWN. It looks like the apocalypse has happened. Iron Man breaks out the hulkbuster armor, and it looks INSANE. Hulk also touches hands with Black Widow. We see our first full glimpse of Ultron on his throne…and it's exactly what you want him to look like. Ultron is going to destroy our boys. Spader's voice is a masterstroke. We see a glimpse of Andy Serkis with a beard. He's not just helping with mo-cap. He has a role; let the rampant speculation begin. The clip ends on the craziest note ever: Iron Man looking at the carnage around him, all of his comrades in arms, collapsed or worse, Cap's shield BROKEN IN HALF. Boom.
Then…Josh Brolin marches into the room wearing the Infinity Gauntlet. He demands a rose from Downey, who relents, and Thanos/Brolin EATS it. The excitement is almost suffocating in this room.
The panel appears to be over, but there's one more clip to run: Chris Pratt and James Gunn joking around in London, wondering how they'd follow an Avengers panel. They jokingly talk about telling us about Guardians of the Galaxy 2 without Kevin Feige's say so. It's clearly staged, but Gunn and Pratt are so lovable it works anyways. And besides, GUARDIANS is getting a sequel before it even comes out: July 28th, 2017. Fuck yes.
What's awesome about all this, is how into it the Avengers cast is. Robert especially loves his role as ring leader and host. Everyone's psyched to be here. We might be looking at this moment as Marvel Studios' pinnacle…or perhaps we're just getting started, as Elizabeth Olsen intimated, now that they're adding magic and mutated people.
Thank you Marvel for putting on a show, and good night everybody. Gotham, The Walking Dead Escape and sweet, sweet slumber awaits.