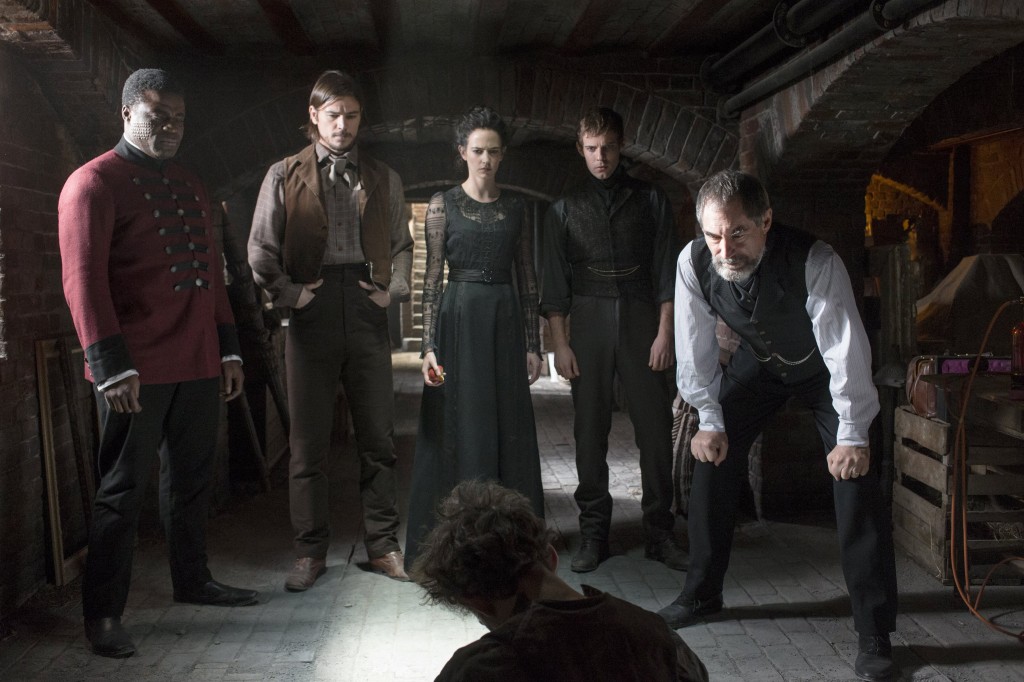 It's nice to see Showtime's Penny Dreadful get some love at Comic-Con. I was under the impression that either nobody watched it, or the people that did were kind of nonplussed about it, or that they'd rather read Alan Moore's League of Extraordinary Gentlemen instead. Either way, it didn't get a ton of buzz, but I suspect it's one of the many shows that will balloon in popularity in time for season 2, thanks to binge watchers, since most of the series aired against Game of Thrones.
Aisha Tyler of Archer and Whose Line is it Anyway? is the moderator, and an obsessed fan of the show (a "Dreadful"), which is something you can always tell if someone is faking. Tyler is not.
The panel kicks off with a wondrous recap of the show. I'm continually impressed by the editing and cuts when making these clips. I haven't seen one that hasn't made the previous season look 100 times better than what it actually was. Of course, that's kind of why Greatest Hits albums exist.
Anyhow, the panel doesn't include Eva Green or Timothy Dalton, which would probably be the two people I'd most want to see. Eva Green is deserving of Emmy's and Globe's for her fearless, nutso performance as Vanessa Ives, and Timothy Dalton just seems like he'd be hilarious/snarky. Plus, when in doubt, you always go for someone who's played James Bond.
But we do receive creator/showrunner John Logan (Gladiator, The Last Samurai, The Aviator, Hugo and Skyfall), Reeve Carney (who plays Dorian Gray), Harry Treadaway (Dr. Frankenstein) and Josh Hartnett (Ethan Chandler).
Logan earns serious sympathy when it's clear how big of a nerd and Comic-Con guy he is. PD is his first TV show, and he admits being "emotional sitting on this side [of the stage]," expressing respect for the fans and audience, and what we believe: that horror is exultation, transference and transformation. He's a native San Diegan (which feels wrong to type). The show's mantra is clear: there's a "monster in all of us." Or a hero, if you ask Aunt May.
Aisha kicks off the panel by bringing up the big twist of the finale: that Ethan Chandler is a werewolf. I thought it was fairly obvious the entire show (there's a wolf in the show's intro right before or after his name, we've seen him wake up confused, and there have been dead bodies showing up that aren't linked to vampires, but clearly eviscerated by some monster; plus he's American with a rich father, much like Lawrence Talbot in The Wolfman), but it was still awesome to finally see evidence. The twist made Hartnett feel more "ingrained in the world." Hartnett also admits to shaking and being nervous for the panel, which is adorable.
Logan has thought about the show for ten years (which is funny, considering the headline of this post). It came from a period of his life when he was depressed, and revisited Victorian wordsmiths, and wept at Mary Shelley's work. The show came from being different (Logan is an open homosexual). Originally, he thought he might just recreate Frankenstein, but then he wanted to craft original characters, as he continued to think about it. He also drew inspiration from the second generation of Universal horror, which made him want to bring them all together. Hartnett jokes that you have Abbott and Costello to thank for Penny Dreadful, which is funny, but also kind of true.
Is Ethan Chandler so nice during the day, because he's evil at night? Logan thought that's what came naturally, and also wanted to get the audience invested, before the reveal.
Was Ethan bitten or part of a long line of wolves? "To be decided," is what Logan says, but it's clear he has long known the answer, and admits to having elaborate back stories in mind for all of the characters.
The most important/right sentence of the evening: "All hail Eva Green." Logan calls her the most fearless actress he's ever worked with.
Aisha then brings up Ethan and Dorian sex, because, of course. Reeve Carney didn't know that would happen when he got the part, but joked he'd "better get a hot guy," and he did. Logan wants to explore everything sexually.
The first season of PD was the overture, whereas the second season they get to play with and develop the relationships.
RE: the death of Van Helsing: For Logan, while he's apologetic about killing off Van Helsing (played by the great David Warner), it was a joyous act. It was liberating, because it showed the audience that they're straying from these classic works. Logan and the show respect the mythology, but are carving their own path. This moment begged the audience, "come with us," and see what else is in store.
When crafting Dorian Gray, John Logan wanted rock 'n roll in the Victorian era, a David Bowie/Mick Jagger type. And that was Reeve Carney.
Harry Treadaway didn't finish reading Mary Shelley's Frankenstein, getting up to the point where it was useful (leading us to the believe that we won't see the Doc and Frankenstein traveling the world after each other in the show, or at least not for a long time). He also talked to Cambridge scholars about the medical practices of the era, which blew his mind.
Logan refers to Harry as a legendary prop actor, much like Peter Cushing, about as high a praise as you can get in the horror genre. There are no inserts in Harry's scenes. He's always using the medical tools.
What is the nature of Vanessa's possession? Did she invite the darkness in or was she taken? As always, Logan intimates it's "inbetween," but this is something they'll delve into in season 2.
What new characters can we expect, or does he want to add to the cast? He didn't rattle off names of monsters like I expected, though one he did was Dr. Moreau, wanting to visit the Island of Lost Souls.
Logan has charted three seasons thus far, and has pinned witch Madame Kali as the antagonist in season 2. Madame Kali showed up for one episode in the memorable "Seance," when we first learned something of Vanessa Ives' true nature. Kali is played by the great Helen McRory (Skyfall, Hugo, Narcissa Malfoy in Harry Potter). Logan shares an awesome deleted scene from Episode 8 that was cut, where Kali threatens Ferdinand Lyle. She promises "one will live, one will die," and is a creepy scene that leaves me truly excited to see her as the Big Bad in S2. Perhaps even better is that Simon Russell Beale's Ferdinand Lyle will be joining the family in season 2 as a series regular. The effeminate Egyptologist was one of my favorite characters, even though he only showed up in 2 episodes.
Credit to Matthew Sweets for inventing the Victorian, and their Victoriana region.
The Creature (Rory Kinnear) will be choosing a name for himself in season 2, and it'll be the name of a dead poet. Obvi.
They filmed Dorian Gray's portrait and was going to reveal it in the finale, but decided to hold off, and tease it off in the coming season, because it didn't have the impact they wanted it to.
We can expect a lot of Vanessa and Ethan together in Season 2. That doesn't mean it gets romantic, but obviously there's a possibility. It seems that possibilities are endless with Penny Dreadful going forward, and I think the show is only going to get better, as John Logan masters making TV. It's clear he's a brilliant writer and is as knowledgeable as anyone on the genre.