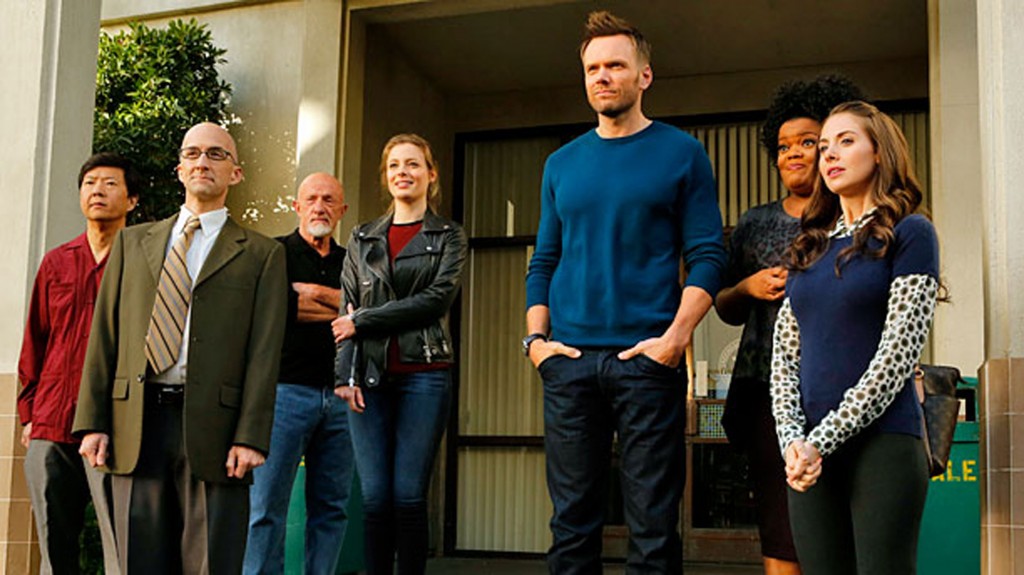 Who or what is Yahoo! Screen and can we trust it? That is the question all human beings in Greendale and beyond are wondering right about now. Hopefully, this panel starts to answer that question, as we approach #sixseasonsandamovie and Community's SDCC panel.
I feel like when it was first bandied about, this was a farewell panel. Now it's a comeback, and that story is about to be written.
TV Guide Magazine is moderating this panel, which I suppose is fitting, since Community won top honors for best cult show.
Watching clips and reel for Community's previous five seasons. "Ratings…where we're going, we don't need ratings."
Moderator Michael Snyder kicks it off with: "How about 7 seasons and a Broadway musical?" Yup, this is my panel.
STARBURNS is in the house, and wants Vodka.
EP Chris McKenna is here. Mr. Dan Harmon, creator and EP. Gillian Jacobs/Britta. Jim Rash/Dean Pelton. Joel McHale/Jeff Winger.
The show is back. Michael congrats Harmon for getting on national press release. Dan Harmon comments that he looks like a really bad Russell Crowe, stone age Russell Crowe, where only dinosaurs and carbs exist.
Harmon still doesn't know how it happened, got call 3 hours before deadline. Said no, then changed mind in 1.5 hours.
Harmon: "You'll be watching Community how you always watched it. Only now it's legal."
RE: ambivalence to comeback: Didn't want to hurt the fans, didn't want them to get optimistic.
McHale was asked if how sure he was about it being back, and Starburns pitched Trent, his graphic novel. When asked again, McHale mentioned Trent as an inspiration. But in all seriousness, he was fairly confident, always wanted it back if they paid "me what Jim Parsons is making." McHale was ready to do a regional theatre version of the show, that's how supportive and proud he is of the show. He called it the best TV show in the universe.
McHale: "Fuck you network television…unless they want us back."
Starburns is making a graphic novel/musical, and selling it in the back exit. Scott Adsit sings on it (of 30 Rock). He's clearly insane.
Gillian shed a tear when it was cancelled, and found out about its comeback on Twitter. Excited to see it in a new medium.
Jim Rash is gleeful about it being back.
Chris McKenna takes credit for it being back, because he tweeted that it was dead and to move on to fans.
What's happening in season 6? Hard at work on a Pokemon episode…the crowd loved it, but he was joking. Now it'll probably happen. And better. A Meow Meow mix prequel episode was also joked about.
Dan doesn't have high falutin plans for season 6.
Anything you can get on the show now that you couldn't before? Harmon is very careful about changing the show, thinks it needs to be about the community still. Aims to attempt to make the same show, and let the lack of boundaries happen naturally. Still hoping to "air" every week.
This is when my neighbor fell asleep and is leaning on me. When he realizes he's asleep, he takes a quick photo and then resumes his nap.
Greendale is saved. Is it safe? "I like it as an underdog school."
Is there a future for Jeff and Britta? Or for Jeff and Annie? McHale: "It's on the internet, so it's Jeff and Dean now." Harmon: "Alison didn't show up, so…I don't know what is punishment or reward to her. I base all my decisions on pettiness.
Harmon gets very vague/complicated about romance and whatnot about the love sitch. No idea what he said, but he finishes it by saying, "everybody's gonna be a vampire."
Joel compares his character to a moth to a flame. "Maybe I grow a tail…doesn't know what's going to happen, and not gonna guess."
Gillian glad that Britta was victorious on purpose a couple times. Enjoyed being right for a change. Rash: "You'll never not be the worst."
Rash spat on Gillian and Joel a lot during his infamous rap scene. Rash is a rapper, and "can't control that sort of thing…that's real." Then Rash starts rapping Starburns' graphic novel. I love these people.
What traits does Jim appreciate about the Dean? He's doing his best, and really does love these people.
Which cast members are coming back and will Pierce's chair be filled? Harmon needs to sit down with the writers and talk about that, so he can't reveal anything. McHale: "It's Benedict Cumberbatch." It's apparently contractual possible for John Oliver to return, and everyone got pumped about that idea.
Twitter question: What flavor are you? But don't ask Dan Harmon. So of course Dan Harmon is the only one who answers: "that's because they can already tell I'm bacon."
Favorite moments of season 5?
McHale: Working with Mitch Hurwitz as Koogler. Couldn't stop laughing every scene. Had to run out of scenes.
Jacobs: Had trouble picking an episode, said PASS, but loved the wolf howl and screaming "Floor, bitch."
Rash: "I enjoyed particularly, the D&D episode, because I wasn't involved with the first one." Liked being paired off with different actors holed up in scenes. Mentioned story with Jonathan Banks, where he was expected to laugh, and he didn't, and his response: "I was." Then he went crazy in the next one. Apparently on his first day on set, he told someone, "I'll punch you in the heart."
Harmon: Most proud that they had three characters doing Gary Oldman doing The Professional.
McKenna: Favorite part was watching Dean trying to get Rhonda's attention.
Starburns: Loved the Troy departure episode. Wants more of those. Loved the Pierce dying episode. Wants 8 more.
Brief chatter about Dave Matthews Band, because of course.
There was a lot of interrupting on Gillian's part, Rash removes her microphone and puts her on timeout.
What is the state of Troy? "Troy's out there…he may be in peril. That's what movies are made of.  I have no plans for that, but a Search for Spock type movie" is a good idea. McHale wants to see Troy eat LeVar Burton at some point.
People want Meow Meow Mix app. If only a big internet conglomerate owned them…
In terms of holiday episodes, Harmon doesn't know, because of the schedule and because of the internet. McKenna: "don't want to do Halloween episodes in February, if we can help it." Though, that sounds like a great idea.
Someone admits that Britta is they're favorite character (while simultaneously admitting she's the worst). What's next for her in psychiatry? Gillian mentions her cats and being an animal psychiatrist. Gillian: "The possibilities are truly…limited." Nailed it.
RE: varied theme episodes: "I don't know how we do it…we blow our own minds"(Harmon)
Two human beings come up to the stage to ask questions, and hug. Aww. McHale wants to know how they go to the bathroom, McHale makes sure they stay on the stage ("It's the only time of day they're not awkward.").
Villains– City College? "Good idea, thanks."
Apparently there was a story pitched that McHale would have to take care of a dog in a baby bjorn.
What class would you take at Greendale? Gillian: "History of Ice Cream." McHale: One of those take care of a dog for a week classes." McKenna: Learning! Starburns: Ditto, what show are we talking about?
How does Joel get his hair to stand up? "I use the Chris Hardwick school of gels…this takes about six hours."
A fan really wants toys, now that they have money. She also requests Dan Harmon's weird laugh: apparently his trachea clicks. Could be our last season. Starburns: "I'm a toy…" wants to date the woman who asked it.
Why Colorado and where in Colorado? Harmon wanted to go with the Simpsons, anywhere USA angle. Apparently legal team needs to know where the show is, need a state. So that's why Colorado was born.
What movie/TV show to spoof that you haven't already done? Starburns says Toby Gilles (maybe?). No idea.
What about a Rick & Morty crossover? "I don't know."
What's it like to move to internet acting is actually a question we get. "People will see the screen and think Moby has a new music video." Nudity? Gillian: Only male nudity. McHale insists on it.
The Soup crossover with Mankini? McHale
Can watch Yahoo! Screen or download the Yahoo! screen, and will start production later this summer, and will be available as soon as they're available. It sounds like it'll be around Christmas time when we get new episodes.
McHale: "You guys are the greatest fans in history."
Yahoo! Screen and Subway are providing free sandwiches from 4-8 PM at K Street in San Diego. They are actually themed to different characters on the show. You can order a Britta, people.
Finishes with Senor Chang cosplay, like every panel should. God bless you Greendale. Glad you still exist.