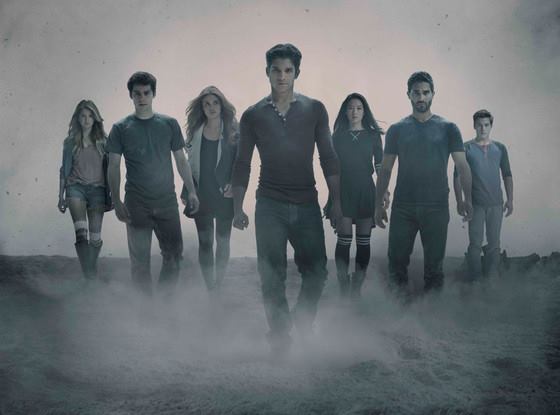 It's time for MTV's Teen Wolf, which, judging by eavesdropping, has severely disturbed fans (they were discussing the seating order of the stars for this panel; WHY?!). I count myself as one of these fans, but it must be said that the fourth season has started out like insane/kitchen sink crap. I'm probably in the minority of that opinion, but I look forward to the panel nonetheless, because I don't feel ugly enough watching these guys on TV. I want to see what all teenagers in Beacon Hills look like in person.
Yup, Teen Wolf wins in terms of audience reaction/girlish screams. Dylan O'Brien wins in terms of decibels. Someone comes in an amazing Berzerker costume, displaying the makeup team. I thought it was Jeff Davis, but it was not.
Teen Wolf will be coming back for a 5th season, for 20 episodes, not 14 like Season 4.
Deadpool was a way to get back to human problems: kids need money. Which is apparently Spielbergian, according to Jeff Davis.
Dylan and Tyler are the only name's Jeff Davis hires, now that Dylan Sprayberry is on the show. They're apparently "his brothers" now. He's only 16, apparently. Tyler: "You're perfect…will you marry me?" Whoa. Expect a lot of struggle; he's not ready to be a hero like Stiles and Scott.
Dylan is now a series regular for season 5. More people are excited about Malia's addition, as they should.
Shelley: "I like the honesty…" she brings. It's rude, but that's why she has Stiles. Jeff trumpets her sense of humor and comedic timing.
What's the deal with Malia and Stiles? Are they dating? "They're unique." Tyler points out he wants to know if they're having sexy. Jeff: "They may have a rocky road ahead," especially when a secret about her parentage comes to light.
Tyler Hoechlin very excited about Derek's loss of power. He can identify with it, because he lost his baseball career, his identity, and Derek is now becoming more human. Tyler Hoechlin is clearly the adult on set.
Posey and O'Brien are same age as Tyler Hoechlin when he started the show. It was a weird moment when Derek helped Scott help Liam control his anger/wolf. His favorite scene they've ever done.
What about Lydia and her "banshee-ness"? Apparently Holland's happy about her romantic freedom. Now all about helping people. Jeff promises that we'll learn a lot more about Lydia coming up, including some family history.
We just got a crazy badass sneak preview for the rest of the season…so maybe I'll be eating my negativity soon. Scott appears to be turning more wolf, Peter tells Scott: "It's my bite that changed your life…my bite can end it." Almost every character looked on the brink of death in it. Also, Derek is shirtless for all of it.
Ian Bohen/Peter will get his first dose of werewolf makeup, FINALLY.
It's a madhouse to get to questions. Tyler Posey wants a fight.
What drew you to the audition? Dylan: "Money." Tyler: "It's a lead…I read the script and it was amazing…then met Dylan and Tyler…and we make out all the time." Dylan: "We don't make out…we just sit next to each other in our underwear." Tyler: "I loved how creepy Derek was…" and the joke was that he had to play a werewolf at some point (because of his scruff). Holland: Thanks Jeff for hiring the pale, short redhead to play the pretty popular girl.
Painfully awkward/cute/weird fan starts: Best WIFI ever (they sponsor the internet for the con). The problem is it's truly false, folks. The guy's name is Tyler too, and wants to be the Three Tyler Musketeers…which is adorable.
Gnarliest scene? Tyler H: fight scene in the water. Tyler P: turning Liam. Dylan S agrees. Dylan O'Brien loves when they gave Liam a beatdown. Tyler Posey burps.
Do they have any weird/secret talents? Dylan O'Brien: "I have no talents…this show makes us look like we have special talents….Can anyone do anything with their bodies?" Tyler: "We can answer a question without answering it."
An adorable girl almost dies when Dylan O'Brien calls her cute. When Dylan offers her his name tag, she may have feinted. Dylan blows her a kiss, signs it, got a hug, and her life is probably complete.
What supernatural character? "Spider-Man, always. Or Chewbacca." The former is a great idea.
Are any of the show's characters based on real people? "Not really…certain parts of characters are based on what I wanted to be…I had a very quiet high school…Scott and Stiles' friendship is the friendship I wish I had."
Holland never knew she'd be a banshee, and doesn't know how they knew she could scream. "It was a surprise for me, personally….let's see if I can make it in the special FX trailer or not."
What song would you like to see on Teen Wolf? Tyler H mentions Black Keys to crickets somehow. Tyler Posey: "Magic's Rude." Holland: Total Warr. Shelley likes country.
What would you like to do on your last day on Earth? Dylan O'Brien: I'd hang out with my friends and families and loved ones. Tyler: "You wouldn't masturbate in public or anything?" Maybe the best answer ever.
How's the makeup like? Dylan: Makeup smells awesome, takes 1.5 hours in the chair. Jeff Davis: "It's easier because they don't have to wear contacts anymore."
Do you know if Peter Hale will ever stop wearing V-necks? Tyler H: "That's my favorite question I've ever gotten….knowing Ian…no. They'll get deeper and wider." Tyler Posey: "He can rock a V-neck better than anybody, so why not rock it?"
How does it feel to inspire people of color? Tyler is clearly touched, but doesn't have that bleed into his character, because he doesn't want to force anything. Had no idea he could inspire people when he got the gig. We learn that he's Mexican.
What happened to Danny? Jeff: You have not seen the last of Danny.
Who's the comedic relief on set? Split between Dylan and Tyler mostly, but Tyler says: "All of us." Compare it to an ensemble sitcom off-set.
Do the ladies feel pressure/weight to represent women on the show? Holland was Women's Studies major for part of her college. "Thanks Jeff Davis." Loves that her archetype isn't stereotypical, that's she's smart and not afraid to say the answer. Hennig: A lot of damsels in distress on TV, and loves that Jeff Davis makes them strong women. "Favorite part is that Malia is the big spoon."
How did Malia adapt so fast to being a teenager? Jeff Davis: "We didn't want to do five episodes of Stiles teaching Malia how to use a fork…hoped the audience would forgive…it's a little bit TV license. I'm going to be roasted online for that." His words.
Did you end up learning lacrosse and who's the best? Dylan O'Brien: "I can pass real good." Tyler Posey: "I'd throw up halfway through [if it were a game]." Tyler [on Dylan Sprayberry]: "He sucks at lacrosse."
Sassy woman wears an Arden Cho lacrosse jersey (which still makes no sense) and asks them about their mottos. Dylan on Tyler's: "It'd be poop, poop, poop." Probably. Jeff suggests, "Be your own anchor."
Best ship on the show: Tyler: Gerard and Liam. Holland: Coach and Argent. Cogent. Tyler H: Sheriff and Mama McCall (got big cheers). "Then we'd be brothers." Jeff admits that they've been talking a lot about Sheriff and Mama in the writer's room. He's fond of Kate and Stiles. Dylan's been bugging Jeff about that since season 1 ("Kate's open…"), wanted a scene where Kate needed to interrogate Stiles for information, and ended up making out with him ("so eighteen of me").
And that's about enough of it.