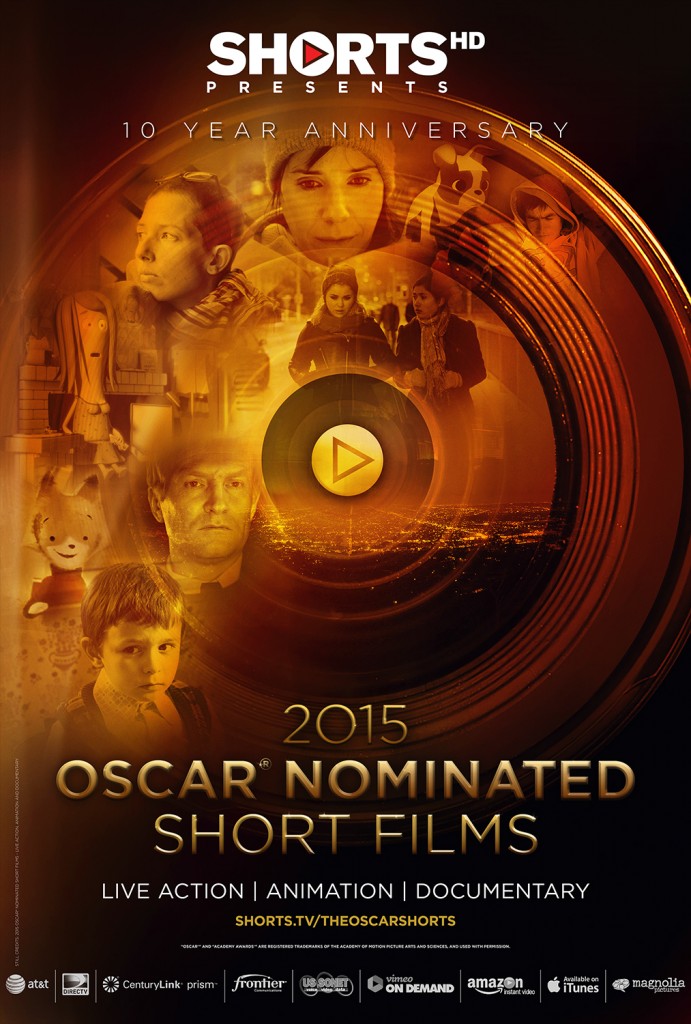 While nobody would argue that the Oscars are a fair representation of the best movies of any particular year (and are a white male heavy bunch), many of the less-publicized categories still have the capacity to inspire and surprise. Yes, Boyhood is important. But so are the foreign language nominees, like Timbuktu, the documentaries, and of course, the shorts, separated in three categories: Animation, Live Action and Documentary. Last year I had the pleasure of ranking the Oscar nominated short films, and I'm taking another shot at the impossible task this year, starting with an animated crop that's even better than last year. Any of the following five made me wonder if they should get the top spot, and are all worth discovering for yourself.
5. "A Single Life"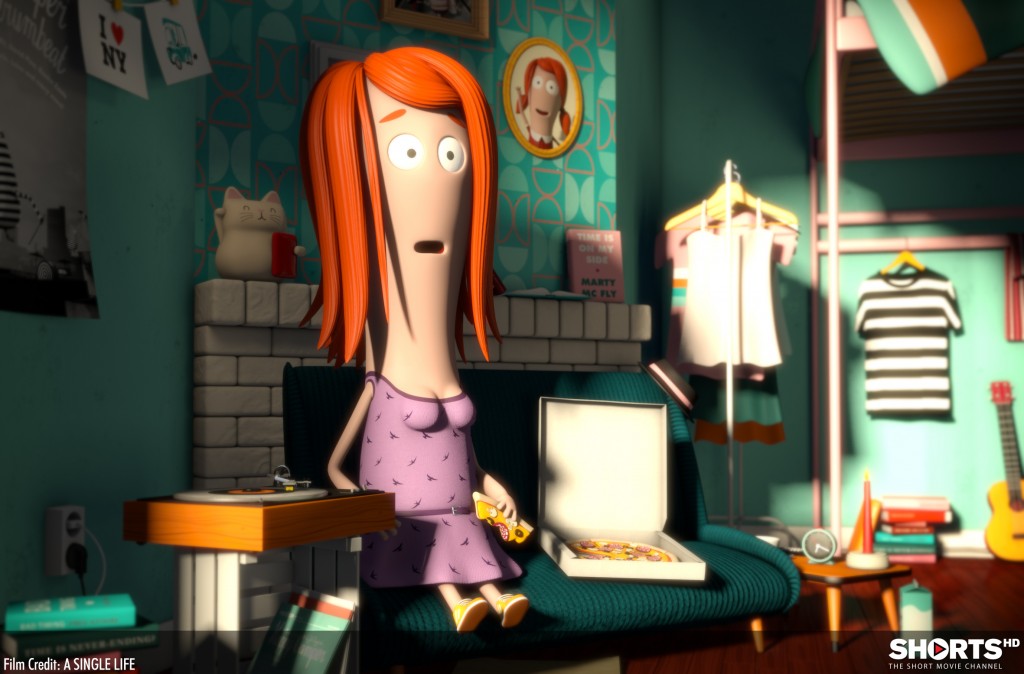 Country of Origin: Netherlands
Director: Marieke Blaauw, Joris Oprins, Job Roggeveen
Synopsis: When playing a mysterious vinyl single, Pia is suddenly able to travel through her life.
This concept, more than any other, felt like the treatment for a full length animated feature, or something I could've watched a helluva lot more of. "A Single Life" is the name of a vinyl record that appears on Pia's doorstep, and it allows her to travel through different periods of her life. The animation style is a goofy 3-D, with string cheese hair and a PBS Kids vibe. It's probably my favorite idea of the lot, and in just two minutes, accomplishes a surprising amount, while packing in one of the most devastating (yet predictable) endings.
Most Disturbing Moment: Reaching the end of the record.
4. "Me and My Moulton"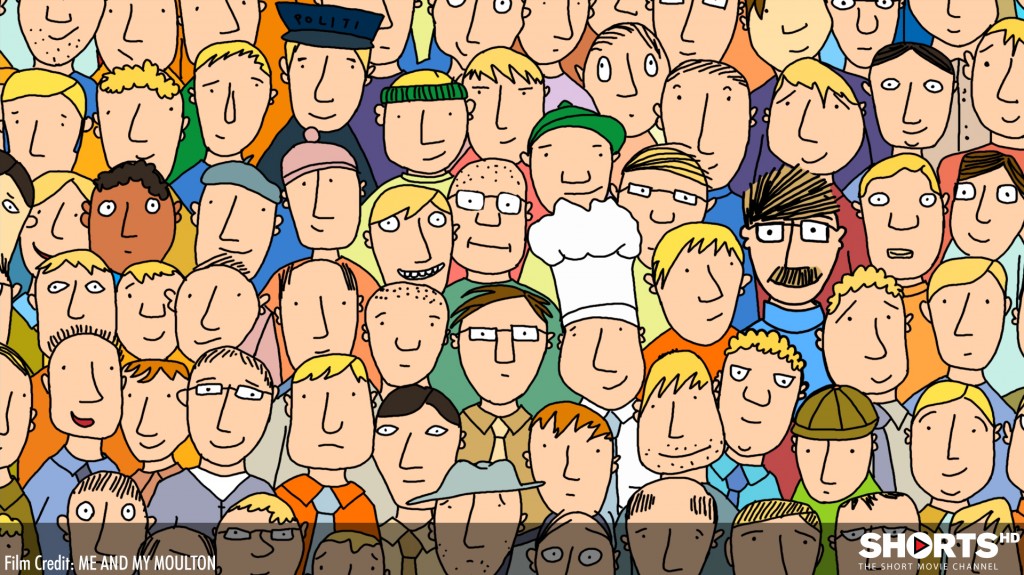 Country of Origin: Canada & Norway
Director: Torill Kove
Synopsis: One summer in mid-'60s Norway, a seven-year-old girl asks her parents if she and her sisters can have a bicycle. Me and My Moulton provides a glimpse of its young protagonist's thoughts as she struggles with her sense that her family is a little out of sync with what she perceives as "normal".
Me and My Moulton's (which is a type of bicycle; who knew?) tone and voice reminded me of Alison Bechdel's Fun Home, without the adult content and dramatic complexity, as a middle child describes her upbringing and how her unique parents shape her identity. She's jealous of her seemingly normal neighbors, even as their father leaves them for another woman. The girl's POV is captured perfectly; she's embarrassed that her Dad has the only mustache in town, and never gets quite what she wants or expects from her esoteric parents, who are both architects. Their job influences the style of the short, showing us the layout and blueprints of her house, and cool moments where she draws in the scenes. There's a lot covered in this family portrait that admirably captures the peculiar voice of a child. The animation style is 2D and simplistic, like something out of a newspaper print, except it has vibrant colors (every tree or bush looks like stained glass).
Most Disturbing Moment: Grandma strips.
3. "The Bigger Picture"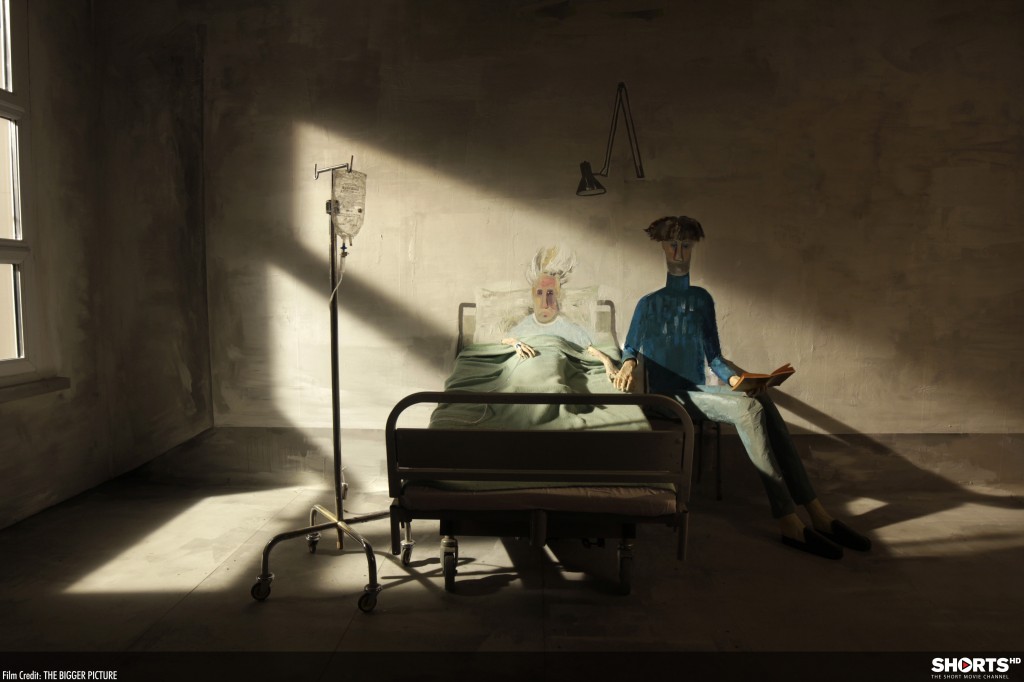 Country of Origin: UK
Director: Daisy Jacobs
Synopsis: 'You want to put her in a home; you tell her; tell her now!' hisses one brother to the other. But Mother won't go, and their own lives unravel as she clings on. Innovative life-size animated characters tell the stark and darkly humorous tale of caring for an elderly parent.
The Bigger Picture might've had my least favorite story, but had the coolest, craziest animation of the bunch. It was like watching a rippling 2-D stop-motion impressionistic painting that was being edited, smudged and layered in front of your eyes. It's Wallace & Gromit on acid. The whole experience is trippy: water floods the apartment, and it looks like cellophane taking over. It's pretty freaky, mirroring the startlingly dark theme of two brothers fighting over putting their mother in a home, and how torturous and long the process is. In part because of its gonzo animation, the story was hard to follow, and could've had more time to breathe. It's easy to connect with the subject matter, but it was hard to connect with the shadowy, stilted characters.
Most Disturbing Moment: "I thought about sex every second before I was 40. Now all I think about is death." Oof.
2. "Feast"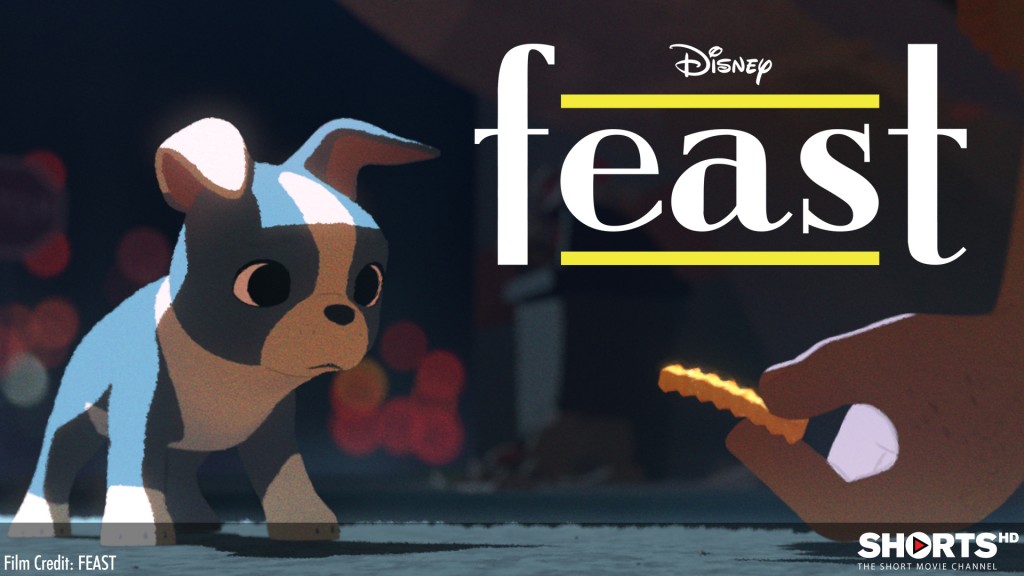 Country of Origin: USA
Director: Patrick Osborne
Synopsis: "FEAST", a new short from first-time director Patrick Osborne (Head of Animation, "PAPERMAN") and Walt Disney Animation Studios, is the story of one man's love life as seen through the eyes of his best friend and dog, Winston, and revealed bite by bite through the meals they share.
You can describe this film in one word: Awwww. Feast is easily the most recognizable of the nominations, and undoubtedly the one that has been seen the most, considering it played in front of the delightful Big Hero 6 (which is probably the favorite to take home the Best Animated Film Oscar). Feast is moving, adorable and triumphant, as we see what appears to be a stirring romantic comedy from the lens of the man's best friend Boston Terrier, Winston, and all the glorious food he eats (it's like Marley & Meat with a happy ending). The animation is crisp, clean, beautiful and deceptively simple-looking: Feast combines hand-drawn 2D artwork with fluid 3D animation, a state of the art process that began with the Oscar-winning Paperman.
Most Disturbing Moment: Being forced to eat Brussel sprouts.
Prediction: This will win the Oscar. Cute dog, delicious food, Disney bias and a love story seem pretty tough to beat in this category and could lead to a sweep for the resurgent animation studio, who just restarted making shorts back in 2012. But it wasn't my favorite…
1. "The Dam Keeper"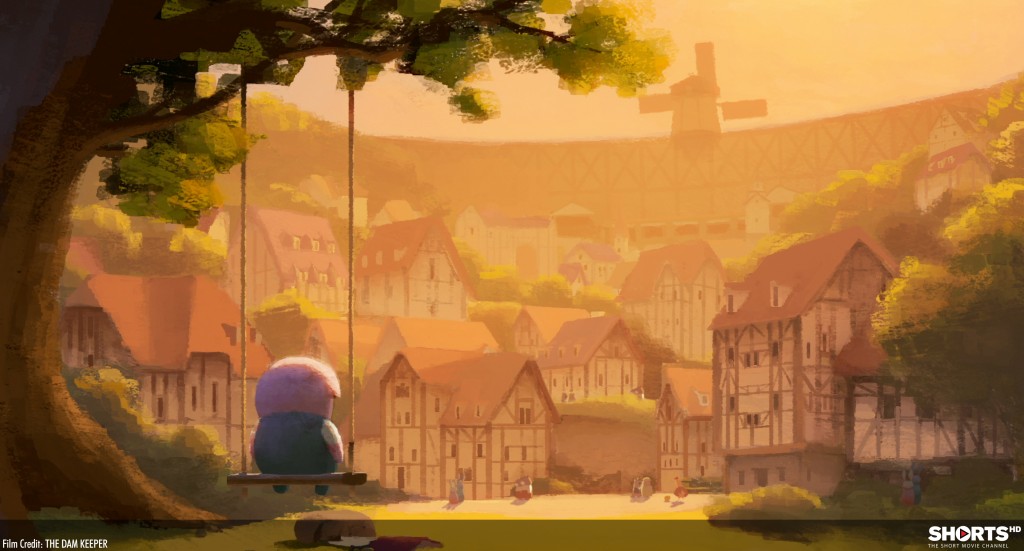 Country of Origin: USA
Director: Robert Kondo and Dice Tsutsumi
Synopsis: Set in a desolate future, one small town's survival is solely due to a large windmill dam that acts as a fan to keep out poisonous clouds. Despite bullying from classmates and an indifferent public, the dam's operator, Pig, works tirelessly to keep the sails spinning in order to protect the town. When a new student, Fox, joins Pig's class, everything begins to change.
For me, the animation style is almost more important than the story itself. I want to see different styles, worlds I've never seen before or couldn't conceive of, and The Dam Keeper is mesmerizing. Its 2D animation is like a living storybook made of pastel and chalk, made from over 8,000 paintings drawn by Kondo and Tsutsumi, combining hand-drawn animation with brushstrokes.
It helps that the story got me too, The Dam Keeper the best blend of concept and artwork of the bunch. Here's this Pig, a kid who's bullied relentlessly at school and made fun of by all the other bastard animals, yet his one job ("to keep the darkness away") is what saves the town day after day. The idea that anyone would make fun of the person/animal who's saving your life is ridiculous, but kids suck, so I sadly completely bought it. When Fox arrives, seemingly as the one ally and friend to our poor dear Pig, things gain much-needed brevity, until it doesn't (can you ever trust a Fox?). This is one of the few shorts that actually fooled me, and I was happy to be fooled, thanks to the charcoal grey hues that transform this fully realized town when the darkness comes. It's gorgeous, heartfelt and dreary, a children's book tinged with smog, narrated by one Lars Mikkelsen.
Most Disturbing Moment: Getting humiliated by an alligator and a hippo in the bathroom. Been there, bro.
For my Live Action Rankings, click here.
For my Documentary Rankings, click here.
The Oscar shorts arrive in theaters this Friday, January 30, 2015 and on VOD February 2015. For a full list of theaters the short films are playing in, check out the Shorts website. If you find yourself in the LA area, the Live Action and Animated shorts will open in Los Angeles at The Nuart in West L.A. and the Documentary shorts will open at the Music Hall 3 in Beverly Hills. All three programs will open in Orange County at the Regency South Coast Village.