While nobody would argue that the Oscars are a fair representation of the best movies of any particular year (and are a white male heavy bunch), many of the less-publicized categories still have the capacity to inspire and surprise. Yes, Boyhood is important. But so are the foreign language nominees, like Timbuktu, the documentaries, and of course, the shorts, separated in three categories: Animation, Live Action and Documentary. Last year I had the pleasure of ranking the Oscar nominated short films, and I'm taking another shot at the impossible task this year. I started with an animated crop that's even better than last year, and now I continue with the Live Action round.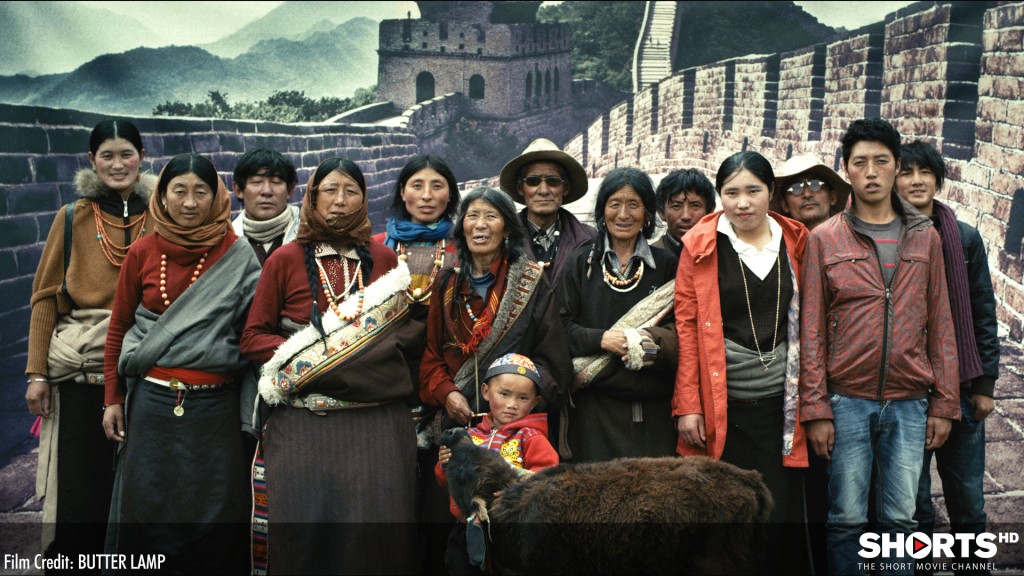 5. Butter Lamp (La Lampe Au Beurre De Yak)
Country of Origin: France & China
Director: Hu Wei
Synopsis: A young itinerant photographer and his assistant offer to photograph some Tibetan nomads in front of various backgrounds.
Despite being blessed with the kind of picturesque backdrop that'd fit right in as your desktop wallpaper or on a calendar, or as an advertisement for a Chinese travel agency, a photographer swaps out backgrounds for various seemingly disinterested Tibetan travelers. The interactions with his "customers" are great; as he rearranges family members, gives them different clothes, etc. Every click of the camera transitions to a new scene, and a new group, a new fake setting. It's a cute conceit, but hints at greater significance, when the mayor of a nearby town alerts everyone that their houses will be searched, or when a religious woman begins praying, because a temple background was selected.
If Hollywood remade this film…A bidding war erupts over Butter Lamp, as American studios see the massive global box office potential of such a majestic Chinese backdrop. Two competing emerge. The first, I Can't Believe It's Not (A) Butter Lamp!, directed by Ang Lee, stars Chow-Yun Fat's son (if he has one), as an intrepid, ambitious young photographer who comes into the possession of what he believes is a normal ole butter lamp (a glowing feature ubiquitous to Buddhist temples, which burn yak butter), when a mysterious femme fatale (Fan Bingbing) gifts it to him, ordering him to deliver it to the Lingyin Temple. Of course, he didn't realize that the lamp was actually…a magic one (genie played by Jackie Chan that kicks off an inspired comeback), and several top secret organizations are out to steal it (with a villainous and mustachioed Brendan Fraser subverting all expectations as Evil White Man), and to use its power to control China, and then the world.
Knowing his career was never as satisfying or impressive after the 1997 classic Seven Years in Tibet, Brad Pitt returns to Tibet in Ridley Scott's butter farmer epic, titled The Butter Farmer. Pitt, an ex-pat adopted by a Chinese family (all played by famous white actors), just wants to be one thing: China's best butter farmer. But, he's white! And maybe not even Buddhist, the villagers shout. But Pitt (or Ned Butterman) perseveres, calcifying the best Yak butter in China, turning his workshop into the most highly touted and sought after in the world, providing butter for the finest Butter Lamps in all the land. It wins 14 Oscars, and/or gets widely panned.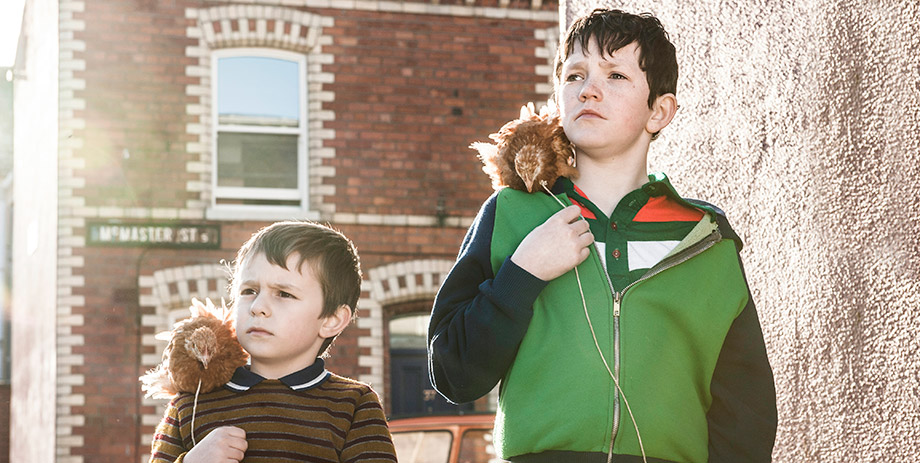 4. Boogaloo and Graham
Country of Origin: UK
Director: Michael Lennox
Synopsis: Jamesy and Malachy are over the moon when their soft-hearted dad presents them with two baby chicks to care for. Raising their tiny charges, declaring themselves vegetarian and dreaming of running a chicken farm, the two boys are in for a shock when their parents announce that big changes are coming to the family.
This movie almost gave me several heart attacks. While watching these shorts, I always expect the worst to happen, that we're fated for suffering. It just seems inevitable; I was clearly in a dark place, because you could make the argument that all five of these had a happy ending (if not a happy journey).
But Boogaloo and Graham is delightful, despite scaring me half to death. Belfast in 1978 was not a delightful place, in the midst of The Troubles, a conflict between Ireland and England, but when their father gives two brothers a chick to care for, we're all smitten. This movie could've been about nothing and it would've been a pleasure to hear these kids talk in their Yak butter thick accents ("Is Mom a whore?"). Plus, it has a doo wop soundtrack, with Frankie Lyman and the Teenagers' "Why Do Fools Fall in Love?" book-ending the film (and I LOVE doo wop). But the fun chicken montage comes to a halt when Mom lays down the law: they have to get rid of the chickens. Jamesy and Malachy (love these names) don't take it well, leading to a climactic scene that had my heart in my throat.
If Hollywood remade this film…The kids (Song of the Sea's David Rawle and Joffrey) get murdered by soldiers, lending new meaning to the term "Troubles," spurring what had been their "soft-hearted" Dad to become an Irish Punisher (played by Michael Fassbender) donning a Chicken moniker in honor of his fallen children. The vigilante, AKA Boogaloo (the name of one of the chickens), fights valiantly for the Irish side in a desperate attempt for independence from the British. It's bloody, fucked up, extremely controversial, but features an Act III battle between Fassbender and Liam Neeson (as an Irishman fighting for the Queen, a divisive, complex and rich character). So it makes $400 million and spawns a franchise.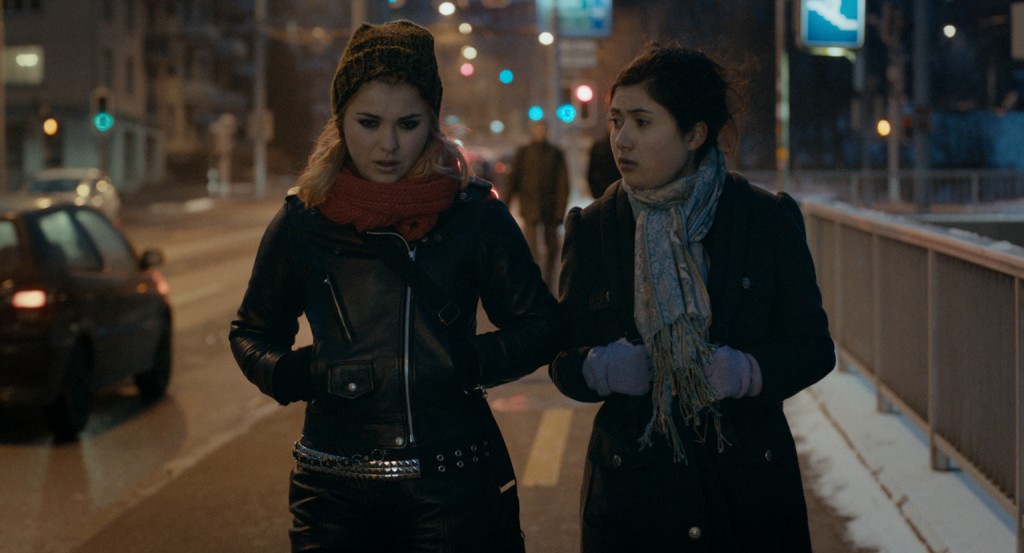 3. Parvaneh
Country of Origin: Switzerland
Director: Talkhon Hamzavi
Synopsis: A young Afghan immigrant travels to Zurich where she encounters a punk named Emily.
Parvaneh lives, obviously illegally, in Switzerland, scraping together money to send to her family in Afghanistan. She sobs after talking to her Mother on the phone. She gets stiffed at work, because she is illegal, and isn't in a position to fight back. She lives somewhere miserable, hiding her money under her pillow, or on her person, at all times.
Yeah.
She heads to Zurich to wire money, with no concept on how to do that. I'd bet that many of us have never wired money, or know how to do it, in our own countries, let alone a foreign land with a foreign language. It feels like a more terrifying concept than most horror films. When I worked at a bank, it just broke my heart to see anyone come up without a bank account, showing me a meager check from Western Union. Parvaneh finds a Western Union, but can't send money, because she doesn't have a valid ID and/or is under 18. Take your pick. It gets worse: she approaches strangers on the street, asking for help to send money…and I wanted to scream, to turn away. Parvaneh happens upon a young punk named Emily, who will help, but only if she gets a 10% cut, because everything's awful, or so it would seem. Can Emily be trusted at her word? Can anyone? Thankfully, the two lonely souls needed each other. Afterwards, I was convinced: there is good in the world. It's just extremely hard to find.
If Hollywood remade this film…Parvaneh would quickly become a festival darling, the indie that could, starring an unknown Middle Eastern actress who becomes a revelation, a star and a hero, acting opposite Emma Roberts as the punky brat Emily in an Oscar nominated performance that silences her critics forever. Its odd couple story of friendship charms everyone, the rare case when an adaptation works.

2. The Phone Call
Country of Origin: UK
Director: Mat Kirkby
Synopsis: "THE PHONE CALL" follows Heather, a shy lady who works at a helpline call centre. When she receives a phone call from a mystery man she has no idea that the encounter will change her life forever.
It's almost unfair to have Oscar nominated actors Sally Hawkins and Jim Broadbent in this category, and they both give tremendous performances in The Phone Call. Heather's first call of the day at her crisis centre help line is from a broken, shattered, sobbing man, scared but ready for death. Heather tries to get more information from him, to save him, while also being there for him, a friend, a voice before the void, his last company. The Phone Call is an emotional tornado that could've felt manipulative, but it's so well done, and features a complicated but ultimately reassuring message.
If Hollywood remade this film…Heather (Natalie Portman) walks into work, excited about her first date with her cute and quirky co-worker Daniel (Radcliffe) when she gets off. BUT WILL SHE EVER MAKE IT? OR HAS SHE ALREADY? In Verizon's Last Phone Call, Heather learns the power of telecommunication when she picks up her first call of the day, AND WHAT MAY BE HER LAST, and a mysterious, unstable man on the line describes impossible things in her ear (voiced by Johnny Depp). He claims to be Daniel from the future, revealing things about her that he can't know. The conspiracy mind-#@%! is Wally Pfister's first feature after the dreck that was Transcendance, and it's arguably not much of an improvement.
1. Aya
Country of Origin: Israel & France
Directors: Mihal Brezis and Oded Binnun
Synopsis: Two strangers unexpectedly meet at an airport. He mistakenly assumes her to be his assigned driver. She, enchanted by the random encounter, does not hurry to prove him wrong.
This Israeli Academy Award winning best short film is tense, weird, mysterious, uncomfortable, funny, cute and dripping with possibility. It begins, like too many films, in an airport. Yet its opening shot, lingering over the myriad balloons that have floated to the ceiling, let go by hugging families, displays the patience and vision of two filmmakers completely in control. Aya (a mesmerizing Sarah Adler) is asked to hold up a sign for an arriving passenger, and when Mr. Overby (Ulrich Thomsen) arrives, she doesn't reveal her mistaken identity. Instead, she drives him to his destination, in one of the most awkward drives ever. Aya plays with our expectations; when will she confess? What will Mr. Overby think? Does Aya have malice intentions—is this a serial killer's routine? Is Mr. Overby as innocent as he appears? There are so many questions, but sometimes things just are, and that's why I like Aya so much. It's unafraid to stay the course, to resist temptation to shock or surprise, introducing us to a fascinating woman who feels closer to people she doesn't know than her family and friends.
If Hollywood remade this film…The two would have sex and/or murder each other in Insane Awkward Sex Bus. The blockbuster, aptly described as Basic Instinct meets Speed, stars Rooney Mara as a maybe crazed fake bus driver, a bus load of quirky passengers at her whims, including love interest Mads Mikkelsen, in the role of a lifetime.
For my Documentary Rankings, click here.
For my Animation Rankings, click here.
The Oscar Shorts arrive in theaters Friday, January 30, 2015 and on VOD February 2015. For a full list of theaters the short films are playing in, check out the Shorts website. If you find yourself in the LA area, the Live Action and Animated shorts will open in Los Angeles at The Nuart in West L.A. and the Documentary shorts will open at the Music Hall 3 in Beverly Hills. All three programs will open in Orange County at the Regency South Coast Village.