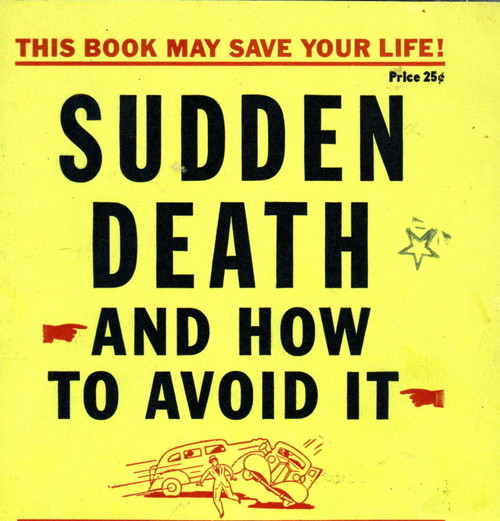 There might be some misconceptions about this one and googling "sudden death" is a risky proposition, especially with the rash of untimely and tragic celebrity deaths recently. Unfortunately, I cannot teach you how to avoid sudden death, as the book above purports (for 25 cents, no less!). Nor am I talking about this movie: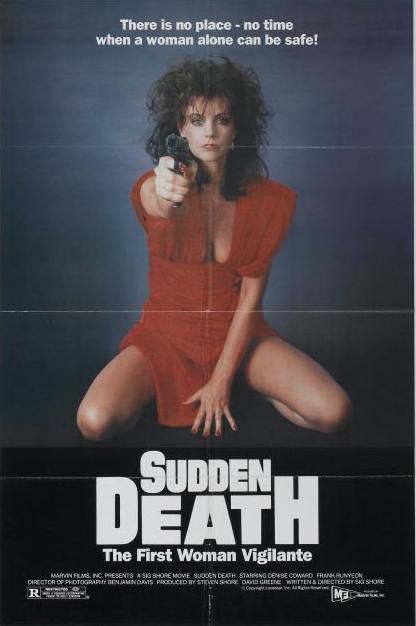 The 1985 film's logline: "A New York City career woman becomes a vigilante after being raped by two car thieves." It sounds like an unholy cocktail of Jodie Foster's filmography (THE BRAVE ONE and THE ACCUSED), and probably shouldn't be watched, let alone drank to.
I'm also not referring to the clever short musical of the same name ("Finally, A Musical Where Everyone Dies"):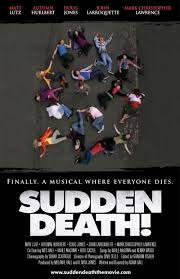 Though maybe I should be.
The SUDDEN DEATH to which I refer stars ubiquitous baddie Powers Boothe, forever destined to be one when given such a name: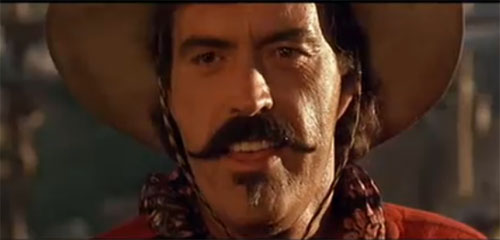 It unfortunately does not star…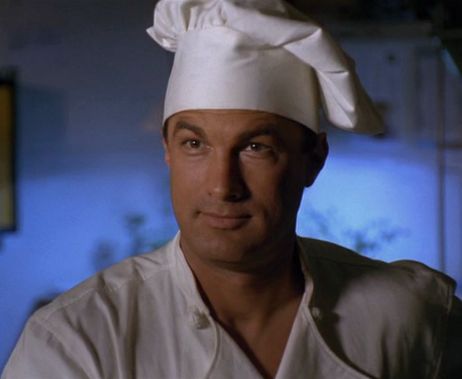 But it's even better.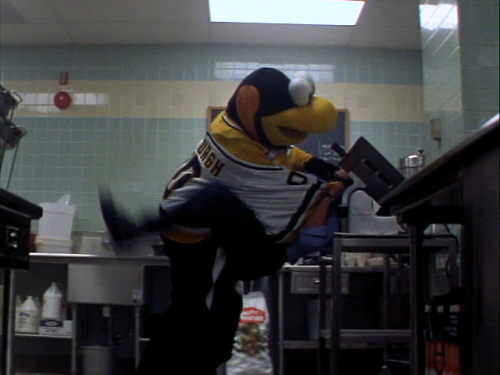 Inspired by a deleted scene from PARKS AND RECREATION in which Andy Dwyer (or Chris Pratt, burgeoning king of the known cinema-verse) delivers a cunning and hilarious musical rendition of one of Jean-Claude Van Damme's finest performances (at a kid's birthday party), SUDDEN DEATH had to happen. Here's Andy doing his thing:
That was published January 23rd. Three days later, my friends got together for a MOVIE DRINKING GAME to what was surely one of the classics of cinema. As SB Nation put it, SUDDEN DEATH is the best Stanley Cup action movie of all-time, a phrase with untold conviction and even more competition for the crown (there is none). It's the second collaboration between director Peter Hyams and JCVD. Their first? TIMECOP, another classic begging for a drinking game (as does every other movie in the Muscles from Brussels' filmography).
Here's the trailer:
If there was any doubt to its greatness, and in case you missed the above photo, this is a movie that has Jean-Claude Van Damme FIGHTING the Pittsburgh Penguin ("Iceburgh"), and she arguably gives him his toughest test. This is a movie that matters.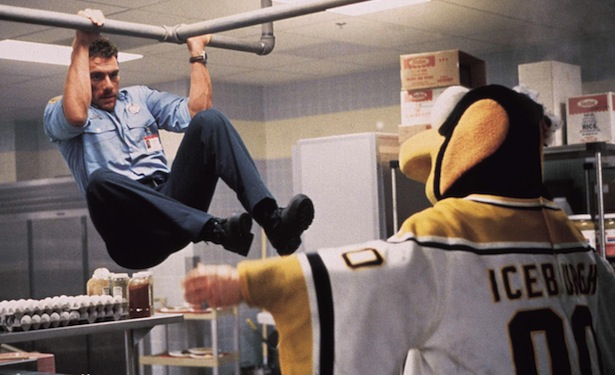 And now, without further ado, the MOVIE DRINKING GAME™ rules, entitled "Terror Goes Into Overtime," after this film's winning slogan.
1. Take a sip every time JCVD connects on a kick. Finish your drink for the super kick. You'll know which one it is. If not, well, hopefully you brought more beer.
2. Drink every time Jean-Claude Van Damme exhibits truly awful, deplorable and irresponsible parenting.
3. Drink whenever you witness sudden death! (So when people die)
4. Toast (and drink) if there's ever confusion over how many periods are in a hockey game (hockey fans just changed the page) with your group of friends.
5. Drink when the game goes to overtime! (Spoiler police: it's the title! Also, this is a movie from 1995)
6. Gulp whenever someone in the room hums or sings Andy Dwyer's SUDDEN DEATH hymn. Double it if someone immediately afterwards suggests putting the video on, again.
7. Whenever a goal is scored, you know what to do. Even if it happens off screen.
8. Drink for every new period.
9. Sip on that ice cold Penn Brewery beer (brewed in Pittsburgh) every time you're in awe of the deplorable security at the game.
10. Roll your eyes, roll up your sleeves and get to drinking whenever JCVD's kids make a stupid decision. If they make a smart one, dish a drink out to your colleagues (read: gang up on your least favorite friend).
EXPERT LEVEL: Waterfall for as long as JCVD's son Tyler (hey, it's the cutie from SLEEPLESS IN SEATTLE) stays in his seat during the game. Note: please don't do this. It's impossible.
Want more SUDDEN DEATH? There apparently was an audio book of the movie novelization, voiced by Powers Boothe. WHAT?!
Disclaimer: Drink responsibly, or else you may make the title of this movie a self-fulfilling prophecy. Don't do that, or put on your skates and get in the rink after this game; it will end as poorly for you as it does for the Blackhawks in this game.