Welcome to the Binge Project series! These Binge Projects will feature me reading or watching an entire run of comics, books, TV shows, or other media in rapid order, then writing expansively about the experience. This installment will be a slower process, as I work my way through the lengthy "The Wheel of Time" book series. 
Previously: Book 1 (The Eye of the World), Book 2 (The Great Hunt), Book 3 (The Dragon Reborn), Book 4 (The Shadow Rising), Book 5 (The Fires of Heaven), Book 6 (Lord of Chaos), Book 7 (A Crown of Swords), Book 8 (The Path of Daggers), Book 9 (Winter's Heart).
And now, The Wheel of Time Book 10: Crossroads of Twilight.
So, I was nervous about this book. My friend who first strongly encouraged me to read The Wheel of Time viewed it as the worst entry of the series, and I didn't exactly feel any better when buying it and noticing that its average rating on Amazon was just 2 stars. But, ever the contrarian, I actually liked Crossroads of Twlight a decent amount. It certainly had its fair share of frustrations and wasn't even particularly close to equaling the best books of the series. But expectations can make a big difference in how you feel about a work. I came into Book 10 with very low expectations that weren't going to be hard to surpass, and by just delivering a solid enough book, Jordan did surpass them.
All the best highlights to me in Crossroads involved the White Tower: both the machinations inside Tar Valon and the siege outside it. Egwene has, bizarrely compared to my thoughts on her in the first few books, become maybe my favorite character to read about. She's now a skilled manipulator and politician, but she's juggling so many balls that it feels inevitable for some of them to start crashing down — as they do at the end, with her being betrayed and captured. But the journey there was fascinating.
Egwene finds herself beset by multiple surprises this book, with unexpected proposals to open negotiations with both the White Tower and the Black Tower. The latter was especially entertaining, as Jordan really set the scene of chaos that erupted during that Hall meeting; I particularly liked how Egwene both showed how far she'd come as a leader during that meeting (restoring order when no one else could, while the Sitters were on the verge of actual fistfights) but also showed how much was still beyond her control (her opinions having little effect on the subsequent proceedings). Her meetings with her two main rivals among the Sitters were likewise fascinating. She outplayed Romanda wonderfully, putting the woman squarely on her heels, only to lose that ground at the end by outraging Romanda with her proposal to remove the Oaths for retirement into the Kin. It seemed like a misplay to me; Egwene was finally on solid ground, cowing Romanda a little. Dropping the proposal then just refilled Romanda with righteous anger again; I know she would have had to initiate that proposal eventually anyway, but waiting til she was on more solid ground seemed smarter. It's not like there was any rush; they don't have the Oath Rod yet anyway.
Lelaine, meanwhile, seemed on stronger footing from the start, clearly having uncovered at least some of Egwene's secrets and teasing her upcoming ability to hold them over Egwene's head. I imagine Lelaine and Romanda will be Egwene's first two suspects as she considers who betrayed her. While we know instead that Halima is one of the Forsaken and Sheriam is in Halima's thrall, I still wonder if one of the two sitters could have played some role in it; knowing two possible sources of betrayal doesn't mean there aren't others. The most intriguing possibility to me would be if both Lelaine and Romanda were Black Ajah and secretly working together. We've been told repeatedly how much Siuan and Leane have been able to do by working together secretly while publicly pretending to be at each other's throat (which, really, should be an obvious fake to everyone, given how long those two worked together). It'd be a fascinating twist if they were themselves taken by Romanda and Lelaine pulling the same trick on them.
The only disappointment I have with Egwene for now is her blindness to the threat of Halima. It started to really annoy me in this book that she's now so thoroughly competent in almost all of her duties, yet doesn't even suspect Halima at all. I'm not saying she should have figured out it's a woman killing with saidin, as obviously that's a fairly impossible curveball. But to not even think twice about how her headaches only occur with Halima around, including once in this book immediately after Halima got upset at her? Or to find the timing suspicious that Halima was out very late the night that an Aes Sedai was murdered? Come on, Egwene. Likewise, she should have put a lot more thought into Sheriam suddenly turning into a pool of wrecked nerves after previously being such a pillar of strength. The fact that she didn't think about either of them much at all was a disappointment. Still, I'm Team Egwene now. Her discovery of how to make cuendillar, and the plan to use that as a weapon to block the Tar Valon harbor, was very cool. Too bad it ended with her captured; I was more than ready to see Egwene the victorious conqueror.
Inside Tar Valon, we got perhaps the best scene of the book. Some of the White Tower subplots were uninspired; the hunt for the Black Ajah has been slow and dull since the rush of the first discovery. But massive missteps by Mesaana and Alviarin created a couple moments of great drama. I'm not clear on what all Alviarin was doing in her absence from the Tower, but that absence cost her everything. Elaida had time to recover and to scheme, and used that time to thoroughly outmaneuver Alviarin and remove her as Keeper, just a drop of evidence away from a treason trial. Elaida is hardly a sympathetic character, but watching her retake her power, as Alviarin suddenly realizes how screwed she is, was some dramatic theater. Immediately following it up, Mesaana got her own comeuppance from Shaidar Haran. The mysterious Myrddraal becomes one of my first correct predictions, revealed to indeed be an embodiment of the Dark One himself. As the first known physical representation of our series' Big Bad, it was damn effective. He was powerful and intimidating and definitely raised the stakes by a lot. That 1-2 punch of Elaida regaining an upper hand, followed by the Shaidar Haran reveal, was about as good as it got in Crossroads of Twilight.
Elsewhere, things were more of a mixed bag, and often more bad than good. Elayne's plots have gone steadily downhill; I had once excited about her return to Caemlyn, but it's somehow only made everything far slower for her. She had a high point early in the book with her negotiations with the Atha'an Miere. After the Seafolk kicked her (and Nynaeve's) ass in talks previously, it was good to see her regain some standing by more than holding her own this time. But that was the only good thing I can say about her parts of this book. This civil war for Andor has become long and is hinting at becoming interminably long, since there's absolutely no end in sight. Meanwhile, I just hate her pregnancy subplot so much. It's feels like a way for Robert Jordan to backdoor in the return of the Angry Woman while being able to blame it on hormones.
Elsewhere, there's Perrin. Our sole commenter so far, Ryan, mentioned Perrin's chapters as particularly bothersome to him in Books 10 and 11. They didn't bother me too much in Crossroads, but they're clearly trending in the wrong direction. Faile meets a guy with a crush on her who may or may not help her escape eventually. Perrin goes to a town that has a bunch of ghosts, which, ok. I get the point of showing the breaking barriers to ramp up toward Tarmon Gai'don, but the ghosts thing felt stupid and out of place in this book. I'm sure this isn't the end of the whole walking dead angle, and we'll probably see it bleed into other storylines as well. For now, the ghost stuff feels like a poor fit for this series.
Perrin's highlight is probably his "interrogation" of the captured Shaido. While everyone else was preparing for weeks of torture, Perrin got everything from them with one disfigurement and speech, creating the threat of leaving them handless and footless beggars. It was an effective moment, but undercut by him then abandoning his axe because he'd grown to like using it. I get the symbolism of that moment, but, um, aren't you going to still need to fight at some point? Especially while doing that whole thing about rescuing your wife? Won't that require a weapon at some point? Feels shortsighted, Perrin.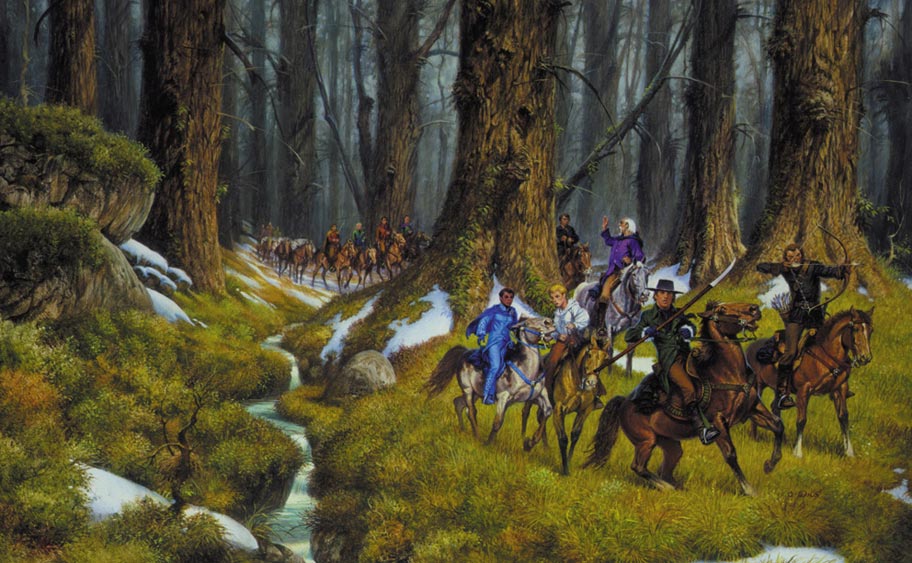 I was very interested once to see where Jordan would take the subplot of Masema/the Prophet, but there's little movement on that in this book. I suspect Perrin will eventually give into the advice to kill the man, but as he's already pointed out, that would only result in numerous smaller bands of thieves/murderers. Personally, I'm hoping we see Masema survive long enough to be brought before Rand. I'd be intrigued to see how Rand would react to him, and how Masema would accept strong rebuke from the man he claims to be serving. And speaking of service gone awry, I also have a feeling Aram will turn on Perrin at some point. His devotion is so fierce that I can't help feeling like it has a dark undertone that will be exploited at some point.
Mat's storyline is a slightly mixed bag, but pretty strong on the whole. I've already had more than enough to last a lifetime of Valan Luca and the plot idea of major characters hiding out in a circus (this is the second time Jordan has gone that silly route, though at least this one has been better executed so far). But I enjoyed Mat's budding relationship with Tuon and the way they play it as a game, maneuvering for control as much as affection. Tuon has a couple bitchy moments, especially toward Egeanin, but I didn't think it was overdone in this book.
The Seanchan themselves are in for interesting times, as more people (including Tuon herself, now) learn of the explosive secret that sul'dam can channel. That could be the most engrossing development yet for the Seanchan, as their entire way of life could be undercut, even as their spread has continued. Meanwhile, Perrin and Rand both reach separate decisions to consider alliances with the Seanchan. I really don't have any great guesses for where that will go, or even where I want it to.
Unfortunately, Rand doesn't do much else in this book. Logain enters the picture for his group of allies, but we only get to see a glimpse of that. Logain and Rand working together, especially if Mazrim Taim ever reenters the story as their target, could be a really great development. But after all the effort to cleanse saidin at the end of Winter's Heart, it's disappointing to see relatively little follow-up on the matter in Crossroads of Twilight. Watching the various reactions to the use of the Choedan Kal  was good stuff, but I expected it to be followed by widespread reactions to the cleansing of saidin, including among the dark Asha'man, but that just didn't fully materialize.
On a larger scale, the disappointment of Book 10 is how far apart the pieces still seem. Egwene is increasingly a badass, but she doesn't get too much closer to becoming the sole Amyrlin Seat, and probably even took a step back with her capture at the end. Elayne doesn't get much closer to winning the throne of Andor. Perrin is still chasing after his wife, and Mat is still slowly hitching a ride. We're at the point where I'd really like to see all these people reach their various positions of power, so we can have at least a couple books to see how those positions affect the dynamics between characters. As the current snail pace, I wonder if Elayne and Egwene will only take their places like the day before Tarmon Gai'don.
Book 10 had a lot of solid moments in its favor, with a few strong storylines that made the book an overall pleasant surprise to me. It still had its disappointments, the largest of which is that all the change is still occurring on a micro level; we're near enough to the end now that I want to see more macro-level change, with the big picture coming further into focus.
Only one book left by Robert Jordan. I've gotten some less than favorable reviews of Book 11, but I'm still really hoping he goes out on a high note.
–
NEXT TIME: Knife of Dreams, Book 11 of The Wheel of Time