Flight of Dragons (1982)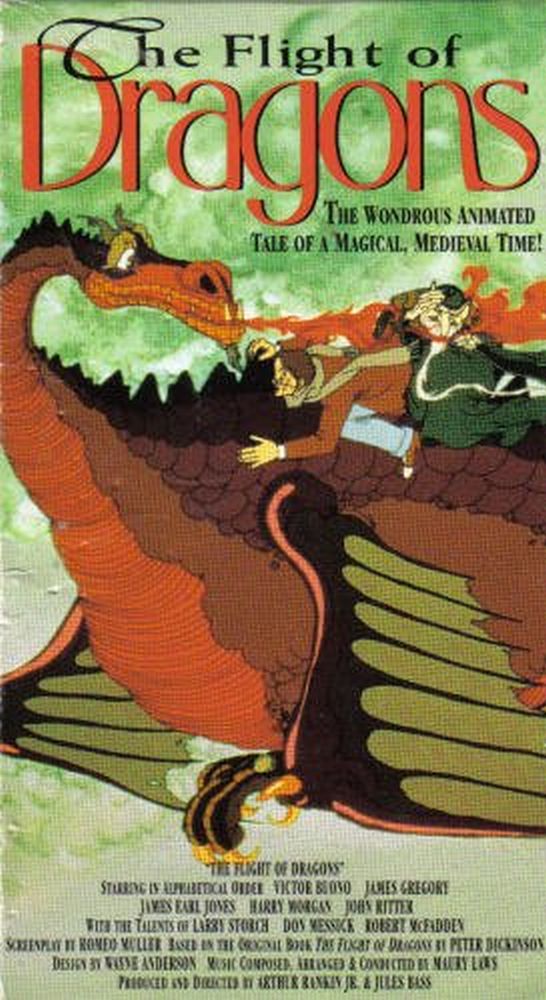 THE FLIGHT OF DRAGONS is easily the most obscure movie you'll find on this list, but it may very well be the most important.
There's no proper way to introduce this movie other than its opening scene and indelible theme:
Several Christmases ago, amid my pile of fresh DVD's to add to my collection, was a clearly homemade disc for THE FLIGHT OF DRAGONS, something my Dad somehow FOUND on ebay, because he definitely doesn't have the wherewithal or ability to burn it himself (the movie has since come to DVD, and can be purchased on Amazon). He was delighted that he found it, that he bought it, but I mostly greeted its unwrapping with a blank stare as he giddily recited our favorite line: "Trust in Antiquity." I remembered watching it as a kid with my Dad and loving it, but not much of the particulars. I can leave the specifics to my father.
My Dad is one of those people with an annoyingly good memory. He reads something once and he can recount nigh every detail, remember every name, every battle (he loves sci-fi and fantasy, but is a wizard with history). This came in handy when I was a child, as he could recite any new song I learned, replay any TV program I watched, or remember the names of side characters in movies or books that I loved that even I didn't recall the next day. The crazy thing is…he still remembers these things. He can whistle the tune to FLIGHT OF DRAGONS, he knows the names of the dragons, the wizards, the best lines and he is the one who made this movie a big deal in my life.
FLIGHT OF DRAGONS posits a time when the power of magic is waning, losing a battle against science and logic. If not for receiving this present, THE FLIGHT OF DRAGONS would've drifted away, and some of the magic in my life along with it, another forgotten TV movie that I watched when a kid, never to be blessed with its presence again. Thankfully, because of my Dad, that wasn't the case, as I broke it out drunkenly one night after Meatloaf Monday festivities had died down. All it took was the opening scene, and I was a kid once more, watching a ridiculous cartoon about fat dragons and board games. I was also drunk, and singing along with the tremendous opening number. That normally just means me yelling out "Flight of Dragons" over and over. I've seen it several times since, and still only know "Flight of Dragons" because I just sing that loudly whenever Don McLean (yes, "American Pie" is his SECOND best song) belts it out.
The film is fantastic, featuring a bumbling, wise old wizard named Carolinus (or, after having watches this, became Colonel Angus), who desperately tries to find the hero that can save magic, and find a balance between the jaded Earth fuming with "progress" and the fantastical world of Antiquity. Oh, antiquity.
When people refer to Owen Wilson as having a dick-nose, I think this is what they mean:
I found a kindred spirit with my buddy Alex that night, as he was the only one to make it through to the end without passing out, going home or making the long trek to a bedroom. The movie is silly, inspiring and eminently quotable (if Alex and I were to play beer pong right now, we'd likely put our faith in antiquity to bring us victory on the battlefield).
TFOD is one of those movies that makes you feel high and intoxicated even when you're not, a film that had to be made with TONS of LSD involved, a byproduct of its time. Which makes sense, as the classic comes from Rankin/Bass, who made the disturbing animated HOBBIT movie, as well as those wonderful RUDOLPH THE RED-NOSED REINDEER stop motion films.
FLIGHT OF DRAGONS has made the journey to college in Ithaca, found another home in Seattle, and has already become my calling card in LA, as I broke it out for a Movie Drinking Game Night. It was probably more fun for my friends to watch me than the movie, because I'm a roller coaster of emotion during all 96 minutes, but it was undeniably a film begging for a drinking game.
I've even had discussions about writing a live action version of the film, because it really does have that kind of potential. Crazy enough, I'm clearly not the only one, as this legitimate website implies, where a Seattle-area shoot was planned (which is where I grew up; the world is weird).
The film comes from two separate books by Peter Dickinson and Gordon Dickson. Dickinson's FLIGHT OF DRAGONS posits the science behind dragons and their flight, whereas Dickson's THE DRAGON AND THE GEORGE is where many of the characters came from. Dickinson lends his name to the hero, Peter, who has created a board game called FLIGHT OF DRAGONS based entirely on the world that Carolinus and the evil overlord Ommadon inhabit, yet he's never been there, or know it exists. It merely comes to him in his dreams.
He's voiced by America's sweetheart John Ritter. The villain, Ommadon, is voiced by none other than James Earl Jones. And he looks creepy as hell:
There's a sexy mustachioed hero named Sir Orrin Neville-Smythe. Behold: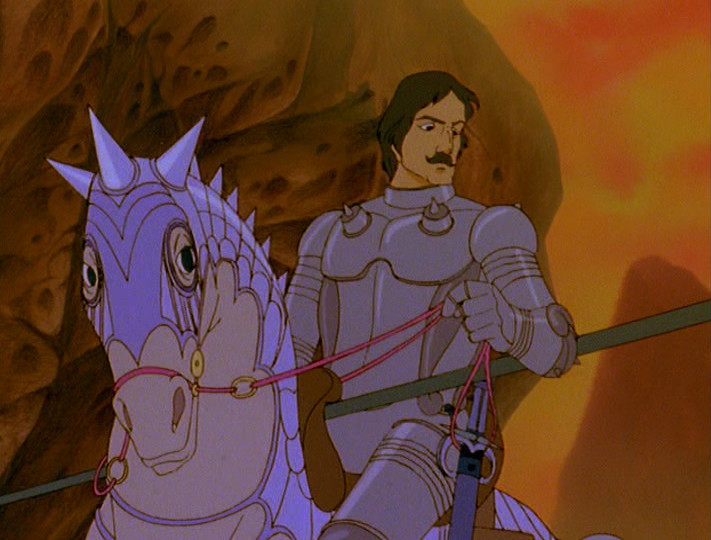 The dragons are big bellied for a reason: their stomachs are filled with hydrogen, like a Zeppelin, and it needs to be burned off now and again (thus, fire breathing). They also have awesome, weird names like Gorbash, Smrgol and Bryagh.
There are treatises on Good and Evil, from wise man Carolinus: "Good would be totally impotent, without the contrast of evil." The film is littered with the kind of wisdom you'd find on a bumper sticker or in a book of inspirational phrases hidden away in a Hallmark. And that's a good thing.
There are these terrifying worms of the deep:
Oh, and Princess Melisande, who I so have dibs on:
Try not to piss your pants when you see Ommadon's transformation in the climactic battle scene:
THE FLIGHT OF DRAGONS is wonderful, for its ingenious treatment of dragons, and their quirky personifications, for the talented voice cast, its wit and wisdom, and its clearly timeless appeal. And while my thanks go out to Rankin/Bass and the Dickinson/Dickson team, equal thanks goes to my Dad for bringing it back into my life, for he always trusts in antiquity.
NEXT UP: My favorite Christmas movies. Because February is exactly the right time to talk about Santa.