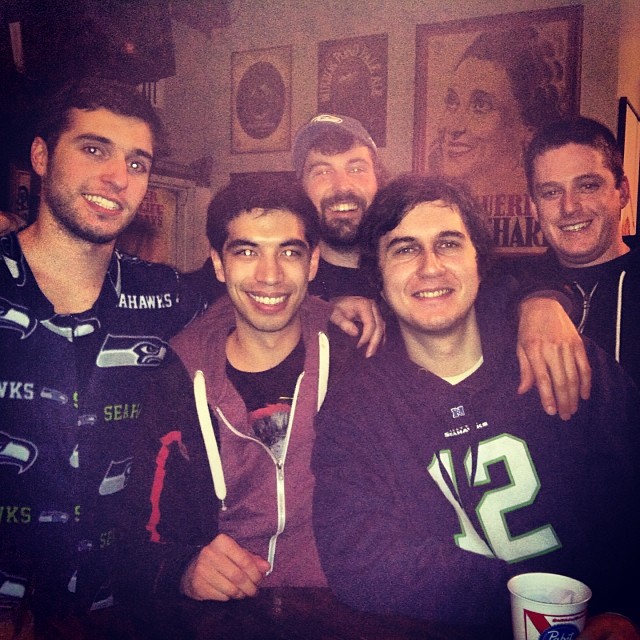 I was only in town for a few days, but the events that occurred in Seattle during the weekend of Feb. 2nd (happy birthday Mom!), were far bigger than that. The Seahawks explosive SB 48 victory was life-affirming, inspiring and proved to bring the citizens and very fabric of my favorite city together in ways I had never thought possible.
But the next morning, it was time to go back. Back to LA, where it has been a struggle, and will continue to be, but at least now, it shall be on my terms. With a permanent grin affixed to my face (that remains to this day), I soaked up local sports talk radio until its crackly death down I-5, tearing up as I left home. Again.
After a purposefully late start (that almost never happened, once I heard about the planned parade on Wednesday the 5th), I busted down through WA and Oregon, the 12th man flags unfurling on the highway, becoming less and less. Until it was time for dinner, refreshment and rest.
Ah, Ashland.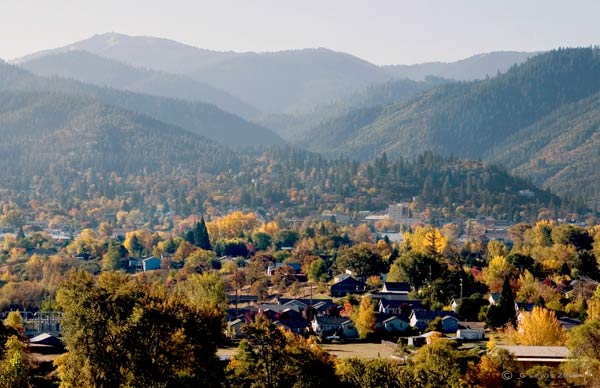 The home of the mighty (don't call them Red) Raiders of Southern Oregon University. They might pose as much a threat as a red-tailed hawk does to a brick wall in most sports, being from the Cascade Collegiate Conference of the NAIA, but on a wrestling mat they're no slouch. They've won 4 national championships, one as recently as 2001,  or back when the Seattle Mariners were everyone's favorite NW sport team.
According to TripAdvisor, there are 42 things to do in Ashland, proving once and for all, that Ashland is the answer to life's biggest question. Or Ashland has something to do with Jackie Robinson (it doesn't). The city's hallmark, and a big reason why my parents are considering a move there for their retirement years, is the practically year-round Shakespeare festival, with 11 different plays shown each year from February to October, on three different stages. The favorite is the outdoor Green Show stage. You might doubt the talent of Ashland's actors, considering its awkward location, 16+ miles north of the California border, but you'd be an idiot. Hollywood this is not, and that's exactly why people flock from all over the world to this festival. The spas, vineyards and river rafting also help bolster this underrated gem.
But, I've never been one for timing. I found myself in Ashland during the off months, which in this case was nice, since I could find a bed (easily), at Bard's Inn, a not subtle Best Western. I also didn't check out Lithia Park, or the Oregon Cabaret Theatre (Oregon's cooler than you think), the Ashland Library (okay, maybe not), and didn't trek up Mount Ashland. I was merely driving through, so once I was parked, I only had one goal in mind.
BEER.
'Twas a frosty early February night, with barely a soul on the streets, Ashland's nifty downtown more likely home to the ghosts of Shakespeare's plays than the actors who would play them, as I hobbled across the bridge, over the river, and to get drunk.
I was aware of three breweries in Ashland, two of which had brewpubs in town: Standing Stone Brewing Company and Caldera Brewing Company. Swing Tree Brewing is the new kid on the mountain, and apparently it does have a Taphouse. When I called them, I got a personal voicemail for the brewer, not exactly a sign of beers on tap (and in my belly), so I stuck to Standing Stone and Caldera, which was for the best, since they were the only two within walking distance, and after sampling nigh every beer that each pub had on tap, were about all I should handle for an evening's work.
Swing Tree will have to happen next time. Because there will be a next time, hopefully including a freckled lass, Shakespeare and a bed and breakfast. There aren't many things better than that combo.
Well, beer.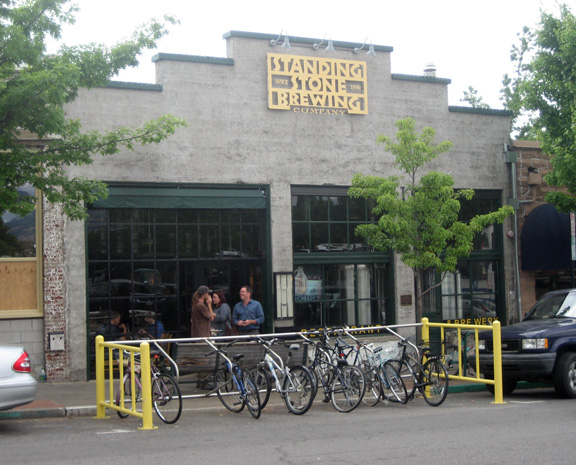 I began my beer-ney at Standing Stone, because the faithful Best Western employees suggested it had better food. After seeing a menu littered with seafood (including oysters from Dabob Bay in WA), steaks and burgers with a Mexican flavor…I naturally selected something entirely different: the Kimchi Burger. Why?
Fuck if I know. Because I always want to love Kimchi (and I never quite do), and Standing Stone ferments their own Kimchi, and the idea of Kimchi adorn atop a pork patty, sounded like the choice. You don't drive from Seattle to Ashland and then order seafood. Or get Mexican when you live in Southern California.
The burger was especially moist, bursting with flavor and the Kimchi lent a decent level of spice, that paired perfectly with a few of Standing Stone's hoppiest beers. I also got a house salad with their Oregano vinaigrette, which was most notable for the fact that it was pink in color and still great.
Standing Stone had 7 beers on tap (Hop Night, Farmer Brown Ale, I Heart Oregon Ale, Amber Ale, Twin Plunge 2IPA, Steel-Cut Stout, Noble Stout), so I naturally sampled all of them by ordering the Sampler Tray, that somehow included all of them for $5. Um, wow.
Perhaps because I sampled 17 beers this fine night, but none of Standing Stone's beers were particularly memorable, especially when contrasted with Caldera's overflowing and unique tap list. I enjoyed their Amber Ale, because it added a slightly fruity aftertaste not normally associated with an Amber. The Brown, always the lamest of beer options, had a faint graham cracker musk and a biscuity flavor that I enjoyed more than I expected. My favorites, predictably, turned out to be the Hop Night and surprisingly, the Noble Stout, with its abundance of coffee, chocolate and even vanilla flavors. I noted that maybe this means I like coffee now, and wanted to have it for breakfast. I didn't.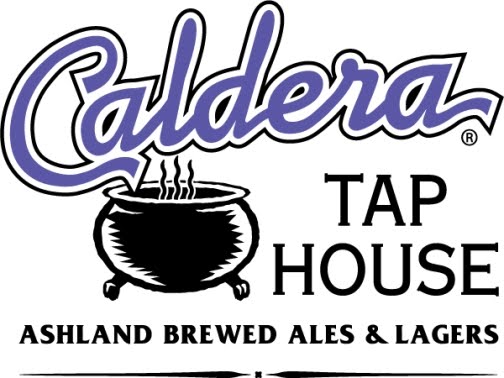 After scarfing down a delicious and wholly unnecessary (is there any other kind?) Marionberry Cobbler, I stumbled over to Caldera Brewing Company, where I got to watch Oklahoma State lose in triple over time, and add two more sampler trays to the festivities.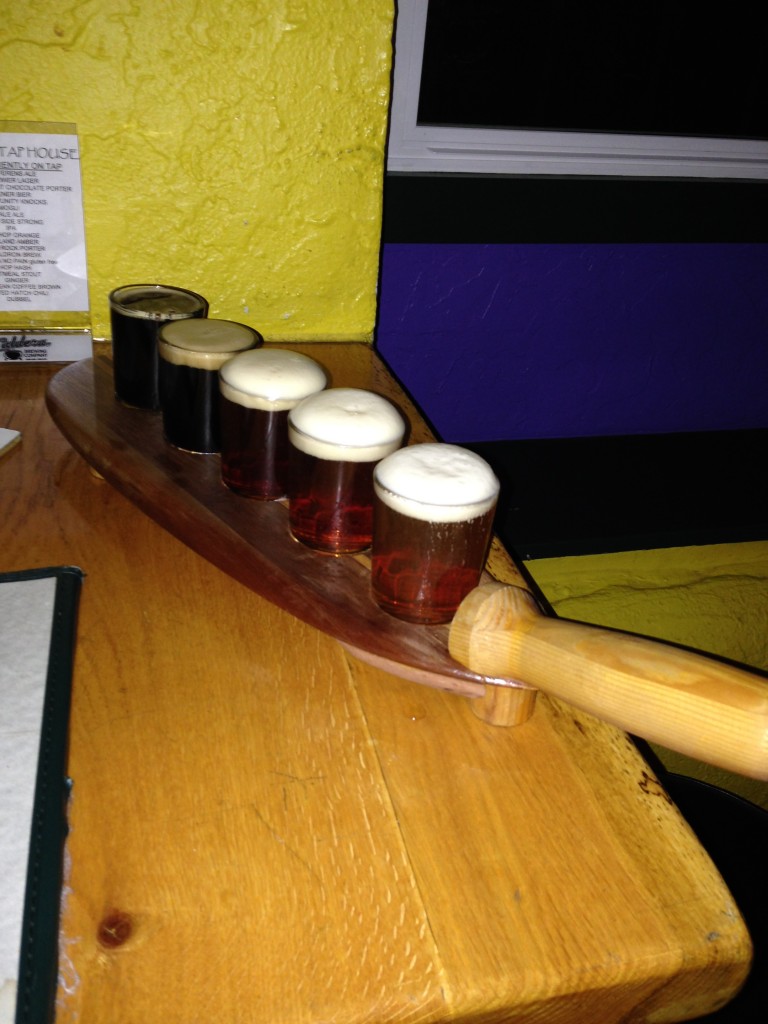 I avoided most of Caldera's normal beers (pilsners, lagers, whatever), and rejoiced in the weird: the Dry Hop Orange, their Mogli (a Bourbon Aged Chocolate Imperial Porter named after an owner's puppy, not…Mogli, which is even better), the Hibiscus Ginger Beer (so refreshing), the Toasted Coconut Chocolate Porter (fuck yes), the Roasted Hatch Chili (um), and some of their hoppy staples (their Hopportunity Knocks tasted like a bottle of perfume, and I mean that as a compliment) and seasonal Cauldron Brew. It was all, save the chili beer (it's basically a beer version of a Bloody Mary and that's not my thang), delicious, astounding or oddly intriguing (their Belgian strong, Vas Deferens, tasted like dry cat food). It was really hard to cleanse my palate between each one, and I likely didn't. I grabbed a couple bottles that I didn't get to try for the road (many of their beers are canned, as is the current trend that Caldera helped start). If you're asking why cans, well Caldera knows: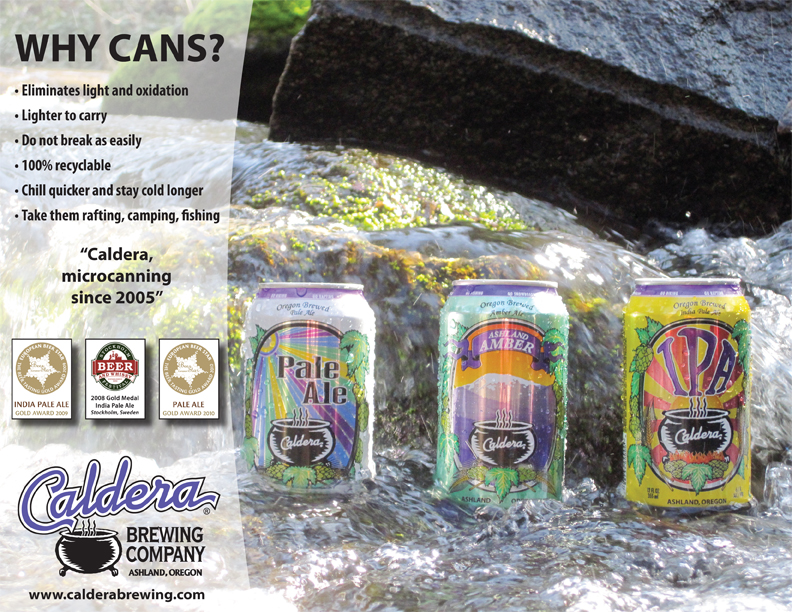 If you want more of my thoughts on these beers, you can check my quick reviews that occur during these tastings through my profile on Untappd, one of my favorite beer drinking apps. Generally they're not very enlightening ("I wanted to heart this, but I more fart this…"), but they only get better as an evening wears on, and likely more fun if you drink along.
After masturbating to the Seattle Seahawks roster all over Bard's Inn's sheets (…not really) and getting a nice night's sleep, it was on to San Jose for some Grandma and Uncle Keven time. Between that?
It was time to check in on another Diner, Drive-In and Dive, courtesy of Guy Fieri.
While Grandma had planned a lavish Japanese feast at a local restaurant in San Jose (promptly at 6), I refuse to take any road trip without at least one Triple-D destination jammed in there, so I took a detour to the glittering metropolis of Sacramento for a burger with high self-esteem.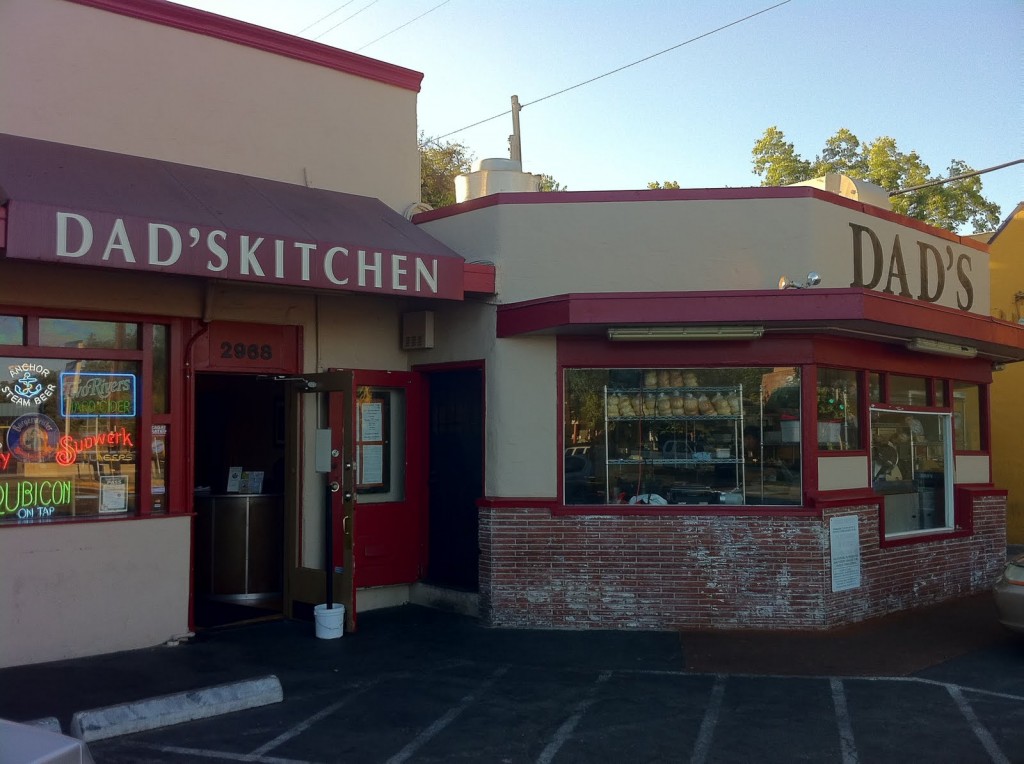 http://youtu.be/U81e9s9qs_g
After watching the Dad's Kitchen episode (above), there was no question I had to get the Dad's Burger, a grass fed patty (the cow was grass fed, not the patty, well I guess it was technically) topped with 2 ounces each of bleu cheese crumbles and bacon, crusted to the top like a beautiful, tasty hat.
Behold: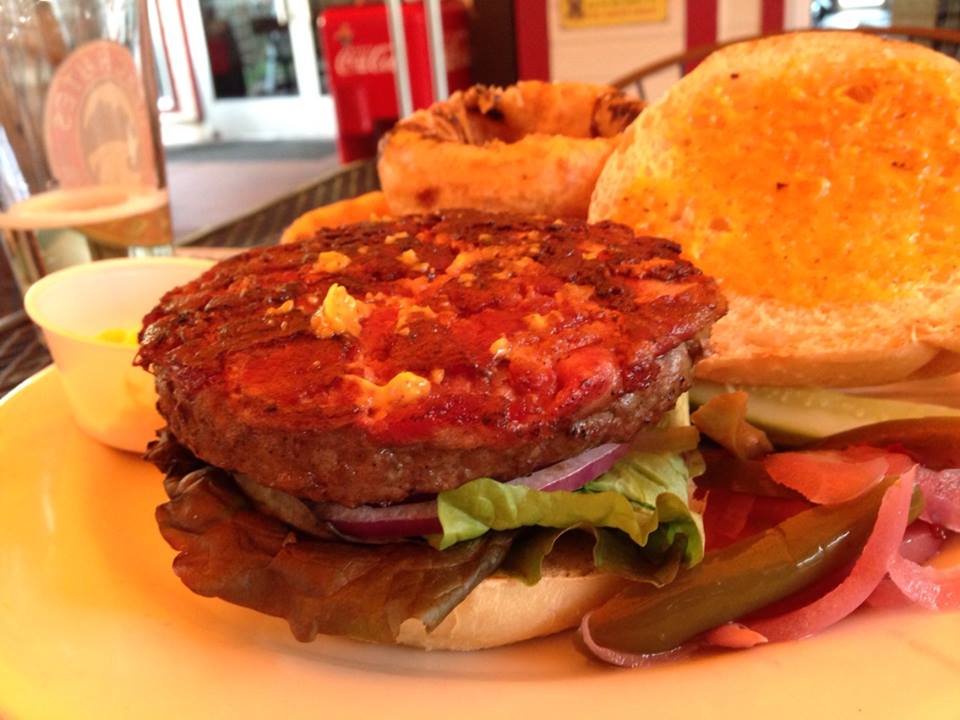 I upgraded from fries to the impossibly juicy, batter-y onion rings, drizzled in Balsamic reduction, Parmesan cheese sprinklings, served with red bell pepper aioli. I might have enjoyed them more than the burger (that was top-notch), if that's possible. I joined the ensemble with a local cider from Two Rivers Cider Company, only because they have a Pink Lady Cider, a serendipitous circumstance, as the Pink Lady is my favorite apple. My reward? A cider, while not too sweet or too dry, that lacked any sort of distinguishable characteristics. Yay. Either way, I was only scratching the surface at Dad's Kitchen, which has an impressive rotating tap list that I must plunder at some point.
The feast:
Plus, I need the Hot Blonde and Meatloaf inside me the next time I find myself in Sacramento. The mantra of a traveler moving on too fast (or a shitty one): next time.
After a nice night of catching up with my Grandma that I won't inundate you with, it was on the road again.
And before I knew it, I was back in beautiful, downtown Burbank and ready to get on with whatever comes after a Crossroads.