SPOILERS.
I have so many thoughts on Bryan Singers' long awaited third installment of the X-Men franchise. Most of these thoughts are fangirling because it finally came into theatres, but there's a few good thoughts that are actually coherent opinions, so we'll see how far we get into those before fanbrain takes over. DAYS OF FUTURE PAST took us from a dystopian future where the Sentinels have all but destroyed both mutants and their human allies back to 1973, ten years after the events of FIRST CLASS. James McAvoy's Xavier takes a serum that helps him walk but blocks his telepathy, Magneto (Michael Fassbender) is locked in a cement prison beneath the pentagon, and young Mystique (Jennifer Lawrence) has gone rogue and is helping mutants escape the clutches of Tyrion—I mean  Trask—I mean Peter Dinklage?—with the intention of murdering him to stop his murder of the mutant race. (Because an eye for an eye is really the best way of solving everything, didn't you know?) With a glimpse into the future of Sentinels that can evolve and adapt to any mutant power rendering them nearly unstoppable, Future Xavier and Magneto hatch a plan to send Xavier's consciousness back in time to help change the past and prevent Mystique from murdering Trask and thus putting the sentinel program into overdrive. (It really does take effort to type "Trask" and not "Tyrion.") However, apparently Logan's ability to heal makes him the only one physically capable of making the trip (his brain can heal itself when fractured by his future consciousness taking over for his past consciousnss. LOL WAT?) so little Kitty Pryde (a non-monotonous Ellen Page!) uses Rachel Summer's powers (not sure how she got those) to send Wolvie back to the past (that must have been writer Simon Kinberg's apology. "Well, we have to send Wolverine back because he's Wolverine, so let's change Pryde's power and storyline and instead of sending her back, let's just give her the power to send him! Problem solved!")
Once there, Jimmy/Logan/Wolverine hunts down Xavier who's wallowing in self-pity and, I'm sure, a quite ripe-smelling mansion while Nicholas Hoult's Beast takes care of [and coddles] him in his misery. Yadda, yadda, yadda, the plot progresses, fights happen, CGI, speeches, Magneto being a general boss, and J-Law speaking a variety of languages. Here are my high's and low's. High: My boo Joss Whedon once said, "Make it dark, make it grim, make it tough, but then, for the love of God, tell a joke." And oh boy, did Singer and Kinberg nail this one. DOFP was full of emotionally charged characters, all with their own personal stakes in the game, (and the entire future of the mutant race); the film was darker than you might have realized, and almost uncomfortably intimate, but then every so often there was a look, or a joke, or a scene (Quicksilver, I'm looking at you!) that would make you belly laugh. High: And speaking of intimacy, what a nice change from all the world-is-ending-save-New-York-from-the-alien-invasion-oh-no-there-goes-half-the-city! Yes, ok, there may or may not have been some structural damage to the White House, but this film was not about taking over the planet, or destroying the human race: it was about saving the mutant race and the targets were a small, specific group of men – not an entire city or country. The big action battle at the climax of the film took place in the future, while the emotional struggle of how to prevent that future was the focus of the past.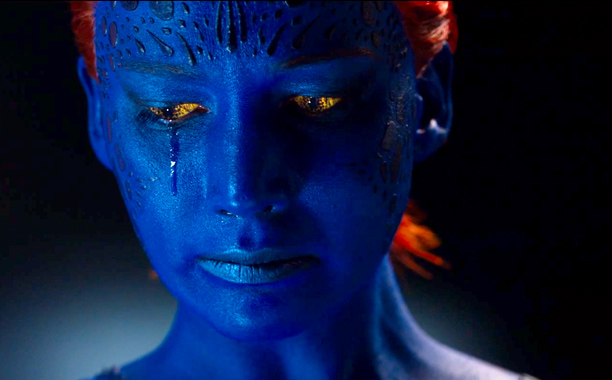 Low: Mystique was kinda boring. Aside from kick-ass action sequences (Mystique's fight scenes have always been fab; the way they bring her stealth-ninja prowess to life continues to astound me), she was just not very interesting in this film. She had one purpose, one goal, and her personal conflict was not presented in such a way that you really felt for her and understood why she was being so ruthless. I mean, you definitely got it (especially when she was going through the research files and we caught a glimpse of her pain and anger) but her turmoil was overlooked and surpassed by everything else that was going on. Had Logan been given less emphasis and Mystique been given a little more, I might have felt a whole lot better about her presence and she may have been more than just a naked J-Law in blue body paint.
High: The mutants of the future were so wonderful to see on-screen. Blink, Warpath, Sunspot and Bishop (Bingbing Fan, Booboo Stewart, Adan Canto and Omar Sy, respectively) were so well developed in terms of power-presentation. The FX felt remarkably natural and organic to the story and characters and it left you wanting nothing…except for them to have more screen-time. Low: Some of the other CGI needed some love. In particular, Mystique's shape-shifting FX and the green-screen were shoddily done in more than one scene, and it unfortunately took me out of the story. High: Young Stryker. Getting to witness the beginning of Stryker's involvement with the mutant phenomenon was surprisingly pleasant, but you never really knew where he was at emotionally. Low: Young Stryker…was surprisingly pleasant, but you never really knew where he was at emotionally. The movie-verse never established how old his son Jason (wannabe-Mastermind) was when he developed his powers, but DOFP specified that Jason was eight years old in 1973 so we can assume he is still perceived as human. Maybe it was a reflection of Josh Helman's acting, or maybe I'm totally wrong about Jason "still being human" at eight years old, but there seemed to be times when Stryker was conflicted about Trasks' plans to destroy mutants. I felt as if there were a few moments when Stryker was ready to object or defend mutants, but those moments were fleeting and ultimately forgotten.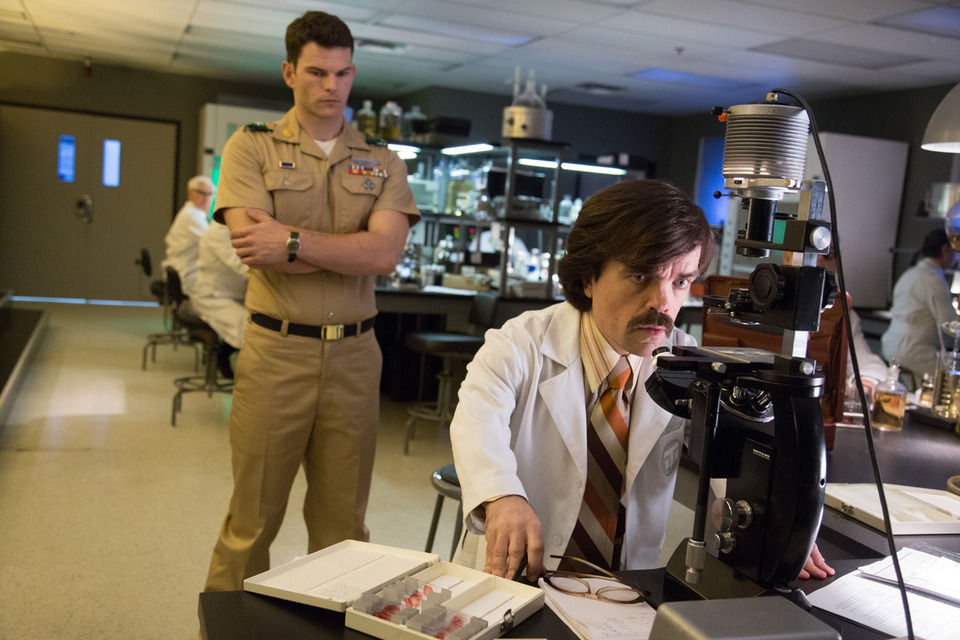 High: Two words. Peter. Dinklage. This man, I believe, is one of the great actors of his and our generation. He immerses himself so completely into every character he plays, and he transcends my expectations every time. Be it during Tyrions' trial (EMMY AWARD PLZ) or during his speech in the Oval Office convincing the President to employ his sentinel program, Dinklage is such a power and presence in every scene he's in. Low: Xavier's serum was a little far-fetched for me. It gave him the ability to walk by changing his DNA (Hank's serum did the same by hiding his blue fuzzies) and it also, coincidentally, blocked his telepathy. Someone, please explain to me, how changing your DNA gives you the ability to walk. Last time I checked, paralysis by gunshot wound was not a product of DNA. Am I wrong, science?
High: The FX for Beasts' change were so good. Low: If I have to watch Bobby get his head crushed, Colossus get ripped in half, Magento get a spear to the stomach, or my baby daddy Bishop explode again I'll throw myself off a bridge. Rip my heart out one more time, assholes. Please. High: Fassbender and McAvoy. They have such charisma and chemistry together, it's hard not to ship them. They play Magento and Xaviers' tumultuous relationship to perfection and watching them ignite such a passion and fire of rage, pain, friendship and loss in the other is a gift. Low: Contrary to how I suspect many others might feel I did not enjoy the scene between young Charles and old Charles. There were so many other ways of getting young Xavier to believe in himself again, to believe in the future; it felt contrived to have old Charles impart words of wisdom onto his younger self – that he would the quote not five minutes later. While I loved seeing McAvoy and Stewart on screen together, there had to be another way to give young Charlie the strength to hope again.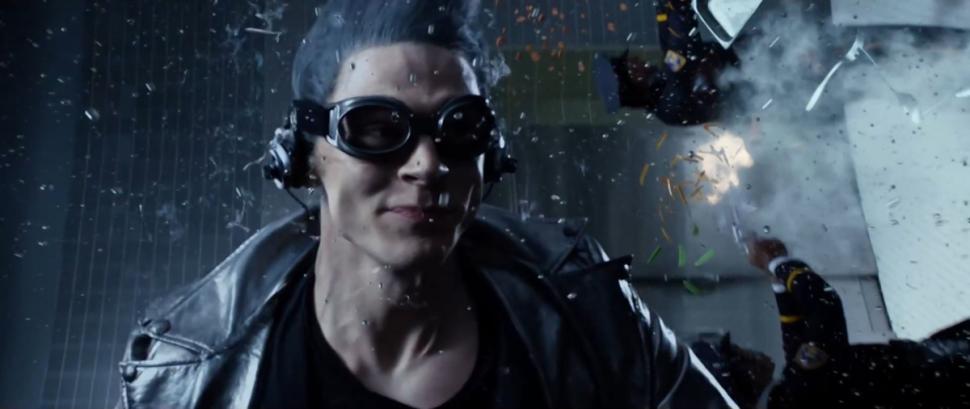 High: QUICKSILVER. This dude. Just—damn. This dude. Evan Peters was perfect. Beyond hilarious, he really brought Pietro's humor to life. While I'm excited to see a potentially darker side of him in MCU's AGE OF ULTRON (Aaron Taylor-Johnson) next year, Peters was brilliant in what he did. The little nod to Magento being his father was on. Point. Low: The Maximoff TWINS. Apparently the little princess sitting on Peters lap was not Wanda, but if that's true… Then where was she? High: The end. I almost started crying. Not because I'm such a girl that everyone survived and X3 didn't happen (although boy is that the best part) but because you got to see the original cast again. Rogue with her gloves on and holding hands with Bobby, Kitty and Colossus teaching a class, Storm (ughhh) alive and well, Beast roaming the halls and fuzzy and dapper, and Jean and Scott in the office with the professor. It was all I wanted to see my cast together and know there was hope for the future. Was DOFP the best X-Men to date? I'm split 50/50. There were things I loved and couldn't get enough of, but there were also certain things that were too underdeveloped, characters that weren't given enough screen time, and story aspects that I could do without. Was it the best adapted story thus far? It was pretty interesting, yeah. Did it stray too far from the original DOFP plotline? An argument could be made either way but it was adapted to fit the film universes needs and adapted well, at that. Am I rooting for another X-Men film with the original cast? Always. Do I expect to get one? Not particularly, no because now they've been tied up in a neat little bow where everyone survived and got a happy ending. The next few X-Men films will more than likely focus on the events that changed between 1973 and 2000 that created the future we saw at the end of DOFP. Did X-Men and X2 actually happen? X3 sure didn't (thank god) but I'd said it's fairly open to interpretation if the original two films happened the way we initially saw, or if their events changed minimally (or possibly majorly). Additional X-Info: X-MEN APOCALYPSE is said to be set in the 1980's, though it's always subject to change, and Bryan Singer has for all intents and purposes confirmed that young Storm, Cyclops and Jean Grey will be featured in APOCALYPSE as the beginnings of the X-Men we met back in 2000. Gambit is supposed to fit in there as well but no one really knows how at this point. And yes, I do think Channing Tatum will be a fine Gambit. He's got the swag, he's a decent actor (I think he's not given enough credit and I'm quite excited to see him in upcoming FOXCATCHER) and with the accent down and the right costume he'll certainly look the part. Here, have some side-by-sides.