At long last, here we are.
When Marvel launched its first live-action TV show, I couldn't have been more excited. We were still fresh off the nearly universal crowd pleaser of The Avengers, and every big detail only caused more excitement. Joss Whedon would produce! His brother and sister-in-law would be showrunners! Coulson would be back (somehow)! The pilot was charming if mildly flawed, and only served to bring expectations higher. Heck, we even got a Nick Fury cameo in the second episode.
But things didn't progress the way many of us hoped. The show didn't seem to be taking advantage of the universe it was living in. Ratings went down and fan frustrations went up. Even then, I thought there were highlights – strong episodes like "The Well" and "Yes Men" – and the show has been on a generally strong build since the start of 2014. But we still hadn't hit greatness.
Until last night.
As someone who's been reading comic books more than half his life, I tend to brace myself when I hear something called a "game changer"; most events struggle to really live up to that billing. But "Turn, Turn, Turn" delivered on it promise. Coupled with the events of Captain America: The Winter Soldier, it's clear that nothing can ever be the same for the show after this episode.
SPOILERS

ahead.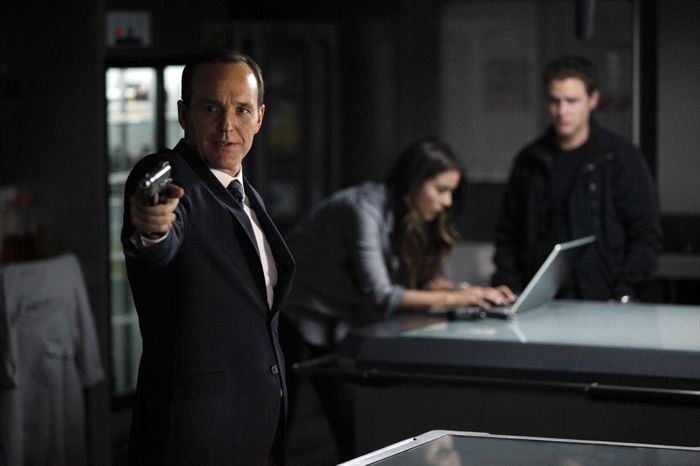 We've had a lot of Agents of S.H.I.E.L.D. coverage this week. Andy gave some possibilities for where the show could go next season; he'd call the ideas humorous, but I couldn't be more serious about loving the idea of Agents of U.P.S. And I gave some theories on where the show could go after Winter Soldier, both this season and beyond. I was wrong about more than I was right. Sure enough, the show wasn't afraid to immediately spoil the biggest reveal of Winter Solider: that S.H.I.E.L.D. has been infiltrated at every level since its beginning by Hydra. But I thought the show might play out its final six episodes simultaneously with the drawn-out events of Winter Soldier; instead they sprung it on their characters pretty fast and hard. Nick Fury is believed dead by all these characters. By the end of the episode, Captain America has taken out the helicarriers and S.H.I.E.L.D. HQ., from the movie's climax.
Once Hydra is out in the open, we get hot and heavy into layers of who's gone bad and who's still good. Victoria Hand goes after both Coulson's team and Agent Garrett, leading to our main characters deciding on the first layer of reveals: Hand must have been the Clairvoyant all along. Execept that doesn't last, and the second reveal drops: Hand is on the side of the angels, but mistakenly believes that Coulson isn't. May turns out to have still been a good guy, as expected, but we still get a bombshell from her: she put this team together, and she and Fury manipulated Coulson into thinking it was his choice; the entire purpose of this team was to keep an eye on Coulson. The shock on Clark Gregg's face says it all. More and more, everything he thought he knew is being taken away, and it's only about to get worse.
So let's pull back that next layer: Garrett tips Coulson off that Garrett knew something he shouldn't, and Coulson realizes the implication instantly: Garrett is the true Clairvoyant, a popular fan theory coming true. While I lobbied on Monday for Arnim Zola, after Winter Soldier, I couldn't be anything less than thrilled with how the episode played out instead. Garrett gets the upper hand instantly, and Bill Paxton settles in to give us our first great villain of the show.
In an outstanding bit of acting, the calm, easy demeanor that Paxton has played Garrett with all along never wavers as he slips into villainy. In Winter Soldier, Robert Redford played the chief villain, Alexander Pierce, with a sincere earnestness; he never gives up trying to convince those he's battling – the council, Romanov, especially Fury – of the justness of Hydra's cause. Garrett soliloquizes as well, but his ideology is far simpler: he saw which way the wind was blowing. The simple matter-of-factness with which he threatens Fitz with suffering, and tells Coulson that Coulson has been serving Hydra all along, gave me chills.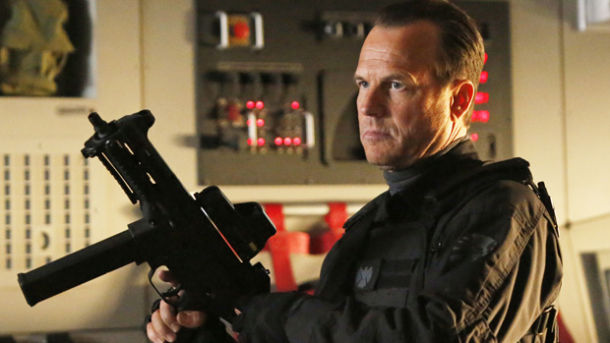 And yet, there was still one more layer to go. With the battles over and Garrett in custody, there were still a few minutes left. Hand offers Ward a spot transporting Garrett to S.H.I.E.L.D. prison, and at that moment, you start to feel it. This couldn't be the end of the Clairvoyant so soon. One more twist had to come. So while I won't say I was shocked as Ward shot the guards and freed Garrett, I was still floored by the palpable dread in the air. As Ward coldly executed Victoria Hand, I was more surprised; it felt like she would have a role remaining. And now, we had another big villain.
It wasn't just the big surprises and reveals that made the episode so great. There were outstanding action scenes, from Coulson's shot to take out the final drone, to the melee between Coulson's team and the Hydra agents. The acting was top-notch, particularly from the aforementioned Paxton and from Clark Gregg, who wears such pain and resolve on his face. But it wasn't just all of that, either; the episode was ultimately more than the sum of its parts. And I think I know why.
It comes down to the complaints I mentioned at the beginning, that the show wasn't taking full advantage of the universe it lived in. No one can say that about this episode. Just five days after Winter Soldier opened in theaters, Agents of S.H.I.E.L.D. was taking on Hydra and plainly announcing Nick Fury's "death." Despite huge box office numbers, not everyone who's going to see Winter Soldier has done so yet, but the show went boldly ahead anyway, and in doing so, found its identity. It's a show for fans – even, dare I say, for fanboys. It's for people who can't get enough of the Marvel cinematic universe, the kind of people who definitely saw Winter Soldier on opening weekend and wanted more. The success of Marvel Studios has been built of being able to give fans what they want, and now, this show could do the same.
Where do we go from here? Hell if know. I called Ward being a traitor, but hardly anything else. The show still has five episodes left this season, with Samuel L. Jackson thankfully booked for the finale. I can't help wondering if the end of this episode was really the final word on Ward's allegiances; could he be infiltrating Hydra? Could there still be a redemption plot down the road? Personally, I hope not; the coldness of that final shot of Ward's face really stayed with me. Let's keep him villainous.
I would imagine the rest of the season could be all-out war between what's left of S.H.I.E.L.D. and what's left of Hydra. Before going off to her death, Hand told Coulson that she and he might be the two highest-ranked S.H.I.E.L.D. officers left alive and loyal; now, that's just him. Garrett, as the Clairvoyant, may well be the same for Hydra (at least since we surely won't get into Baron von Strucker on the show). I'm hoping Agent Triplett doesn't follow his fellow Garrett protégé in being secretly bad; my idea of having a spot open up for him to join the team seems to be coming to fruition.
But maybe most of that's wrong, just like most of my previous guesses were wrong. If so, that might be all the better. Because now, Agents of S.H.I.E.L.D. is looking like a show that's willing to make bold choices and take chances with new directions. It's looking like a show that's ready to contribute to the wider Marvel Universe. It's looking like a show that's finally found greatness.