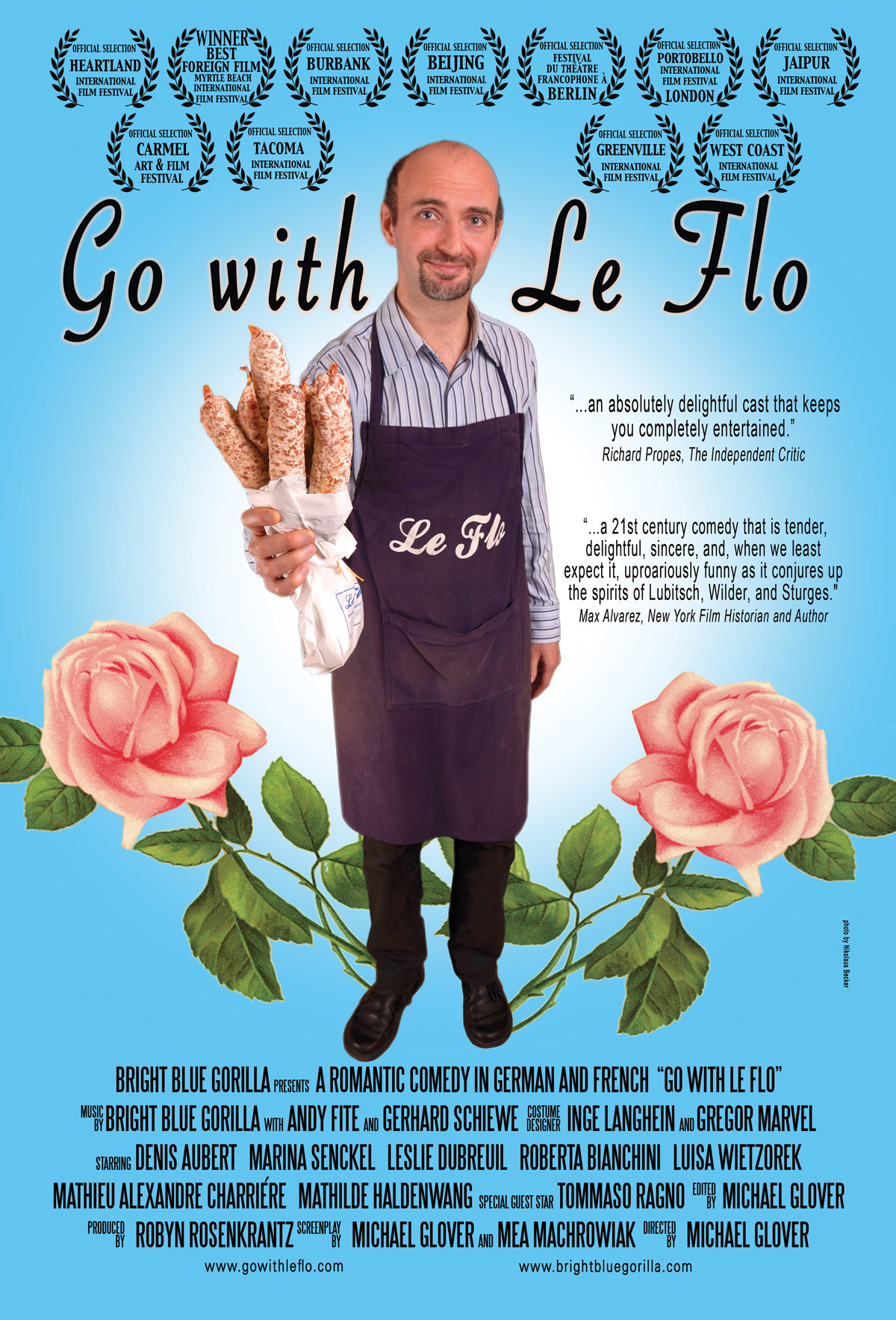 Florian (the bubbly Denis Aubert) is half-German, half-French, and lives in Berlin, owning a French salami shop called "Le Flo." Florian is an excitable romantic, and when the movie begins, announces that he's in love, that he's found the one, following a montage in which many other former loves end up throwing their drinks or food at him in restaurants. Because that's what happens in movies. GO WITH LE FLO is a heightened version of every rom-com you've ever seen. It's fun, but flimsy, with no surprises.
Florian isn't exactly your typical romantic lead, especially for American audiences, but that's the point. He's like a short, shrimpy and bald Roberto Benigni.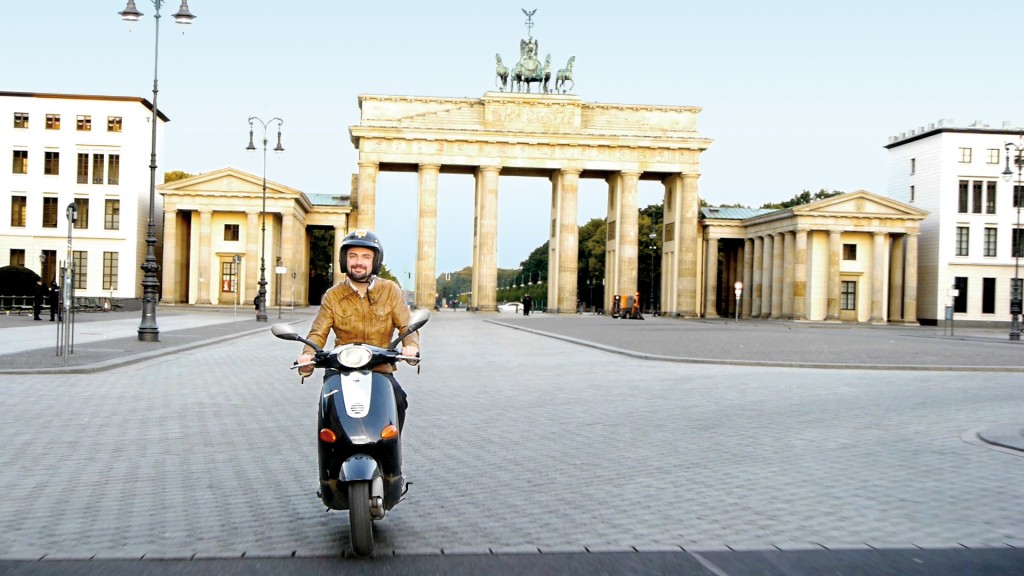 This time around, Florian promises to us that with current flame Camille (Leslie Dubreuil), it's true love™. Immediately thereafter, we learn that his real match is with Jenny (Marina Senckel), a lifelong friend who's always there for him, and owns a bakery across the street. Camille, an actress, sees Florian as nothing more than a fling, a lark ("cute, in a pathetic sort of way"), until her movie star fiancé Marc (Mathieu Charriere) returns from filming. Over a lean 82 minutes, we get oodles of slapstick, and moments befitting an American sitcom from writer-director Michael Glover (of Bright Blue Gorilla).
Florian is a fool, self-centered, and oblivious to Jenny's affections. This doesn't escape his employee Tina (Roberta Bianchini), who wants to take over the hiring practices in order to find a lover of her own. In GO WITH LE FLO, everybody knows who and what's right for you except for yourself. Jenny's employee Gabi (Luisa Wietzorek) also knows that Florian and Jenny are in love with one another, and shares this "secret" with Jenny early on. From there, Jenny tries, in vain, to reveal her feelings to Florian, while Florian gallivants around making an idiot of himself trying to propose to Camille, a woman who's not interested (or maybe she is? No. Wait a minute? No, not at all.) The problem with this framework, while tired and true, is that it makes me feel bad for Jenny, and want her to have better taste in men, and not pine for a self-absorbed wanker who doesn't see what's right in front of him.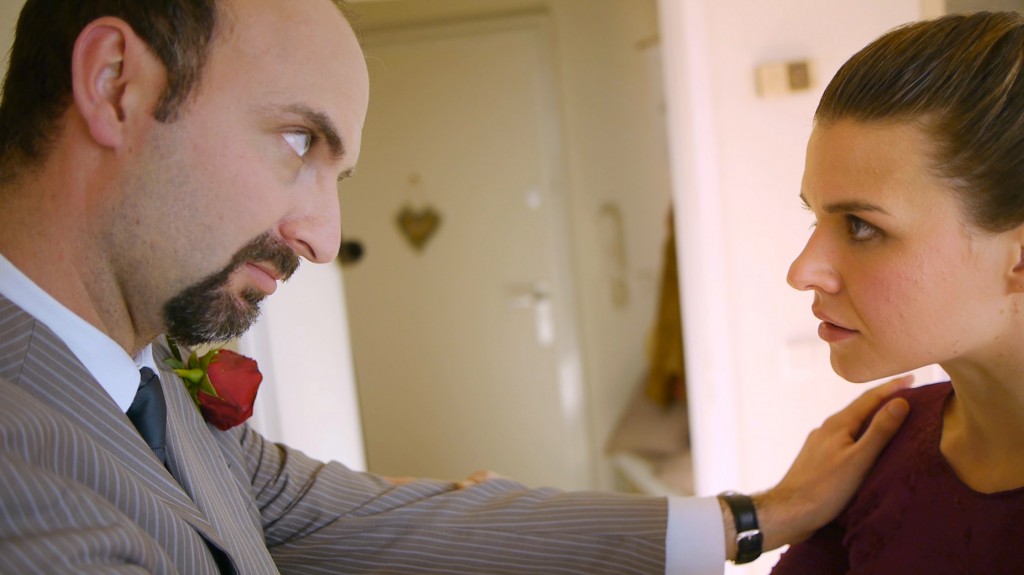 Aside from the French and German dialogue, the English subtitles, and the Berlin setting, I've seen almost every scene of this movie before in some shape or form. Jenny lies through her teeth in order to get Florian on a double date. Florian and Jenny have the scene where they think they're on the same page, but couldn't be further apart. Florian has to sneak onto a movie set in order to win back Camille, stealing a bike en route after his vespa runs out of gas (it's a European movie after all). There are some creative moments, like when Tina treats a job interview like a romantic inquiry, and GO WITH LE FLO is never bad, or not entertaining. It's like 90's sitcom comfort food in the form of a foreign indie.
With its setup, it needs a satisfying, grand gesture of a romantic moment at the climax, and GO WITH LE FLO mostly achieves that, providing the adorably sweet ending this film required, even if Florian never earns it.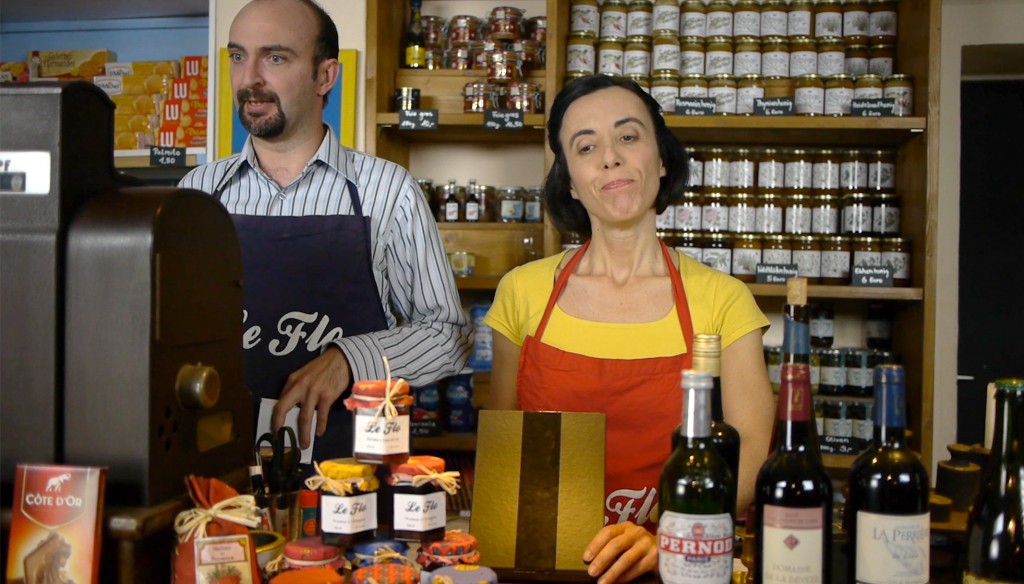 GO WITH LE FLO arrives to LA and stateside on April 11th, at the Independent. You can buy tickets here. For more information on GO WITH LE FLO, check out its website.