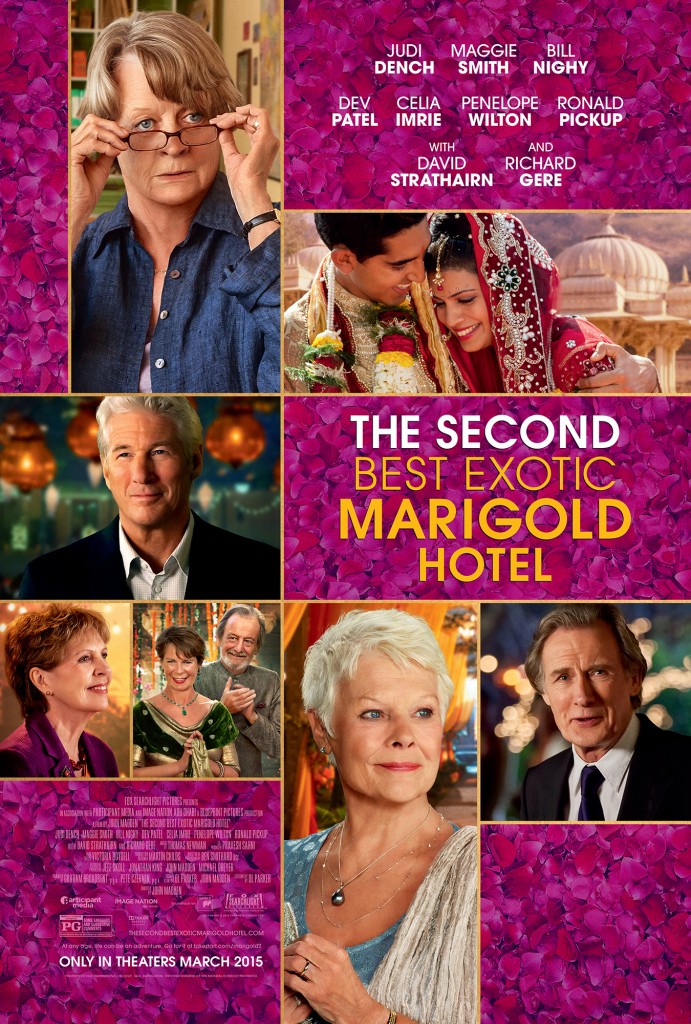 It's hard to come up with a movie that's targeting someone more differently than me than John Madden's The Second Best Exotic Marigold Hotel. I've never even seen the first film (is there a more unlikely "franchise" than this?), but it's a testament to the cast (the British Avengers of AARP) and the genuine heart of the filmmakers that I was delighted from the start.
Yes, the movie is heavy-handed, schmaltzy and predictable. But it's impossible not to be charmed and entertained by everyone in the ensemble. Within the opening moments, Dame Maggie Smith has insulted America several times and administered a stern lesson on serving tea. It's low hanging fruit, but a bull's-eye is a bull's-eye, even on an aggressively easy target. The Second Best Exotic Marigold Hotel takes place eight months after the events of the first film (but amazingly four years in real time since the first movie), and Sonny Kapoor (Dev Patel) has his eager eyes, nose and heart set on expanding. The Exotic Marigold is full, thriving, and Kapoor sees it as his destiny to open a chain, setting up a meeting in San Diego with David Straithairn, effortlessly playing the head of a (socially acceptable) hotel conglomerate (Evergreen). Muriel Donnelly (Maggie Smith) and Sonny are a rare team with uncommon chemistry, so it's no surprise an agreement is made…so long as a guy sent undercover finds the hotel satisfactory.
That guy, Sonny surmises, is Guy Chambers, a new guest to the hotel. It's hard to blame him, since Guy Chambers is played by Richard Gere, his slightly jarring appearance in this movie a reminder that we all age. But Gere's still got it, certainly. Of course, Sonny's assumption of Guy's true identity seems destined for tragedy, especially considering Lavinia Beach (Episodes' Tamsin Greig) checks in the same day. While the intrusive, over-the-top Sonny attempts to satisfy Guy's every need, Mr. Chambers is more concerned with Sonny's Mom, the crabby Mrs. Kapoor (Lillette Dubey), much to Sonny's disbelief. Sonny has a lot on his plate in this movie, which means we get to see Dev Patel run around panicking, like a chicken with his head cut off, throughout. It's wonderful. Sonny has to prepare for his impending engagement party and wedding to the stunning Sunaina (Tina Desai). But, of course, wealthy romantic rival Kushal (Shazad Latif) has shown up to teach Sunaina how to dance.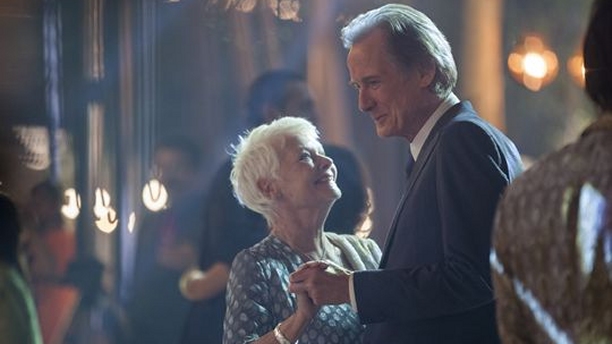 There's not a plot point that hasn't been used in a soap opera, Bollywood or otherwise, but it still mostly all works. Madge (Celia Imrie) complains to anyone who will listen about having to choose between two affluent Indian suitors. Judi Dench's Evelyn Greenslade and Bill Nighy's Douglas Ainslie have the best will-they-won't-they relationship ever, and you can bet Douglas' not-quite ex-wife Jean Ainslie (Doctor Who's Penelope Wilton) shows up. Norman (Ronald Pickup) accidentally puts a hit on his lover Carol (Diana Hardcastle) with a Tuk-tuk driver. These old people are up to so many hijinks, guys!
Can we all take a second to stop and appreciate the insanely charming Dev Patel? It is about to be Dev Patel week, after all. The Slumdog Millionaire and Newsroom star not only charms the hell out of the screen in The Second Best Exotic Marigold Hotel, but he creates artificial intelligence in Chappie, which opens the same day in theaters. I've loved him ever since Slumdog, and he's done no wrong since, showcasing a wide range and generating a limitless pool of empathy. This is a movie that hinges upon Dev Patel screwing up repeatedly, blissfully, never listening, his Sonny an uncontrollable, manic ADD addled sitcom Dad. It's all over-the-top, but Patel sells it, and makes it feel real, the ultimate underdog, someone everyone wants to root for. That's why I'd love to see him as the next Spider-Man.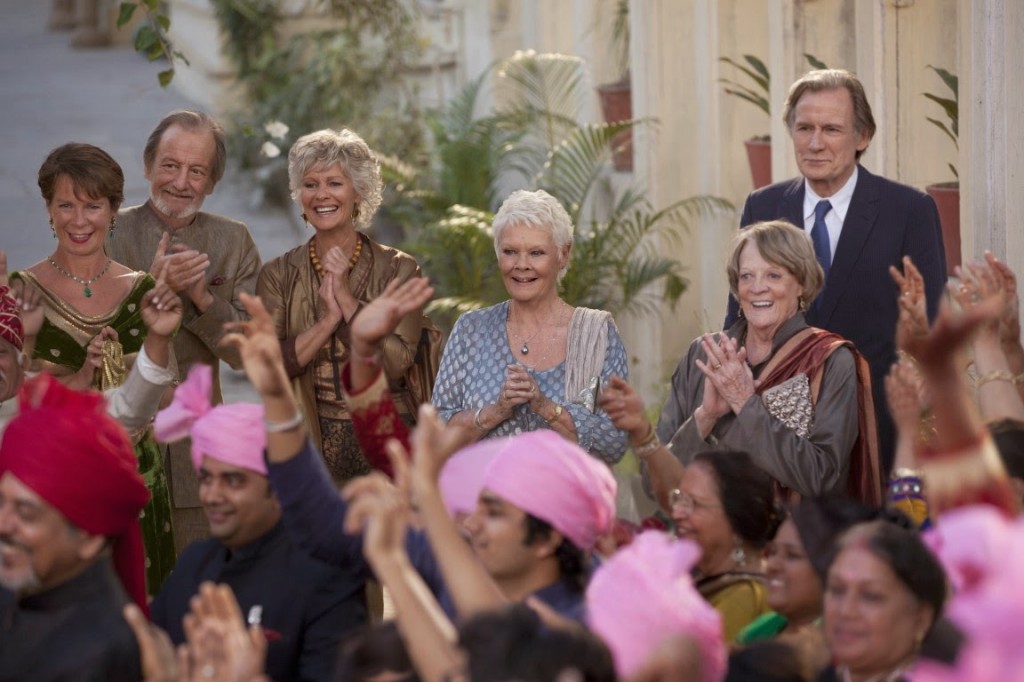 The film is hectic; there's a lot going on in this soap opera. It's easy to envision the film as a BBC show, thanks to its ensemble nature (and the  nature of its ensemble) and excessive juggling of subplots. But the fast pace works, anachronistic with the slow ambling steps made by most of its cast. It's refreshing to see a movie about old people not feel old. The Second Best Exotic Marigold Hotel is an affirmation of life ("a new beginning near the end"), an old-people-love-and-have-sex too flick, that life doesn't have to end after retirement. Every movie should have a climactic Bollywood dance number, and whether you're 20 or 70, you'll want to go to India and seek one out. Madden's film has a tendency to be over-philosophical, yet when Maggie Smith or Bill Nighy or Judi Dench are sharing their wisdom, you almost have to take it at face value (talk about gravitas). When Muriel says goodbye, it feels like Maggie Smith is saying goodbye, something worth getting choked up about.
At one point, the Exotic Marigold Hotel is reviewed thusly: that while it has so many problems in its operations, it can get away with a lot because the guests adore Sonny and his employees. This parallels the film: this movie can get away with a lot because everyone is so likable.
THE SECOND BEST EXOTIC MARIGOLD HOTEL hits theaters March 6, 2015.