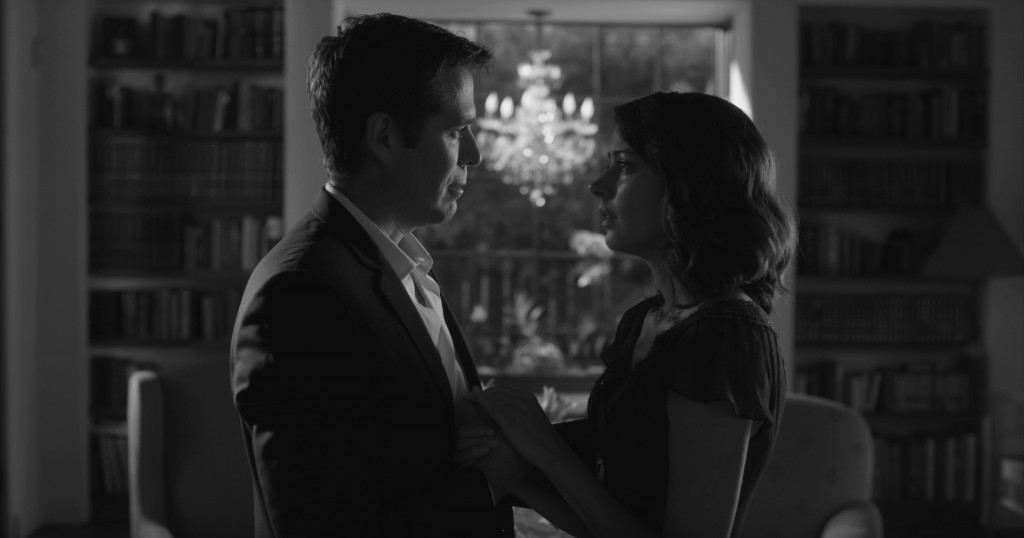 Back in 2011, Joss Whedon took a break between filming and editing his first blockbuster film, The Avengers, to shoot a black and white adaptation of William Shakespeare's comedy Much Ado About Nothing, filmed at Whedon's house and predominantly starring actors and friends he'd previously worked with in his so-called Whedonverse. The result, released the next year in 2012, was an absolute delight.
But while many of Shakespeare's comedies don't have a single great film version (I'm still waiting for a worthy adaptation of Twelfth Night), Whedon's adaptation was the second time Much Ado had been done remarkable justice on film. Nearly 20 years earlier, noted Shakespearean actor/director Kenneth Branagh — later, himself another Marvel director — made Much Ado About Nothing his second (of five, so far) movie adaptations of a Shakespeare play. The 1993 film deservedly got considerable acclaim, and boasted an all-star cast that eclipses even Whedon's.
So which is the superior film version of this classic comedy? Let's break it down with side-by-side comparisons of the major characters.
Claudio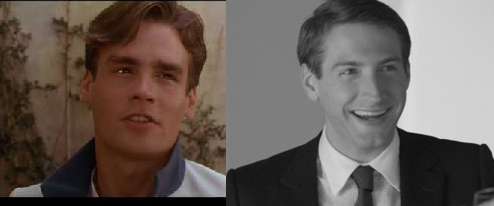 1993 actor: Robert Sean Leonard
2012 actor: Fran Kranz
Leonard is probably best remembered for his tragic role in Dead Poets Society a few years before taking on the role of the young lovestruck Claudio. I think I've still yet to see Kranz outside of the Whedonverse (Dollhouse, Cabin in the Woods, and Much Ado), but he's nailed those roles enough to be worthy of wider recognition.
In Much Ado, Leonard's love for Hero feels too soapy with insufficient chemistry; likewise, his rage at believing himself betrayed by Hero feels unconvincing. He's at his best when believing his lady love to be dead, and himself to blame. But Kranz shines throughout in the same role, strongly conveying Claudio's journey from hopeless romantic to jealous rage to woeful regret. Kranz wins this one fairly easily.
Winner: Fran Kranz (2012)
Hero
1993 actress: Kate Beckinsale
2012 actress: Jillian Morgese
Beckinsale has gone on to a sort of stardom, thanks in large part to the Underworld series, but she was just 20 at the time Much Ado was released, one of her earliest credits. Morgese certainly seemed like she could be the breakout star of the later Much Ado, yet years later, it remains her only credited role. A half-hearted Google search didn't turn up any explanations for what she's been up to since.
It's a little hard to evaluate the performances of Hero, though. Both did fine jobs with what they were given, particular in her heartbreak at being falsely accused, but Hero is mostly a reactive character in the story. Whedon's version did a better job of giving her a semblance of agency in making her initial romantic match, even if just adding more flirtatious glances with Claudio, and Morgese also benefits from Kranz's more charismatic performance as her romantic partner. I think Beckinsale could have done just as well with similar direction, but as it is, Morgese gets the edge.
Winner: Jillian Morgese (2012)
Leonato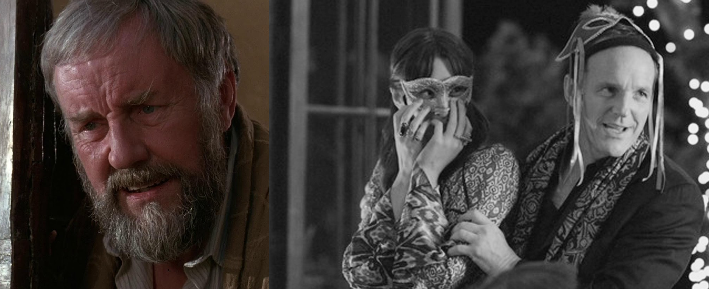 1993 actor: Richard Briers
2012 actor: Clark Gregg
Briers might have the least name recognition for anyone from the 1993 version, but he was a long-time character actor in both film and on stage, probably better remembered in the U.K. than elsewhere thanks to his television roles there. Gregg toiled as a supporting character for years until breaking out some opposite Julia Louis-Dreyfuss on New Adventures of Old Christine, then a bigger breakout with his joining the MCU, now getting to star in Agents of S.H.I.E.L.D. At the time, he was a new addition to the Whedonverse, coming off The Avengers.
As someone who mostly only knows Gregg as Phil Coulson, it was enjoyable getting to see him stretch a little as the patriarch Leonato. He plays up the fun aspects of the role better than Briers, but still acquits himself well in the more intense later scenes. Yet Briers clearly brings the sensibility of an experienced Shakespearean actor to the role, giving a more stately but effective performance. His advantage is particularly evident when confronting Don Pedro and Claudio for their slander of his daughter's reputation.
Winner: Richard Briers (1993)
Don Pedro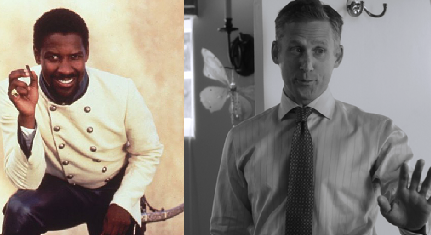 1993 actor: Denzel Washington
2012 actor: Reed Diamond
Denzel was on top of the world in 1993, coming off his third Oscar nomination for his spectacular turn in Malcolm X (which should have been a win) and thankfully deigning to take a supporting role in a Shakespearean comedy. Diamond is obviously a few tiers below, still best known for his Whedon roles on Dollhouse and his too-brief villain role in Agents of S.H.I.E.L.D.
Nevertheless, Diamond acquits himself quite well here. He has fun with his role as a prince, and displays good chemistry with the rest of the cast. But he never really had a chance in this matchup. It's Denzel. Washington's charm practically oozes off him, especially when flashing his classic smile. As a sidenote: Denzel should do more comedy, as he certainly has the chops. And unsurprisingly, he shines when the story takes its serious twist, with an understated stoic demeanor that plays well.
Winner: Denzel Washington (1993)
Don John

1993 actor: Keanu Reeves
2012 actor: Sean Maher
Keanu is Keanu, the man with one of the more interesting (read: weird) filmographies you'll see. In 1993, he was in the process of breaking free of his Bill and Ted silly comic roots; he was shortly removed from his first high-profile serious roles in Point Break and Dracula. Maher was in the cult favorites Firefly and Serenity, this, and basically nothing else you've seen.
Yet Maher is able to craft a far more interesting version of the story's villain. Don John, the prince's traitorous brother, is little more than brooding made flesh in the 1993 version; Reeves does it fine, but there's nothing especially compelling about it. Whedon, however, gives Maher a plethora to work with. I won't include the more minor supporting characters in these matchups, but perhaps Whedon's most inspired choice was gender-flipping Don John's conspirator Conrade to be played by the brilliant comedian Riki Lindhome. Instead of just menacing expository dialogue, Don John's unveiling of his conspiracy became a steamy pillowtalk as he and Conrade got busy. The result was a much more compelling villain, and an unlikely upset for Maher.
Winner: Sean Maher (2012)
Dogberry

1993 actor: Michael Keaton
2012 actor: Nathan Fillion
And now we come to the most difficult matchup of all. A shame I don't want to do ties, because this deserves one.
Michael Keaton is Michael fucking Keaton, and in 1993 was arguably at the height of his career, coming off his two Batman films. And Nathan Fillion is Nathan fucking Fillion, filming Much Ado on a break from the unkillable Castle after gaining eternal nerd cred from his Whedon collaborations, especially Firefly.
Dogberry is the delightful comedic relief in each film, but they approach the character rather differently. Keaton plays him as a grimy character who constantly abuses his assistant and has more than a little in common, in terms of mannerisms, with Keaton's Beetlejuice. Fillion plays a refined version, and while Dogberry is perfectly unaware of his own stupidity in both versions, Fillion's gentlemanly outward appearance perhaps adds all the more to the humor of how oblivious the character is. It's an almost impossible choice, but I suppose Fillion is just ever so slightly more effective.
Winner: Nathan Fillion (2012)
Benedick

1993 actor: Kenneth Branagh
2012 actor: Alexis Denisof
Branagh helped kickstart a revival of film versions of Shakespeare plays, mostly (but not always) starring himself in the main role, as he does here. In recent years, he's become a director of high-profile films like Thor and Cinderella. Denisof starred in Whedon's Angel as half of the best romantic pairing (Fred and Wesley) Whedon's shows ever created.  He's had a few other TV roles since.
I certainly like Denisof, and his pairing with his Angel partner, Amy Acker, was a nice bit of casting, as the two clearly have strong chemistry. He also does particularly well in some of the humorous bits of the role, such as his physicality when "overhearing" the conversation about him. But he is, frankly, in over his head for this matchup. Branagh is wonderful as Benedick, equaling Denisof in humor and far surpassing him in drama — most notably when Beatrice implores him to kill Claudio.
Winner: Kenneth Branagh (1993)
Beatrice

1993 actress: Emma Thompson
2012 actress: Amy Acker
It's only been in the past few years that I've come to fully appreciate the depth of how phenomenal of a career Emma Thompson has had. I've yet to see a role in which she was anything less than stellar, likely because it doesn't exist. Acker was a major crush of my teen years as Fred on Angel, and had a strong role on Dollhouse before winning current acclaim on Person of Interest.
I can't stress enough how good Acker was as Beatrice. Beatrice is perhaps Shakespeare's best female character (or more likely, his best positive female character, finishing second overall to Lady Macbeth), so she should naturally steal the show in any production of Much Ado. But Acker really steals it, giving a wonderful performance full of humor and strength.
But this is still all about Emma Thompson. Beatrice's incredible sharpness of wit pairs so perfectly with Thompson's acting that it feels like Shakespeare wrote the part specifically for her, 400 years in advance. And Thompson shows why she's one of the very finest actresses of her generation, not only displaying pitch-perfect humor and romantic chemistry, but true emotional power on behalf of her wronged cousin. Acker is so, so good as Beatrice, but I don't think it's even possible to do this role better than Thompson does it.
Winner: Emma Thompson (1993)
Writing/Direction

1993 writer/director: Kenneth Branagh
2012 writer/director: Joss Whedon
And finally, we have the writing and directing. While Shakespeare obviously did the heavy lifting, Branagh and Whedon both did the screenplay for their adaptations, then directed it.
Branagh obviously has strong senses for Shakespeare, and captures all the beats and rhythms of the story. He gets the most out of nearly all his actors, with the possible exception of Leonard's Claudio, and deserves some credit for helping build such an amazing cast. He was also wise not to worry about being too precise; I like that he threw out any racial concerns when casting Denzel and Keanu as brothers. But there is some weirdness to Branagh's adaptation, such as the early montage of characters bathing and the more showy sex scene between Borachio and Margaret (as a sidenote: Margaret is played by Imelda Staunton, so if you ever wanted to see Dolores Umbridge's sideboob, this movie is your chance). It's not that partial nudity bothers me — at all — but it did feel weirdly out of place in the context of the film.
Whedon's adaptation is far more creative. Even though I largely prefer traditional stagings of Shakespeare plays (like Branagh's), as opposed to the style of adapting the story to a modern setting (like Whedon's), Whedon really makes his vision work. There's a sleekness and vibrance to Whedon's sort-of jazzy style in Much Ado that really hits home. He also made some great creative choices, such as the aforementioned gender-swap of Conrade and the elimination of the part of Antonio, that worked really well.
Winner: Joss Whedon (2012)
Overall Film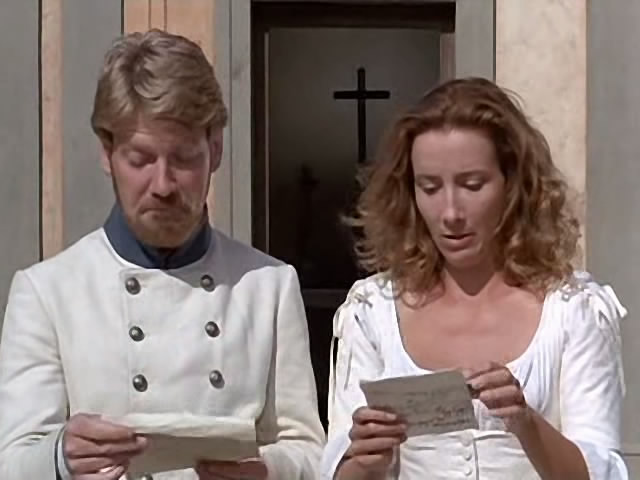 1993 is winning 5 to 4 in this breakdown, and it's also going to win the overall battle. Both versions are absolutely wonderful, and 2012's better direction and stronger small characters really help its case. It also carries a stronger romance between the younger set of lovers, Claudio and Hero. But Claudio and Hero aren't the focus of the story; Much Ado revolves around Beatrice and Benedick. And the fact that both characters get more impactful performances in the 1993 version carries a ton of weight, because Branagh and especially Thompson deliver the kind of performances that can elevate an entire film.
Both movies are outstanding adaptations that are well worth your time. But if you can only choose one in this head-to-head comparison, choose the one with Emma Thompson. Because the lesson, as always, is that she's perfect.
Overall winner: Much Ado About Nothing (1993)