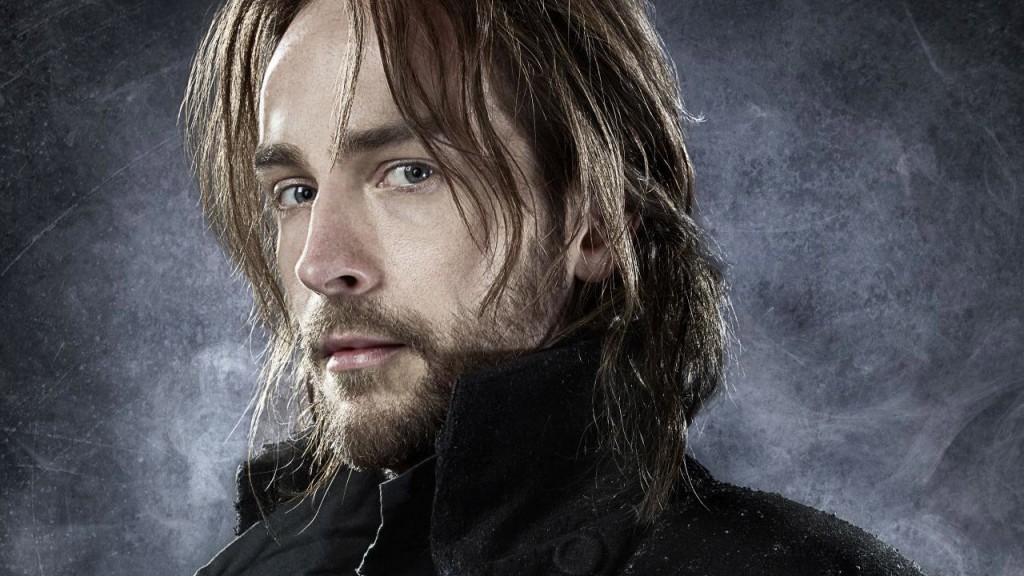 EW always brings together some of the best and most interesting stars together for what are normally fun and rousing panels. This year, Darren Franich moderates the "Brave New Warriors" panel that included Sleepy Hollow's Tom Mison, Fury's Jon Bernthal, The Giver's Brenton Thwaites, Sons of Anarchy's Theo Rossi and Bates Motel's Freddie Highmore. Franich makes a reference to the third best teen team in the 1990's, which is awesome.
Tom Mison was easily the highlight, as he apologized to everyone in Ballroom 20 for being unable to get into the Game of Thrones panel, which elicited laughs and thousands of nods.
Over the course of the evening, I learned that Jon Bernthal would like to be Claire Danes in Homeland, that Freddie Highmore doesn't get nervous, and that Brenton Thwaites is 25 years old. He looks 15:
But nobody brought as much humor as Tom Mison. He admits that when he read the script for Sleepy Hollow, he thought it was a terrible idea, "this will never work," as it tears up every book and bastardizes history. So naturally, he wanted to be a part of it. People don't get much more charming than Mison; the show works precisely because of Mison's involvement, and this is a rising star.
Who would play Theo Rossi in a movie? Ralph Macchio, "he still would," even though "he's 45."
Mison once got a job in a French language film, tricking the casting directors that he could speak French. He couldn't speak a word of French, and walked onto a movie set that features a lot of improvising; he'd blurt out his lines whenever he could get a word in, and had someone feed his lines and explain them on the sly. Incredible. Also, that movie must be shite.
Bernthal, who played Shane on Walking Dead, talks about how he was booed before the show even started, because of how much everyone hates Shane in the comic book. He found it funny that people started to like Shane as he became more evil in season 2.
Bernthal worked with Robert De Niro in Grudge Match. De Niro's his favorite actor, and inspired him to stop being a troublemaker and funnel that passion and anger into the craft. After the movie, he rehearsed a speech he'd give, and delivered it in Bob's trailer. Afterwards, De Niro said: "We do these things…then it's over."
When Tom Mison was getting brought on to Sleepy Hollow, everyone would whisper about how he was "classically trained," to which Mison responded: "I don't know what that means." Then he hazards a guess: "floppy haired and wild accent."
Rossi admits that Ron Perlman is the most intimidating man on the set of Sons of Anarchy. Duh.
Franich asks Jon Bernthal who he'd like to punch in the industry, in reference to punching Jonah Hill out in Wolf of Wall Street? Bernthal jokes, "I'd hit him again." Bernthal has broken his nose 14 times. The first time hurt the most, as Bernthal jokes, "I have a face for radio." False.
Mison wants to work with Bryan Cranston. Bernthal tells us that Emily Blunt is the coolest. Thwaites wants to borrow Bernthal's experience and work with De Niro. Highmore likes working with the same people again and again, like he's able to do on Bates Motel. Rossi sucks up and says "everyone on this panel," because "someone had to say it." Mison dryly responds: "I couldn't say I wanted to make a movie with me."
Apparently Brenton Thwaites watched The Beginners with his friend, and told him he was going to work with Ewan MacGregor in a year. Exactly a year later, he gets cast in Son of a Gun, alongside Ewan. It's not fair to be a super hot Australian dude and Nostradamus.
The best/worst question of all of Comic-Con comes from a kid, who asks Freddie Highmore, how he can watch Bates Motel but not on iTunes? Freddie has no idea, and it's hilarious. Nobody wants to watch a show using iTunes.
Mison's asked what it's like to work with John Noble. His response: "Which one is he?" In all seriousness, Mison calls Noble amazing, delightful. In one of his first scenes with Noble, he's eating, and all Mison could do was think about the scene in LOTR and almost burst out laughing.
Mison is rightfully flabbergasted when he's asked if Mr. Darcy informed his portrayal of Ichabod Crane. Not in any way, he responds. "They're both assholes with a hat," he says.
Theo promises that he's "naked and covered in blood" next season on Sons of Anarchy.