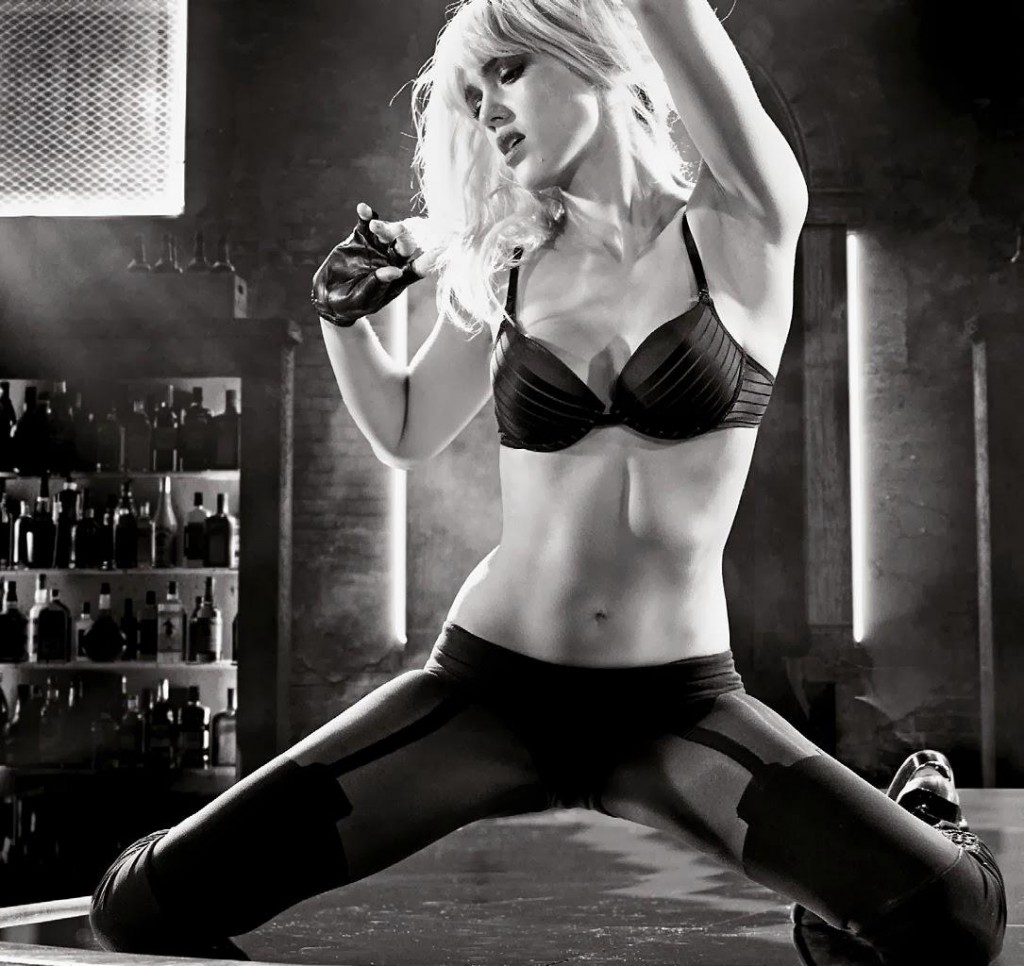 It's easy to forget, at least for me, how awesome the first Sin City was. It came out back in 2005 and blew everyone's minds due to its visual flair that was a game-changer in Hollywood, and showed how to loyally adapt a comic book into a movie with style. 9 years later, and we're finally getting a sequel, Sin City: A Dame to Kill For.
As Geoff Boucher says, Sin City was a synthesis of film and comic, and Frank Miller and Robert Rodriguez come to the stage, to discuss their latest collaboration.
Robert Rodriguez tells us all that he wasn't trying to make a movie based on Sin City. He was trying to turn a movie into a living embodiment of Frank's work.
Frank Miller talks about how comic book movies are getting better, because they're staying closer to the source material. Not that he's biased or anything.
The tale "Another Saturday Night" opens the movie, and is the clip that we see, with Mickey Rourke's Marv getting into trouble again, trying to piece back his memory, while beating the piss out of people. It's the same beautiful style from the last movie, and even seems like the same plot.
The rest of the panel arrives: Jessica Alba, Rosario Dawson and Josh Brolin. An impressive trio, but it's hard not to get a little bummed that Mickey Rourke could've been there.
The thing that people are most excited for in this movie is Alba's transformation and coming into her own as Nancy, who has turned into a warrior for the next movie. Everyone raves about her performance throughout the panel, and she even collaborated on the story (which is an original one, not based on any Sin City tale). I remember after Dark Angel and the first Sin City, that Jessica Alba was probably the biggest crush I had in all the world. Then Fantastic Four happened and her career has suffered. I hope Sin City 2 corrects her course.
Josh Brolin jokes that he wanted to play Nancy, but settled for working with 2 iconoclasts.
Apparently when making the movie, they would go to Frank after every shot, determined to make Frank happy, which is a hard thing to do. This panel was basically a Robert Rodriguez worships Frank Miller and so should you hour.
For being absent, Eva Green's talents are all over Comic-Con this year. She's the best part of Penny Dreadful, and apparently owns as the alleged Dame in which people kill for. Like you had any doubt.
Rodriguez says that everyone's performances are 100 times better, as they get use to the technology.
Josh Brolin never met Mickey Rourke while working on the film, even though they were in several scenes together. Does that make sense? Not really, but that's the beauty of green screen and the crazy process that Rodriguez uses to make these movies. And according to Brolin, "it works," as he's forced to balance the scene out, as he sees Mickey's work and then reacts to it, completes it. It sounds weird and impressive and sounds like a pain in the ass. Brolin calls it a "bizarre, alien experience."
Rosario Dawson wasn't allowed to cut her hair for the movie because of a conflicting contract on another movie, but after arriving on set, she went home and cut her hair anyways, because she didn't want anyone to think she wasn't giving it her all. Rosario Dawson rules.
Alba stunned everyone, setting the bar (she was the first to shoot her scenes). She was in character on set, and connected with the dark side of Nancy, and it was hard to disconnect until after the movie. Alba admits she was more mature, comfortable and wanted to kick ass.
Eva: "She is a scary woman."
Alba calls Powers Boothe a "scary mofo."
Miller apparently drew an impossible action pose for Alba, knowing she couldn't do it, and then he was amazed to see her actually do it.
80% of the film's score was written on Robert Rodriguez's phone.
The film doesn't really have a script; they go by Frank's storyboards.
Fan questions are awful, so I dozed through the end of this one.
Apparently Robert Rodriguez has his actors draw portraits of their characters before they start filming, to get the creative process going. What an awesome idea.
Robert shoots the film in color, then they strip it of color, then they add in colors afterwards. The colors will again be another character/element of the proceedings, like in the original.
Is Frank planning to write more Sin City graphic novels? Yes, as he has loads of story ideas, but he has no idea when he'll get to them.
Frank's also asked about a movie adaptation of Martha Washington, to which he responds that he'd love to, but "this time I've going to be a prick…do it my way."
RIP Michael Clarke Duncan, who played Manute in Sin City. Dennis Haysbert is taking over the role from his friend, and studied the film from the first movie, to honor MCD.
Frank Miller is already talking Sin City 3, clearly excited with the second one, promising that they will be returning to Hall H a lot sooner next time around than 9 years. Here's hoping.
Imagine if this film brought together its whole cast. It would've been the biggest collection of talent this side of Avengers. Seriously, can we have Mickey Rourke at Comic-Con? Or Eva Green, Joseph Gordon-Levitt, Alexa Vega, Juno Temple, Stacy Keach, LADY GAGA, Jamie Chung, Jaime King, Ray Liotta, Powers Boothe, Bruce Willis, Christopher Meloni, CHRISTOPHER LLOYD, Jeremy Piven, Dennis Haysbert/Allstate? Um, yeah, Sin City: A Dame to Kill For is going to be fun.