For the third year in a row, San Diego's Petco Park has succumbed to the zombie apocalypse with Skybound's The Walking Dead Escape, an interactive obstacle course in which fans of Robert Kirkman's creation or running, can be a survivor, zombie or spectator for the carnage to come.
I'll admit, I was nervous for the experience. At Halloween Horror Nights last year, I was on complete edge during The Walking Dead maze, and accidentally punched a zombie who startled me. I didn't want to get kicked out of the stadium, or pee my pants. I didn't know how intense it was going to be, I didn't know if I needed to stretch first, or how serious people were going to take it. Those questions were answered pretty quickly. This is Comic-Con; there is no room to @#$! around, as you'll be running practically nonstop from start to finish.
Going into a "zombie run experience" with no sleep on the second to last day of Comic-Con is a Herculean task, and I quickly proved I wasn't up to Rick Grimes' example. While I wasn't fresh meat, I was drenched in sweat a half hour later, and had most definitely been infected several times over (and have since brought it to Los Angeles; whoops). In fact, I doubt anyone survived the adventure/nightmare, thanks to the nigh impossible ascension of hurdles, thanks to the exponential rise in zombies as you stumble through the corridors, stairs, and stadium seats.
But that's the point: no one wins in The Walking Dead, so no one should win in The Walking Dead Escape. We're all screwed, and Skybound did an admirable job sticking with that theme, while jamming the experience with several game actors, shepherding us from location to location, promising us a safety that doesn't exist. By the end, you're laughing with them, as they complain about the military or the government, and how ineffective they've been at containing the virus. There is no containing the virus, or your fun during this obstacle course.
I filmed my travails, which you can view below (NSFW language; I get swear-y when zombies are coming at me). I give "shaky cam's" a bad name with this iPhone filming, but that was the point. I wanted this to be filmed as if by a terrified/hopeful survivor. When a zombie outbreak occurs, you're probably not going to have a GoPro strapped to your chest or dome. Of course, you probably wouldn't bother with filming, since it definitely hindered my juking and evasive skills. I'm still angry that I didn't slide across the beat up cars to escape the grasp of the Walkers.
I'm more angry at Deadpool, or the man who dressed up as Deadpool, who seemed to think a Press pass (like my own) and a Deadpool costume gave him license to be a loud-mouthed asshole (he was in character). Of course, in a zombie apocalypse, it's every man for himself, so I can't say I blame him for using me as a zombie shield, leading to the first time I was clawed by a biter more than halfway through the excursion. Of course, he's clearly a blight on humanity. You have to stick together to survive….and that didn't happen over the course of the half hour spent in the tunnels of Petco Park.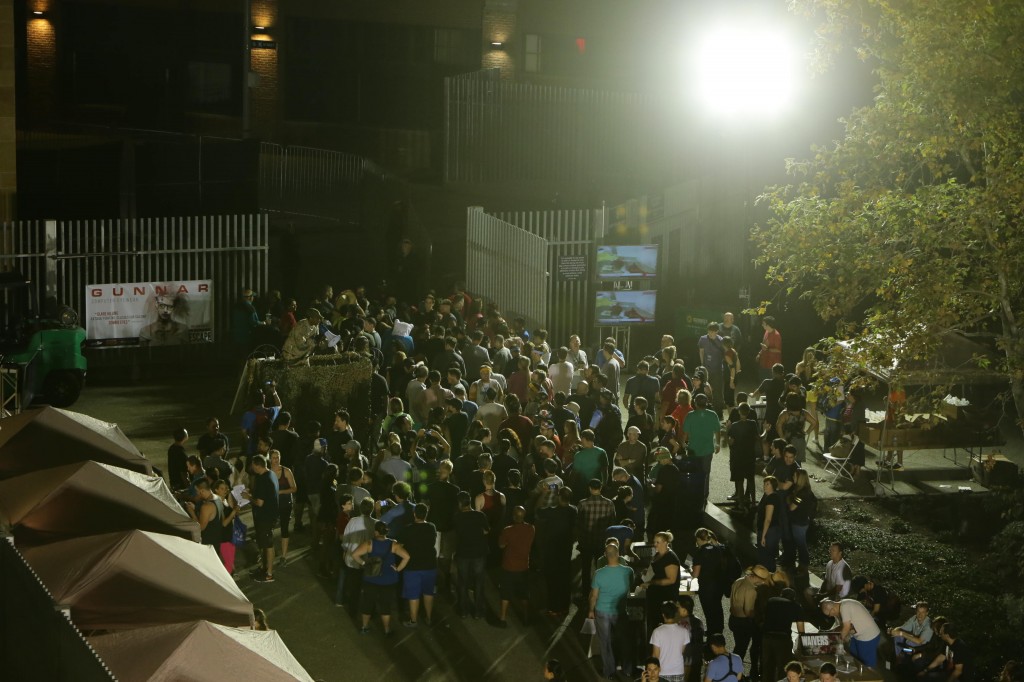 You learn a lot about your fellow man and woman. Some would-be survivors use other people as bait, some attempted to work together and communicate (which normally was a lot of yelling/bossing around), while most people just worried about their own neck (without malicious intent to others). Some solo superstars attempted to run the course like a race, even though that's not the point and merely subtracts from the time you get in the experience. And what an experience it is to get a taste of what life would be like with Walkers everywhere you turn. The zombies, despite training, had a vastly different skillset; some had bursts of explosive athleticism that came out of nowhere to tag you, while others stuck to the manuscript.
I loved all the different situations and arrays of zombies we were greeted with, though I think another possible terrifying ending could just be walking into a herd, or into an dead end, with zombies coming in from all sides. Game over. Once you get scratched/bitten/tagged, I almost felt like I should be turning on my group, or exterminated before I could; perhaps another wrinkle for future installments. I wonder how much of the track changes from year to year, but there are several avenues that Skybound and company can take with this event if they so choose. They could add a laser tag-like element to help eliminate zombies (though the point is to survive, not to kill, which is something I respect).
I learned that I probably wouldn't be long for this world when it goes to $#*!, and we even got a water break. I had a blast running among the Walkers at The Walking Dead Escape. If you happen to be located in Miami, Tampa, Jacksonville and New Orleans, the disease will be coming to your city, and you should be first in line. For more information on the course, check out its website. Buy tickets here.