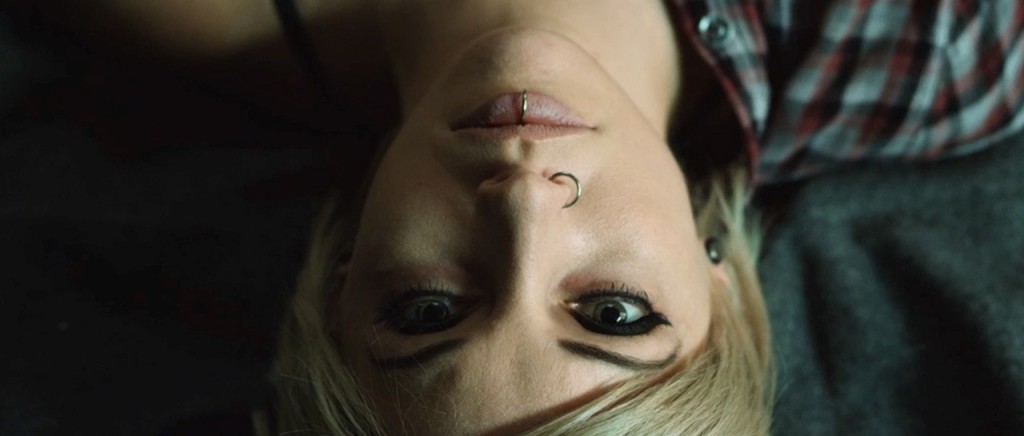 The Scribbler is a fascinating cauldron of genre actors playing against type, or EXACTLY within type, an IMDB enthusiast's wet dream. The comic book movie somehow stars Eliza Dushku, Michelle Trachtenberg AND Katie Cassidy, three of the most divisive actresses on some of the Internet's favorite shows: Buffy the Vampire Slayer, Dollhouse and Arrow. An acting clinic this is not, but I came away with a greater appreciation for every single person who appeared in this movie. I came away with a greater appreciation for life.
Based on a graphic novel by Dan Schaffer (who also wrote the screenplay), The Scribbler seeks to answer life's most persistent question: is Katie Cassidy responsible for Laurel Lance being one of the worst characters on TV, or does the fault lie with the writers? After this movie, I'm team Katie Cassidy, which is one of the biggest surprises of my adult life. She goes for it, and doesn't shy away from anything, owning a movie that's particularly hard to own.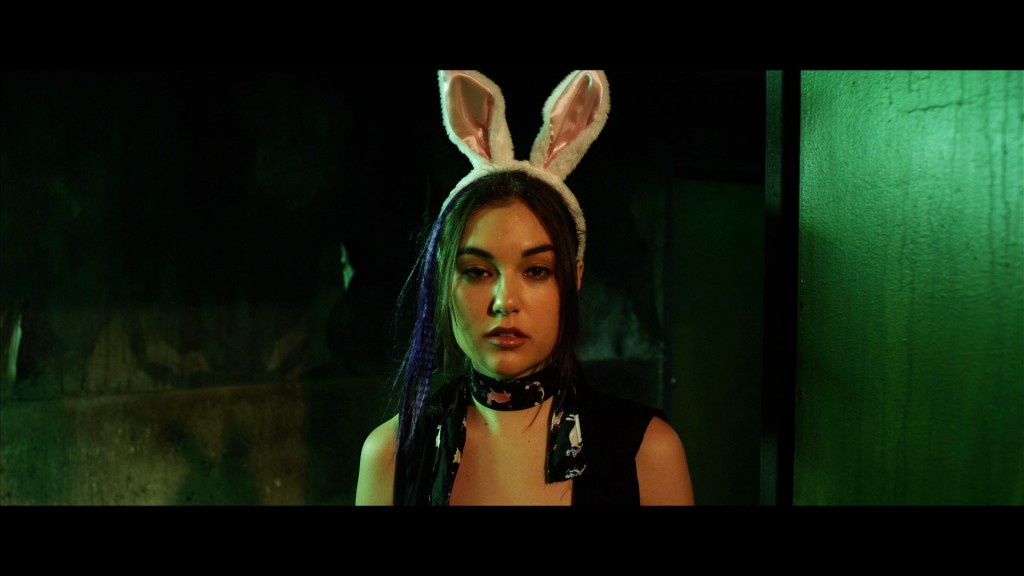 Eliza Dushku is a criminal psychologist actually named Jennifer Silk. Porn star (and burgeoning serious actress) Sasha Grey wears a bunny outfit (her character name? Bunny). THE Gina Gershon is a sex addict named Cleo who always has a boa around her neck. The great and weird Garrett Dillahunt (Deadwood, Raising Hope) is Hogan, one of the most unlikely romantic leads ever, who tried to kill himself so he could pick up chicks and sleep with all of the Sucker Punch rejects (but let me be clear: this movie is infinitely better than that Zack Snyder abomination). Michelle Trachtenberg is Hogan's vindictive ex-girlfriend who pushes women down stairs (while her name is Alice, she's fondly referred to as the "Stair Pusher"). Raj from The Big Bang Theory (Kunal Nayyar) is in the movie long enough to recognize, question your eyesight (does he exist outside of CBS?!), and wonder if he financed the film. No surprise here: The Sopranos' Michael Imperioli is the disgruntled, annoyed cop. There's a talking bulldog with a British accent (who's THE BEST) and a fashion conscious, judgy patient who never wears clothes. I can't even begin to explain The Scribbler, but if that doesn't sell you on the fact that you have to experience this inexplicable movie, then nothing will.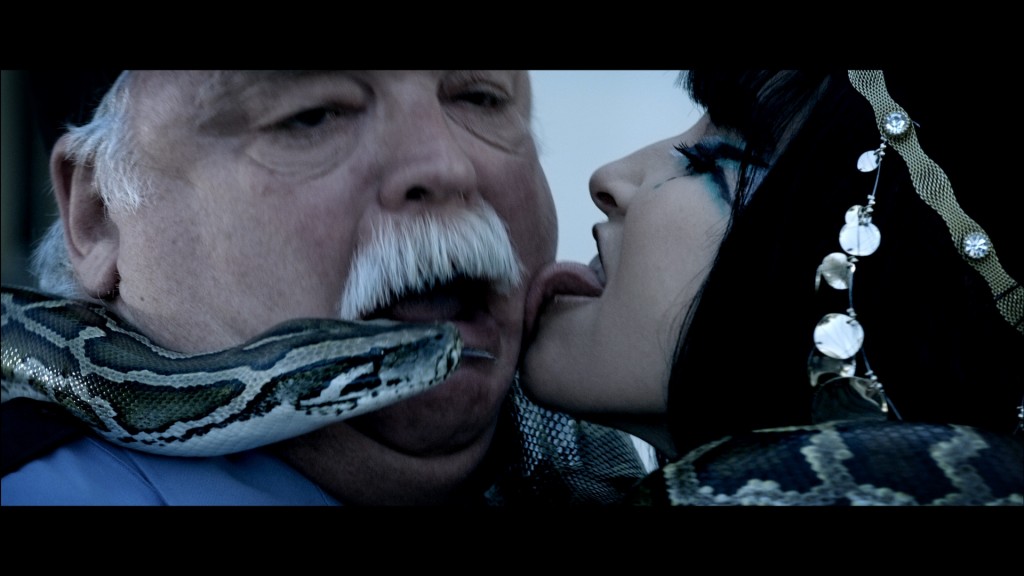 But the movie revolves around Katie Cassidy, who is Suki, a woman plagued with multiple personalities. With tattoos, piercings and bleached hair, Cassidy is transformed. Despite being the reason I asked for a screener of this film, I barely recognized her at times. She's like a punk version of Lauren Cohan (The Walking Dead), with a generous chaser of Harley Quinn, voices flitting around her head like Sookie from True Blood, except they are all her thoughts. This is ingeniously done, producing some of the best dialogue/moments in the movie.
She's thrown in Juniper Towers, a halfway house for the mentally insane, a "psychiatric purgatory" and villainous construct that has never existed outside of movie thrillers. Nearly every day, a woman succumbs to her mental disease and jumps off the building, somehow attracting barely any interest from law enforcement…because who cares about suicides, especially when it's crazy people dying? Of course, they aren't suicides, and that's why Suki finds herself interrogated by Silk and Gruff Cop at the beginning of the movie, as we work backwards and forwards and bounce around multiple personalities in this convoluted, but ultimately, fascinating and entertaining flick.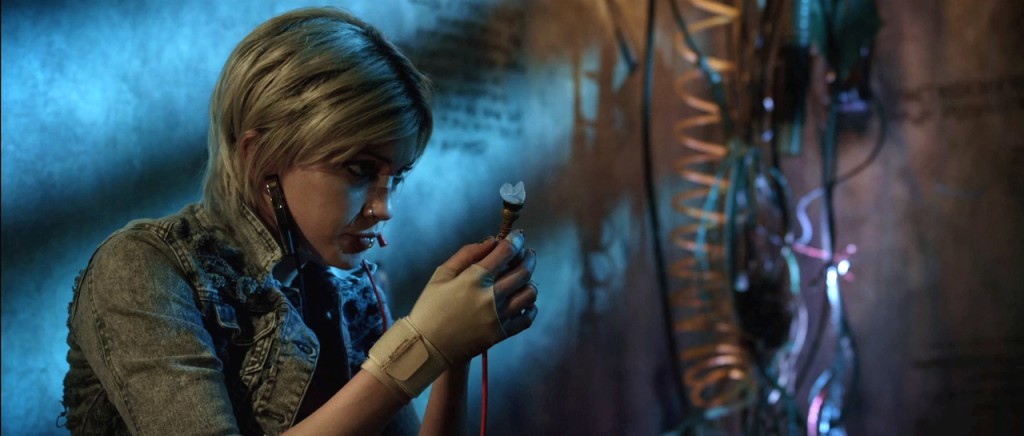 Suki gets tasked by an asshole of a doctor (The Killing and Helix's Billy Campbell) with using an experimental machine called the "Siamese Burn," a Matrix-y shock therapy machine that eliminates multiple personalities with a click of a button, like a dystopian Bop-It. Suki starts the film with 12 personalities, and after each session, the machine counts down, assimilating or annihilating parts of herself into what's left of her addled brain. Of course, whenever she uses the machine, Suki blacks out and wakes up without any recollection of the past few days…with new, disturbing writing on the wall, and another crazy girl shaped bloodstain on the sidewalk. The Scribbler is the name of her most nefarious, dangerous alter, a supernatural monster that can only speak with a pen, and may be behind the rash of deaths at Juniper Towers (which can't possibly still be in business).
But we know it's not that easy, and while I could do without the heavy-handed Yin/Yang obsessed monologue delivered by Suki throughout ("crazy people don't play by the rules"), The Scribbler is undeniably entertaining, and has some no-shit cool moments, as we see the Siamese Burn unlock potential from some of the other patients, leading to a rainy, drag-out superhero fight on the top of Juniper Towers. You may love The Scribbler, you'll probably hate it, but you won't regret checking it out. The Scribbler is a movie made for a drunken/stoned communal viewing experience by Buffy, Arrow and Dollhouse fans.
THE SCRIBBLER arrives in theaters, VOD and iTunes this Friday, September 19th.