After three years and four movies, Avengers: Age of Ultron has arrived. I'll admit, going in, I was nervous for the film, forever worried that Marvel Studios' bubble might pop. It certainly stretches the seams here, but rest assured, Marvel's insane streak continues, thanks in large part to Joss Whedon.
Avengers 2 isn't as good as Captain America: The Winter Soldier or Guardians of the Galaxy, and probably not the first Avengers, but I don't know if that was possible, given the nearly impossible juggling act that Joss Whedon has to perform here. He has to tease Civil War, Black Panther (Andy Serkis' brief turn as Ulysses Klaw has me so stoked), Thor 3 and Guardians of the Galaxy 2, while introducing four hugely important new characters (Scarlet Witch, Quicksilver, Ultron and Vision), and maintaining the MacGuffin-laced narrative string of Thanos and Infinity Gems. Plus, you know, he has to segue into the next two Avengers movies. It's exhausting just thinking about, but for a moment, let's focus on the present, a rarity when it comes to the MCU, which is always about what's next.
Age of Ultron thrusts us into the action immediately, because Whedon, Feige and company can't afford to waste any time, and besides, we know these guys now. Thanks to a jumbled concoction of Loki's scepter, Hydra intelligence and Tony Stark's personal computer system Jarvis (Paul Bettany), Stark creates Ultron (James Spader), envisioned as an AI based world-peacekeeping computer, one that could function as an armor over the whole planet, an initiative that would render the Avengers moot. Of course, Stark (Robert Downey Jr.) envisioned a rosy retirement sipping Mai Tai's in Tahiti (okay, maybe not Tahiti) with Pepper Potts: his creation sees the Avengers…and humanity, as obstacles preventing peace and progress.
From there, a lot of shit explodes in a dizzying action ensemble with a scale of astronomical proportions. The film is bloated, and likely at least slightly confusing to someone who doesn't follow Marvel tidbits like James Woods and candy. But somehow, someway, it works. In fact, it more than works: Avengers is Summer Movie Action Tentpole on Steroids, yet thanks in large part to Joss Whedon's heart and wit, the over-stuffed sequel retains intelligence and blessed self-awareness, while remaining a helluva lot of fun.
For an innumerable number of reasons, Joss Whedon was always perfect for the Avengers: there's not a director more capable with ensembles, thanks to his experience with Firefly, Buffy and Angel. And again, somehow Avengers 2 gives every member of the team and its ballooning supporting cast a chance to shine. The first Avengers was Iron Man's movie: the emotional through-line traveled through the conflicted and difficult billionaire playboy philanthropist. But the Hulk was the scene stealer, the crowd favorite. In Avengers 2, I suspect, both honors come from an unlikely hero: Jeremy Renner's Hawkeye, the oft-forgotten archer and every-man member of the team, the powerless one who probably gets picked last at Avengers dodgeball games. When you think about Whedon's work, the focus makes perfect sense. In many ways, this is the colossal scale version of Buffy's "The Zeppo," with Hawkeye playing the part of Xander, a normal family man who's so clearly the glue that holds this team together, a thankless (and dangerous) role. Hawkeye's journey and transition in this film mirrors that of Joss Whedon's; he surely identifies with the un-invincible, un-enhanced man in a sea of power. Why Avengers 2 works so well is because it still feels like Whedon is a kid in his bedroom playing with his favorite toys.
Perhaps because of that, there's a lot of fan-service in this film, much of it glorious (you can almost convince me that the Hulk and Iron Man fight was important to the narrative).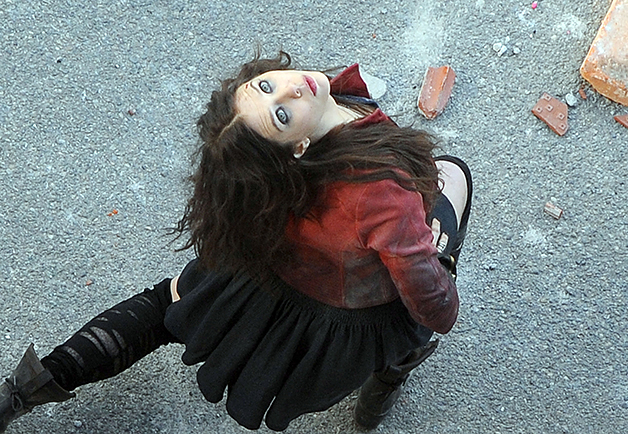 But what of the new arrivals? James Spader's Ultron is wonderful, a sarcastic and devastatingly cruel robot, easily the third best villain in the MCU after Loki and Kingpin. Aaron Taylor-Johnson's Quicksilver and Elizabeth Olsen's Scarlet Witch will likely prove more divisive. It's impossible not to compare Quicksilver's, with Evan Peters' Pietro surprisingly stealing the show in X-Men: Days of Future Past, and for the most part, this Quicksilver unfairly unable to match his scene-stealing exploits. I think Bryan Singer's choice certainly blunted his impact here, which is a shame, and shaped Marvel's treatment of the character. In the comics, Pietro and Wanda Maximoff's identity and character, are inextricably linked with their villinous father Magneto. Stripping that away robs the character's of some depth, and their new origins feel band-aided on. Plus, it took awhile for me to get used to their put-upon Eastern European accents. It makes sense, especially with where they come from in Age of Ultron, but it's certainly not how I imagine them sounding in my head when I read the comics, which of course, is an impossible standard to set. That said, Elizabeth Olsen in particular show exceptional promise and has me excited for what's to come.
Then there's Paul Bettany's Vision, and without ruining anything, I will just say this: he's perfect. He's beautifully rendered, like some holy blend of CGI and practical effects from the future that comes to make everybody else look bad. In effect, that's also what he does in Avengers, and it's wonderful.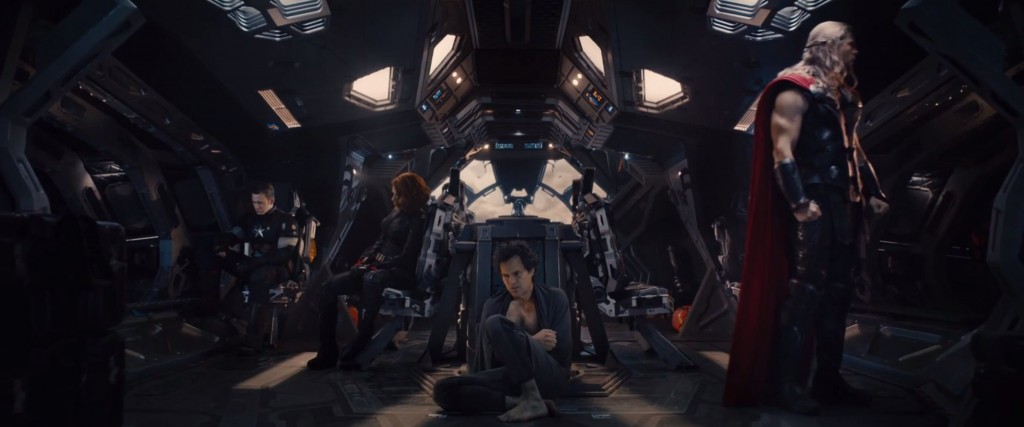 So are many things in this film: the various methods of teamwork in action sequences that are just clever and unabashedly cool. The relationship between Natasha Romanoff (Scarlett Johansson) and Bruce Banner (Mark Ruffalo). Everything Thor (Chris Hemsworth) says. The gentle ribbing of Captain America (Chris Evans). The hilarious and so so necessary downtime that Whedon interweaves among all the wackadoodle fighting. In fact, the best parts of these movies will always be when we see these larger than life heroes as just normal people, a lesson WB and DC could learn from. The stakes are serious but the whole movie doesn't have to be. As long as Marvel retains the heart and wit that Joss Whedon has caked inside Iron Man's armor, Bruce Banner's purple shorts and Thor's flowing cloak, these movies will continue to work, even if it sometimes feels like an exhausting, never-ending trek to nowhere, an infinite Easter Egg hunt across the increasingly populated cosmos. Well, okay, that does sound sorta awesome.
But it's fair to be worried about the future.
Despite creating a Big Bad that kills thousands of people, Tony Stark never truly gets the comeuppance he deserves for creating Ultron in this movie, and that's a fault of the proceedings, even if we're saving it for Civil War (talk about a movie I'm nervous for).
If Avengers: Age of Ultron is busy, how in the hell will Avengers: Infinity War Part 1 & 2 not be a disastrous clusterfuck? The Russo Brothers are the best replacement Feige could possibly find for Whedon, thanks to their exceptional work on Captain America: The Winter Soldier and their ensemble work with Arrested Development and Community (though this is a whole new ballgame). But one gets the sense that Whedon was the only one with the power, chutzpah, support and creative Vision to counterbalance Kevin Feige, who deserves enormous credit for what he's done in creating this interconnected universe, but like Ultron himself, still seems hell-bent on world domination with what feels like a Reaganomics-like approach.
But for once when it comes to Marvel movies, let's not focus on that next piece of candy (which is the seemingly out-of-place and pointless Ant-Man), but revel in the present. Avengers: Age of Ultron is a movie that shouldn't work, and one that comic fans never would've thought possible, but thanks to an unparalleled cast and creative team (seriously, just bathe in those ending credits; they'll never be this good again), it makes us all feel like kids playing with their favorite toys.
Dibs on Vision!