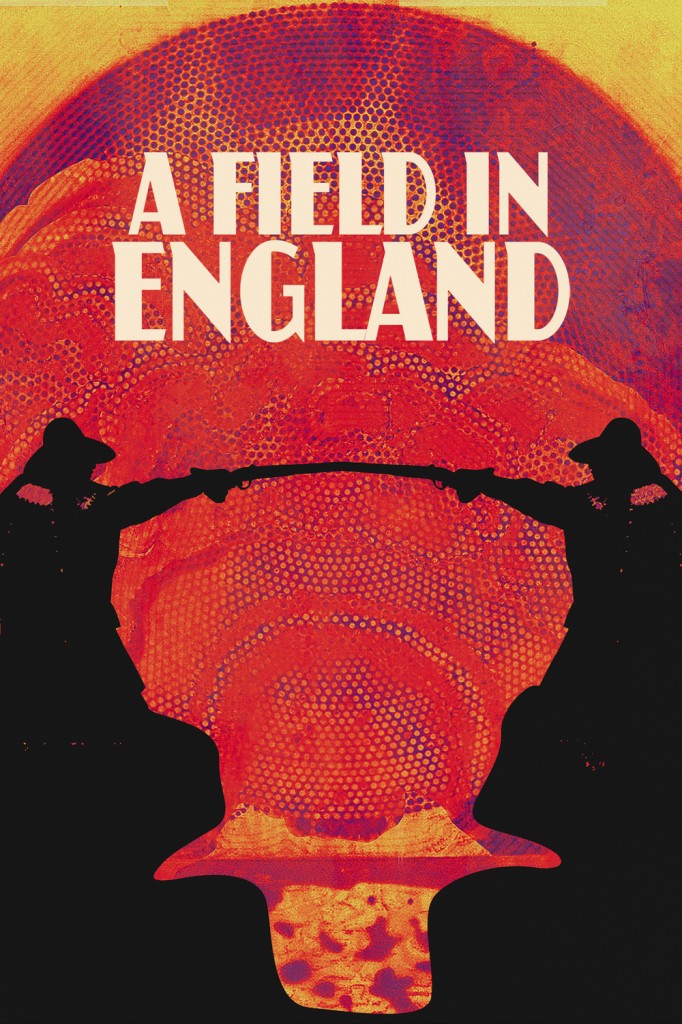 During the fateful first get together of the Writer's Meeting in Burbank (a group now forever known as "Hear Me Out, Bro!"), one of my friends brought up the film A FIELD IN ENGLAND.
I had heard of the movie, as it played at the Beyond Fest, which means one thing: it's weird as shit. Aforementioned Writer Friend confirmed this, when he said he went to a screening and was offered shrooms by someone else in attendance. He declined the offer, never having taken shrooms and wisely resistant to experimenting for the first time in a public venue.
For a couple days I just thought this was an amusing anecdote. Then, on this particular Thursday night (Feb. 13th), faced with the possibility that I may never get the chance to see A FIELD IN ENGLAND in its proper venue, it was the only thing I could do without tearing off my apartment's wallpaper. My apartment doesn't have wallpaper; that's how dire a situation it was, exacerbated by this trailer:
A FIELD IN ENGLAND was ending its run at Cinefamily's not-so Silent Movie Theater, an awesome local theater recently renovated and under new ownership (with JGL, Phil Lord and Michael Cera on the advisory board), playing both the classics (like Chaplin-era classics) and new, trippy films like Ben Wheatley's newest. Not only would I miss out on the chance to see this bizarre movie about a few 17th century British civil war deserters in theaters, I'd be missing a chance to see it at the Silent Movie Theater, on one of their comfy couches that take up the first few rows, AND, I'd miss the possibility of seeing a psychedelic movie on psychedelic drugs. So, I made sure that didn't happen.
I've done shrooms once, and it was alternately one of the best and worst moments of my life, but it also revolved around an (admittedly obvious) movie: PINEAPPLE EXPRESS. For a couple hours, I was one of James Franco and Seth Rogen's pals, along for the ride, kicking out the windshields and giggling with them.
Then, I was forced to endure the movie a SECOND TIME (I couldn't move from the couch; the only thing I managed to do was rub the hardwood floors lovingly with my feet), and that led to vomit, massive embarrassment and darker thoughts than I've probably ever had. I wanted to go to the hospital, or bang my head against the toilet to blissfully pass out for a little while. I was prepared to live the rest of my life in a psych ward in a straitjacket, with my parents looking down at me in disappointment. Miraculously, friends and WALL-E managed to drag me out of the darkness and into the light of the stars.
Having had this experience, I felt like I was ready for A FIELD IN ENGLAND, and thought the movie would be better for it.
I hopped on the bus, and arrived way too early. I purchased my tickets and walked around Fairfax, determined to squeeze out even more fun into this evening. After a Yelp search and a few circles around the block that likely made another moviegoer believe I was chasing him, I ended up at…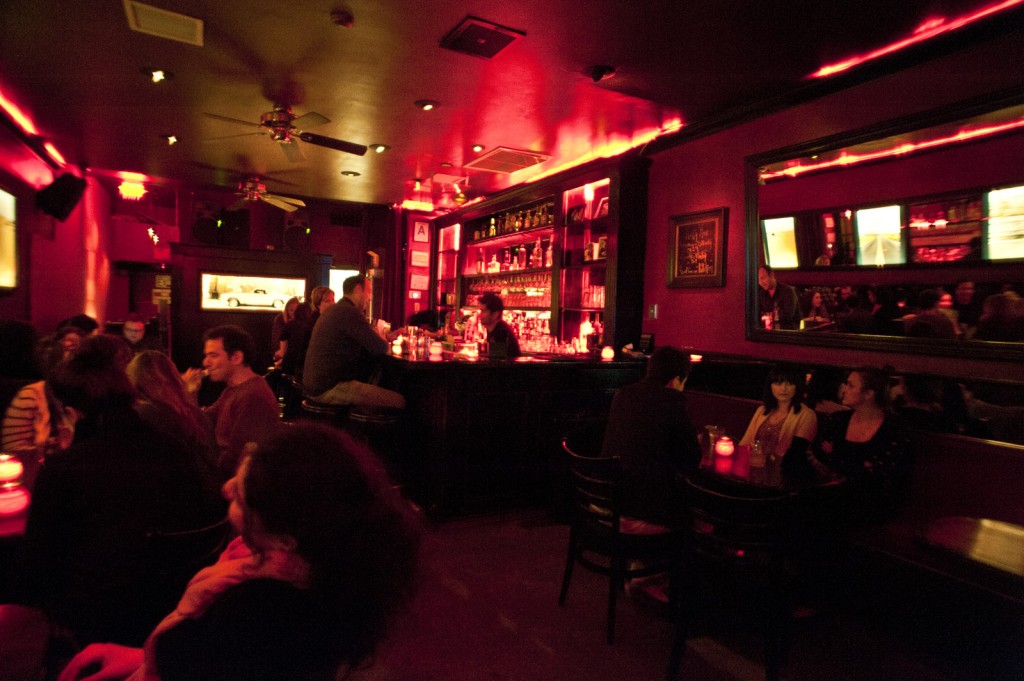 The Dime. The place is exactly the dive one wants at about 1:38 AM. At 8 PM on a Thursday, there was about 4 people in the bar, and the tiny space felt darn right huge and comfortable, a feeling never shared after 10 PM. From my painful conversation with the hot bartender, I learned that the Dime had DJ's every night (every night). I also learned that a dive bar in LA means $9 well vodka drinks. The Dime is not the right name, though it does have one of those old-school cash registers: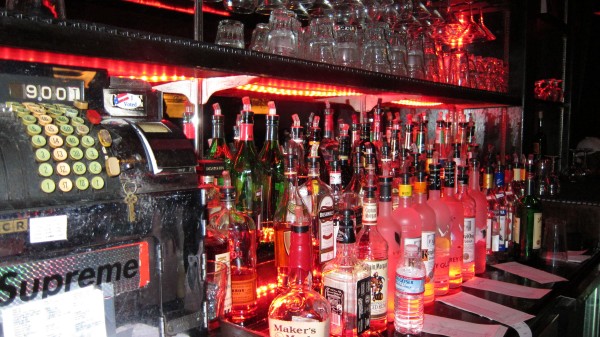 The vodka soda at least was strong, and it readied me for the mindfucks to come.
Unfortunately, no one offered me shrooms. I don't know if I didn't qualify, if Shroom Dude wasn't in attendance, or if my writer friend just happened upon a miracle (and wasted it). Until I arrived there, it seemed to me like it was a veritable certainty, as if my ticket entailed I receive a handful of smelly, awful tasting psychotropic drugs.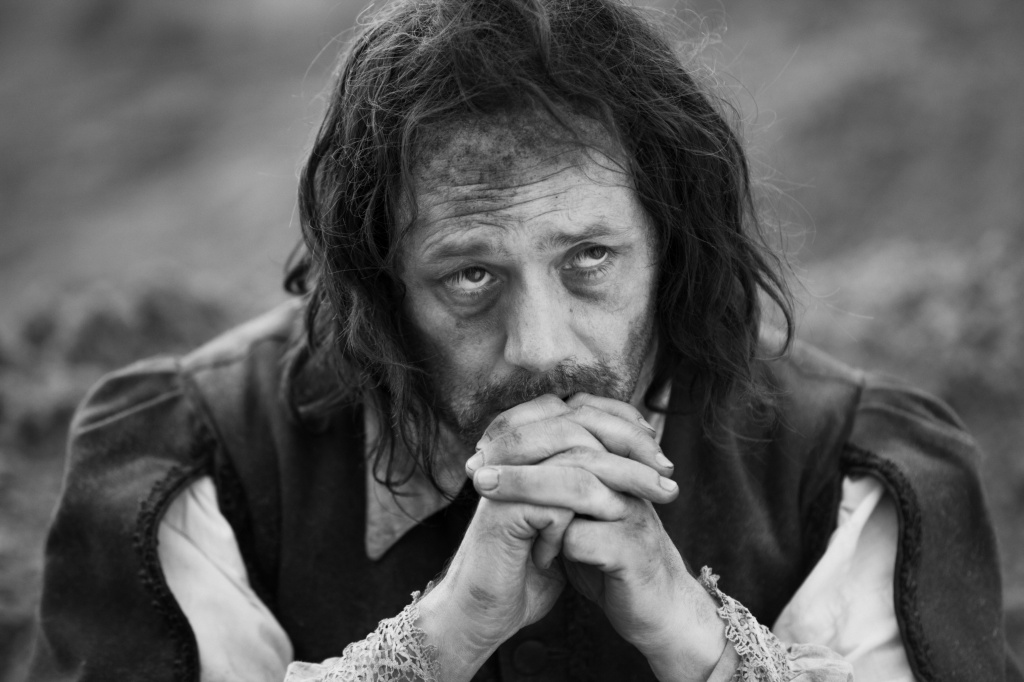 Alas, it was not meant to be (or perhaps thankfully, judging from my only other experience), and I think the movie was worse for it. I had no idea what was going on, and while I know that was the point, I feel like I just wasn't on the same plane of existence with the characters, the filmmakers or the writers (Amy Jump and Ben Wheatley). This movie demands another frame of mind and a lack of sobriety, and I celebrate it for that. It's essentially MONTY PYTHON meets David Lynch and Ingmar Bergman.
Even so, it managed to be hilarious at times, and if you desire random penises and other disturbing images of violence, sex and god knows what, wrapped around by an absorbingly eerie score, A FIELD is for you. There's even a scene where one of the soldiers is literally choking on mushrooms, and I can't imagine this movie puts you in good, magical happy trip land based on its fucked up content.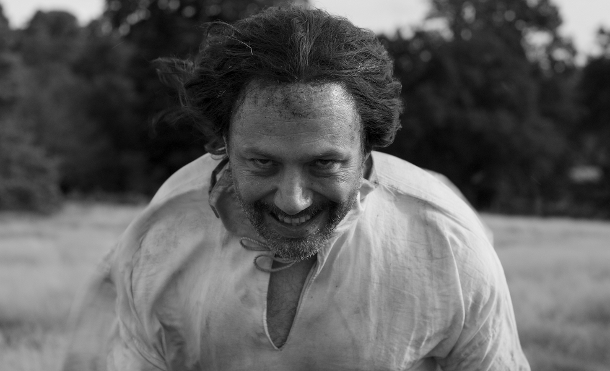 While I was disappointed by the movie and the experience as a whole, I'm glad I went for it. I could've stayed home and caught up on AMERICAN HORROR STORY, but instead, I tried to live out my own episode. These are the kinds of things I'm in LA for; these are the kinds of things we live for. I'd rather go and experience the weird, than for a moment regret I didn't.
I also ended up getting a business card out of it for an event planner who once raised money for charity by traveling across the world wearing only a Tuxedo. Yes, the guy rules.
To figure out how to see A FIELD IN ENGLAND, check its website. Its apparently on demand, available on DVD and Blu-Ray, and during the summer of its release, you could've seen A FIELD IN ENGLAND…in a field in England. That would've been everything.