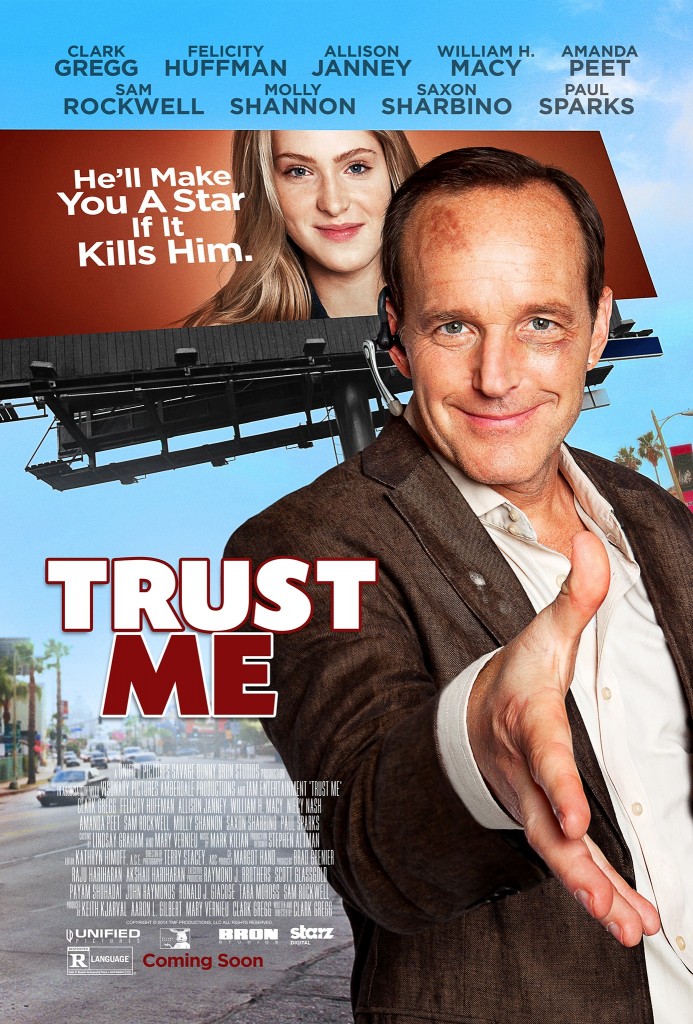 There aren't many people easier to root for than Clark Gregg. He's been in the film industry since the late 1980's, but it wasn't until turning a minor, nigh throwaway character in the first IRON MAN into a fan favorite that he's hit it big-time, joining the Whedonverse (MUCH ADO ABOUT NOTHING), the Marvel Cinematic Universe (as Agent Phil Coulson), and showing up in various other fun comedies. Now he's the lead in ABC's AGENTS OF S.H.I.E.L.D., and with TRUST ME, has written, directed and starred in his second feature film.
He's brought along with him a brilliant cast, in a personal and inside baseball look at Hollywood and the stomach churning wheeling and dealing that takes place behind the scenes.
It opens with a voiceover from Clark Gregg, asking the audience, if you ever "think you're someone else? Reborn as something new?" Considering the troubled history of Phil Coulson, I considered the possibility of TRUST ME being within MCU continuity. That soon dissipates…sort of.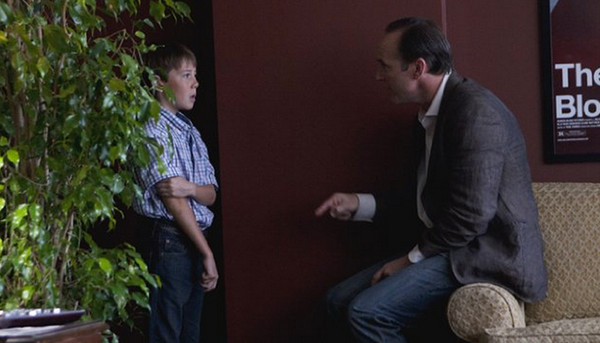 Clark Gregg is Howard Holloway, a hapless agent for child actors, and a former child star himself. He still clings to a broken blue tooth in his ear, a stud in his other, while driving around in a crappy car, making deals with no one in particular. But, as he gives a pep talk to Phillip (Griffin Gluck, name o' the week nominee), a young kid going in for an audition, it's clear he's good with his clients, because he's been there, and that he's one of the few honest, good people in Hollywood. This is exactly why he finds himself repeatedly trounced by the unbelievably smarmy and "slick" Aldo (Sam Rockwell), who always snipes his clients. After Howard gets carried away by negotiating for more money and "points" for Phillip, the kid is swapped out for Lindsay Lohan's brother, and Phillip's over bearing and pitch perfect mother Janice (SATURDAY NIGHT LIVE's Molly Shannon) fires Howard.
The break up gets messy…and Lydia (TOUCH's Saxon Sharbino, who will also star in the forthcoming POLTERGEIST remake) witnesses it all. Lydia's thirteen years old, but wise beyond her years, and the moment we're introduced to her, it's clear she's a tween star waiting to happen. Lydia has representation back home, but needs an LA agent, and sees a kindred spirit in Howard. Her drunk, idiotic and overprotective (and maybe abusive?) father Ray (MUD and BOARDWALK EMPIRE's Paul Sparks) father isn't the only one standing in the way. Aldo smells her talent, and when Lydia finds herself as Ang Lee's top choice for the newest, next massive vampire-y YA novel movie adaptation, Howard must pull out all the stops to keep his client, juggle hard ass casting directors and producers (Allison Janney and Felicity Huffman, respectively, both impeccably cast) and most importantly, do what's right for Lydia. Or so we hope, without blowing it, and his likely last chance to make it in Hollywood.
The result is a dramedy with a MATCHSTICK MEN vibe (another great Sam Rockwell joint). Lydia and Howard immediately connect, but is Lydia as wonderful as she seems, or is she conning Howard, Ray and the whole lot of them? Is Ray as despicable as he seems, or is he the mastermind? Or a mere pawn? Is Howard even the adorable schmuck he would have you believe? What's Aldo's play? Can you trust anybody? If you've been to Hollywood, you know the answer to that question, and you might be a little bit more prepared for the bizarre, $%#@ed up and tragic ending. I'm still not sure if it all works, but at least Clark Gregg doesn't hold anything back.
We soon learn that Lydia has a dark secret, which explains her ability to mine great depths in her acting, and might explain why she's so believable as the next big thing. It also throws everything into flux, and could keep Howard, Lydia and Ray from the big time.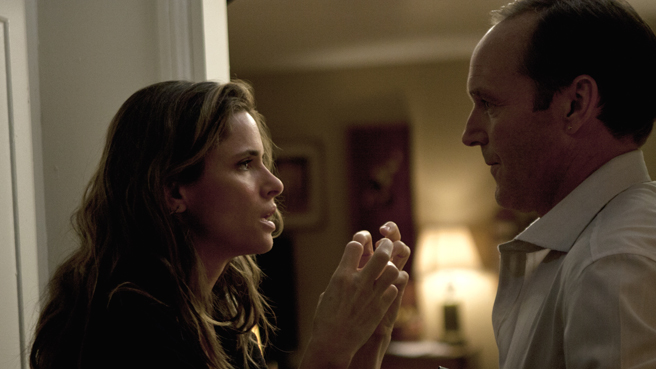 Thrust in the middle of all this is a love story with single mother and former singer Marcy (THE GOOD WIFE's Amanda Peet). It's almost too much, but Howard needs an ally outside of the industry, and their relationship is one of the cuter and funnier subplots of the film. Plus, Amanda Peet.
The big draw is the relationship between Howard and Lydia, which is what the movie hinges upon. Saxon Sharbino is so great as a budding starlet, that I'd be shocked if she doesn't become one. It was way too easy to believe Lydia was too good to be true, precisely the point. Throw in a few more cameos, like William H. Macy as a greasy car dealer (who's contractually obliged to appear, since his wife is involved, and they both produce the film), and you have a promising and interesting film on your hands. This isn't the last we've seen of Clark Gregg's behind the camera work. Trust me.
TRUST ME comes to Video on Demand on May 6th, 2014, and arrives in theaters on June 6th.