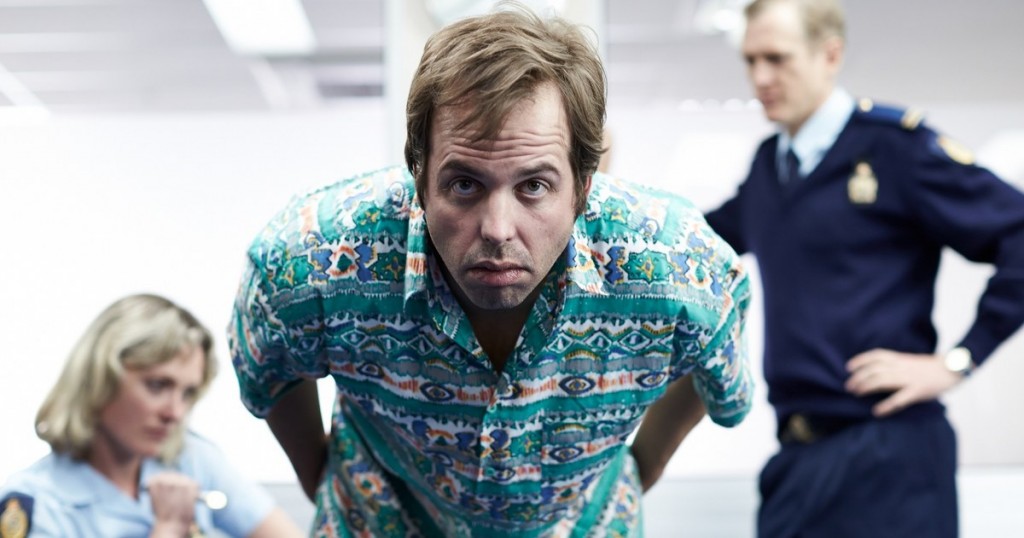 Well, except for this Czech Activia ad or this French Dulcolax spot, but it's just as uncomfortable. And it's 100 minutes long, rather than a 30 second commercial.
Unless you love poop dramas, you're checking out The Mule for its cast, a fun mix of Australian's finest. You're coming to see John Noble crunch dialogue in his native accent, spitting out the world's best slang as a sleazy crime boss (hearing Noble exclaim "Oi" is a bewildering treat). Fringe fans will get a trill of pleasure from the mini-Fringe reunion to be had, with Georgina Haig showing up as a "human rights warrior" of a defense attorney. There's also Hugo Weaving as a corrupt law enforcement agent rocking a mustache, mostly there to torment a pudgy loser.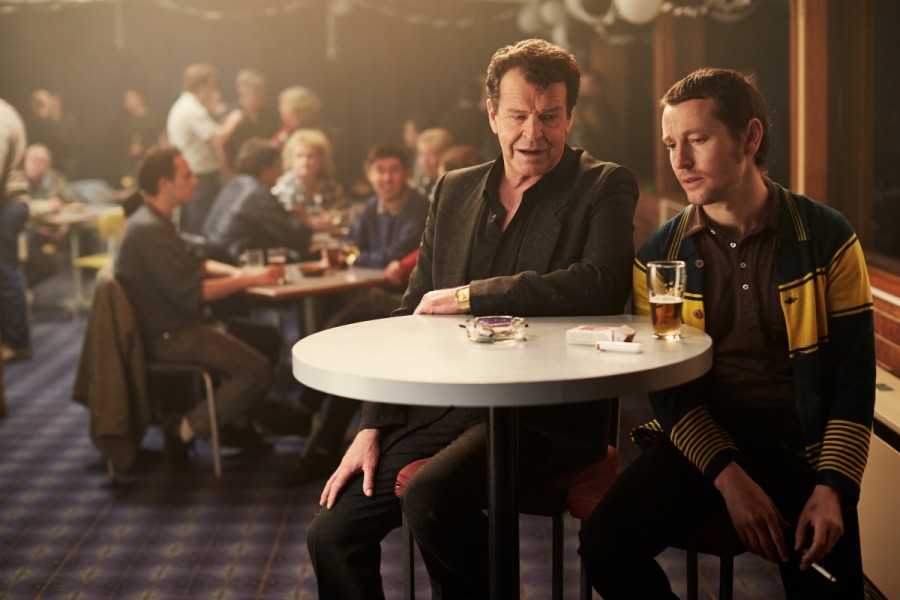 But The Mule comes from Angus Sampson and Leigh Whannell (above), two Australian stars most recognizable to those of us in the states from the Insidious and Saw franchises. While Whannell starred in the original Saw, he also wrote the first, second and third movies in the ubiquitous franchise, and wrote and starred in Insidious, alongside Angus Sampson. The duo co-wrote this film, with Sampson not only playing the titular drug mule, but co-directing alongside Tony Mahony. This is their movie, showcasing their unique brand of wit and distaste of boundaries we've seen in their horror fare, now packaged into an uncomfortable thriller.
Ray Jenkins  is a schlubby, hunched over cro-magnon of a man, almost an Australian Lennie Small without the disturbing obsession over rabbits. He won clubman of the year for the West Sunshine Cats football team, thanks to his consecutive games played streak and presumably not for his play. It's clearly a crappy team, but a small community within Melbourne rallies around them, because the team is a drug front for their owner Pat Shepherd (John Noble). Every year following the season they raise money for a trip to Thailand, where Shepherd has one of his players make the ultimate sacrifice: swallow a kilo of heroine.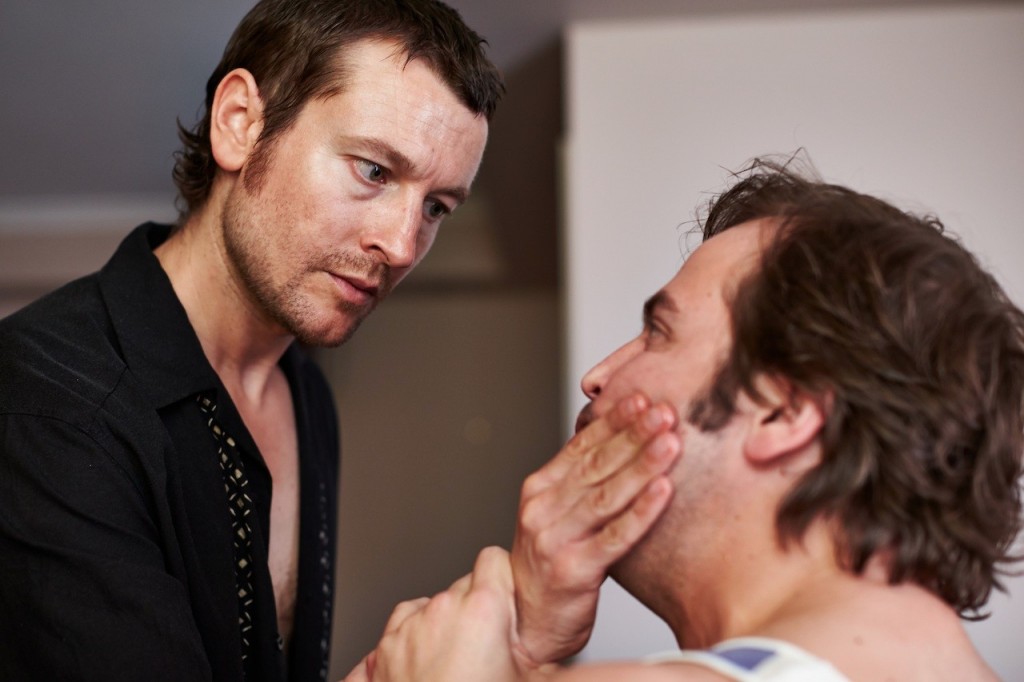 This time, in part because his family is threatened, and also because Ray wants to shake his Momma's Boy reputation, and get out of his moribund TV repair gig, Ray agrees to make the trip. He warns Gavin (Whannell) that he's going to be shit at it, and for once, Ray is right, getting caught at customs back in Australia. From there, because the Feds are allowed seven days to keep someone without a warrant for their arrest, it's a "race" to keep the drugs IN his body and out of evidence, to escape prison and save his family. That means a whole lot of suppressing the shits: groaning, gas and writhing pain, all in a noxious airport hotel room, while continually being interrogated by two asshole Feds, Croft (Weaving) and Paris (Ewen Leslie).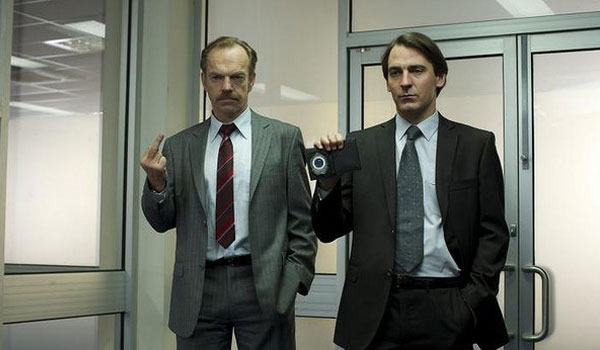 Stuffing drugs in your ass, or carrying drugs in your stomach has become so commonplace in movies that it's become a joke (or a recipe for super powers in Luc Besson's bonkers Lucy, this movie's absolute inverse). The Mule is funny certainly, a decidedly dark comedy, but there's nothing amusing about how Ray Jenkins secures the payload. The Mule is like The Walking Dead of drug mule stories: much of the excitement, twists, turns and action occurs after the low-life criminal has already been caught. And it's gross. Just like The Walking Dead, The Mule seems like it's never going to end, like we're going to be trapped in this smelly awful hotel room with a guy who can't and won't shit forever. Sampson and Whannell are fucking with us just as much as they are fucking with Jenkins, whenever the feds ask a pliable magistrate for extension after extension, keeping Ray Jenkins locked up, prolonging the tension and the inevitable shit storm to come, and I unfortunately mean that literally.
The events take place in 1983, when Australia's citizens were consumed with the America's Cup, a boating race in which the Royal Perth Yacht Club was able to end the New York Yacht Club's longest winning streak in sports history: 132 years (!). Apparently people care about boating races, and because all the journalistic energies were being focused on the cup, Ray Jenkins' basic human rights were lost in the shuffle. It's a potentially powerful framing device that doesn't completely work, in part because it was hard to follow (all I could gather was a peculiar fascination with boating sports).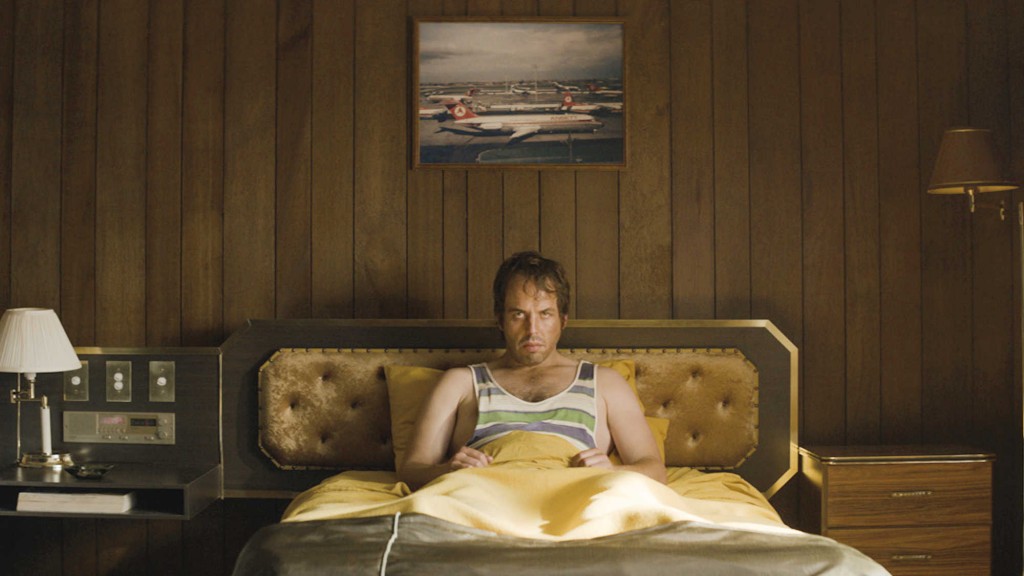 Thankfully, Ray Jenkins becomes one of the most unlikely heroes in cinematic history, a man who quite literally stops taking shit. It's a performance you likely won't ever see repeated, and I mean that as high praise for Angus Sampson. The Mule requires patience and a predilection for messy sheets, but it's mostly worth the trouble, even if you'll want to sit on the toilet for a few months after watching this movie.
THE MULE arrives On Demand, in iTunes and theaters this Friday November 21st, 2014.