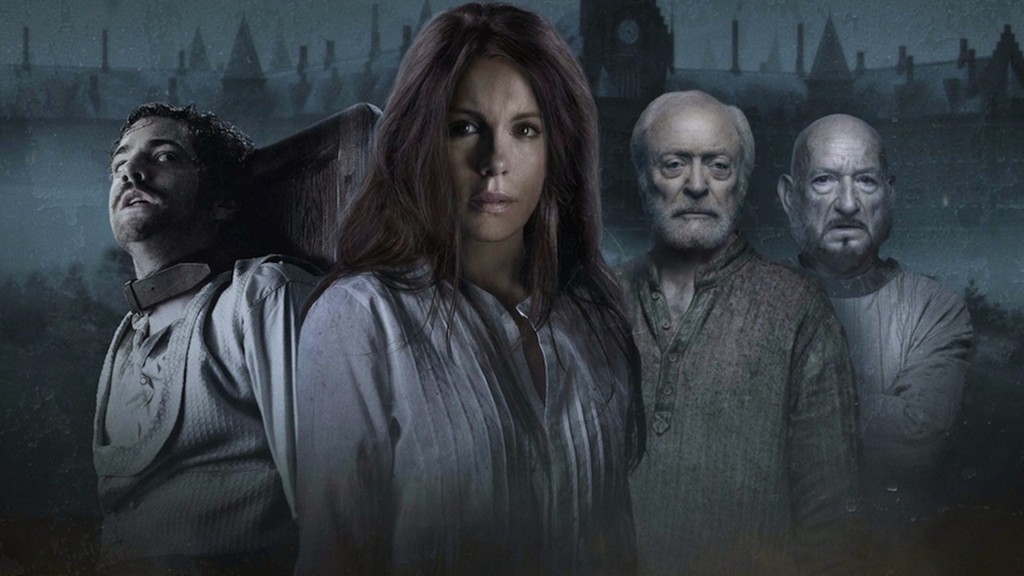 Over the first twenty minutes of Stonehearst Asylum, you slowly begin to dread watching the rest of the film, thanks to looking and feeling like your typical insane asylum movie. Jim Sturgess' medical school graduate Edward Newgate has arrived at the mental institution to become an alienist, a Lovecraftian term to describe an asylum doctor. Newgate comes to Stonehearst to learn under the tutelage of the superintendent, and of course, finds more than he bargains for, including the bewitching Eliza Graves (Kate Beckinsale, her immense beauty in perfect contrast to her drab surroundings and her shaky mental state). Dr. Newgate's taken with her immediately; cue yawns and eye rolls, even though let's be honest, who can blame him? Then, thankfully, everything changes quickly and absolutely, thrusting the story in an entirely different direction, succeeding in making Stonehearst Asylum interesting, and letting its substantial cast embrace the insanity.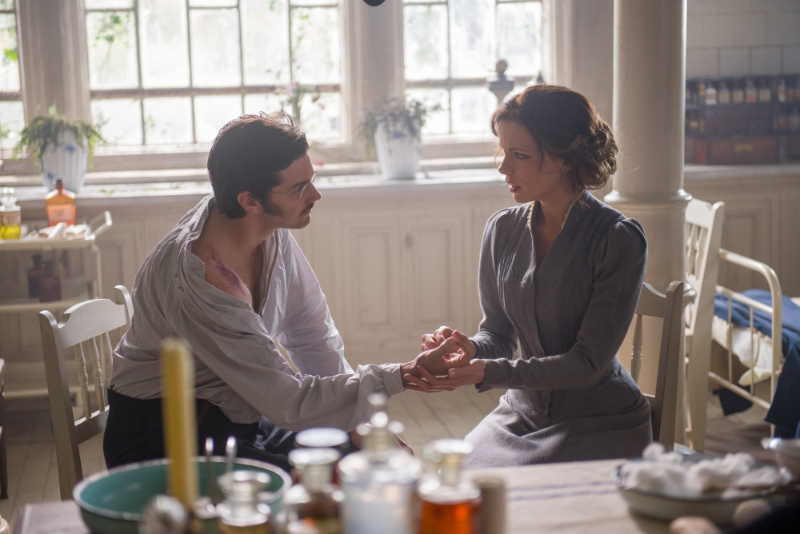 Surrounding Sturgess and Beckinsale are some of the best actors in the world (including two Sir's), a truly eye-popping cast. Ben Kingsley is Silas Lamb, the non-traditional superintendent of Stonehearst, who takes Newgate under his wing. It's obvious there's more to Lamb and Stonehearst than what we see on the surface, and Kingsley's commanding and tortured performance is the best in the film. His gatekeeper/body guard Finn is played by a menacing and startling David Thewlis. It's unnerving to see Professor Lupin embrace his dark side. Michael Caine plays Dr. Salt, a man who claims to be the true superintendent of the hospital. It's similarly disturbing to see Caine–always so classy, regal, precise—dirty, bedraggled, potentially unhinged. Throw in the great Brendan Gleeson as a clever framing device and vicious alienist, along with several truly disturbed character actors, and you have yourself an asylum packed with talented performers lending themselves fully to director Brad Anderson's tangled vision. It's like a movie version of American Horror Story's second season without the supernatural; alienists instead of aliens.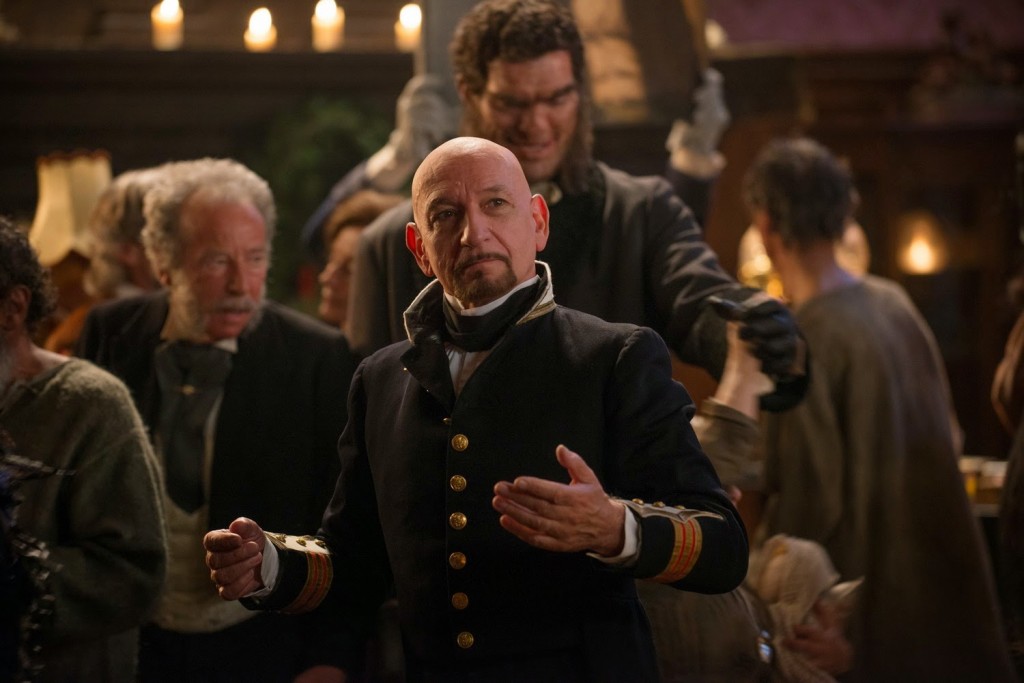 Even with all the talent involved, it's easy to envision a version of this movie that fell flat, and crumbled in on itself. It doesn't, but it treads a thin line throughout, because Stonehearst is heavy-handed, over the top and features a love story you don't really believe or want. Of course, it actually works better in hindsight, like much of this movie. Stonehearst Asylum succeeds because of its plot twists. At first we think we're about to endure a couple hours of unstable patients being pumped full of drugs, electroshock therapy and orbitoclasts. You know, the usual horror movie version of an insane asylum. Thankfully, Dr. Lamb is a proponent of alternative methods, and so is this movie, which feels like a late career M. Night Shyamalan movie with several twists, that somehow succeed in improving the movie-going experience.
It's no wonder the film didn't keep either of its original titles, even though Stonehearst Asylum isn't much better: it's wholly unremarkable, bland, feeding into your considerable doubts about its opening act. But Eliza Graves, its previous title, implies that Kate Beckinsale's character is the lead (and she really isn't, unfortunately), whereas Edgar Allan Poe's short story "The System of Doctor Tarr and Professor Fether" is suitably crazy, but doesn't work in the context of this adaptation.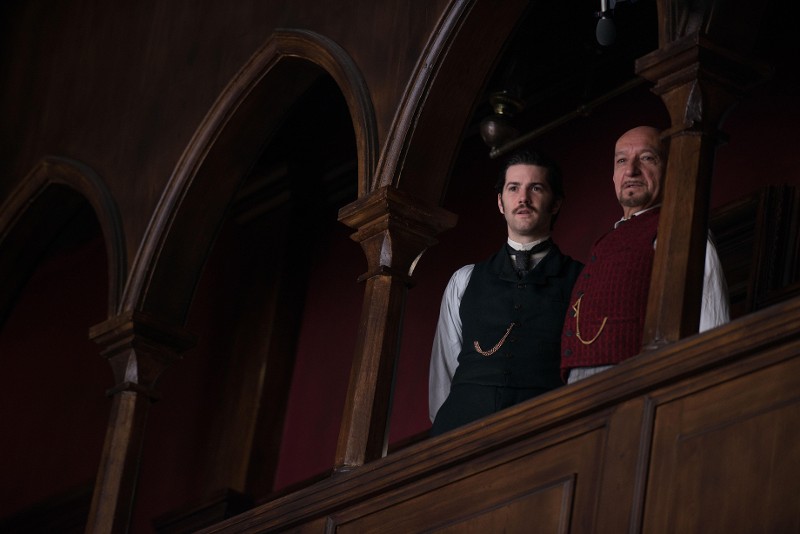 It would behoove you not to watch any trailers or previews for this film (I'd argue all movies are better that way but that's another sermon for another time), because I doubt any of the marketers will be able to control themselves when it comes to giving away precious plot details. I'm struggling not to divulge too much in this review, but suffice to say, Stonehearst Asylum is worth a look, for giving us a different spin on a tired genre, and a mostly worthy adaptation of an Edgar Allan Poe short story. It has its problems (it sometimes feels like the audience is getting a lobotomy), but it's certainly stimulating.
Stonehearst Asylum arrives in theaters and OnDemand October 24th.