The great Alan Rickman has died of cancer at age 69, just days after the great David Bowie also died of cancer at 69. In short, this week sucks.
Rickman was one of my absolute favorite actors, a man who owned villainhood (Die Hard, Robin Hood: Prince of Thieves, and others), who owned comedy (Galaxy Quest, the best science fiction comedy of all time, and Dogma, and others), who surprisingly owned romance (Sense and Sensibility), and who even owned one of the biggest franchises in film history (Harry Potter). He chewed up every scene he was in, and stood next to innumerable great actors and actresses and was never outshone — not to mention his voice, one the greatest in cinema history.
I can't claim the depth of knowledge and passion of David Bowie's incredible discography that many of his biggest fans can, but I know how deeply affected I was the first time I listened to The Rise and Fall of Ziggy Stardust and the Spiders from Mars, and how much I still am overwhelmed by his greatest hits.
There have already been many pieces about Bowie's genius, and many about Rickman's are surely being published or written right now. I have nothing worthy to say about either loss. Instead, I just want to remember some of both legends greatest hits.
David Bowie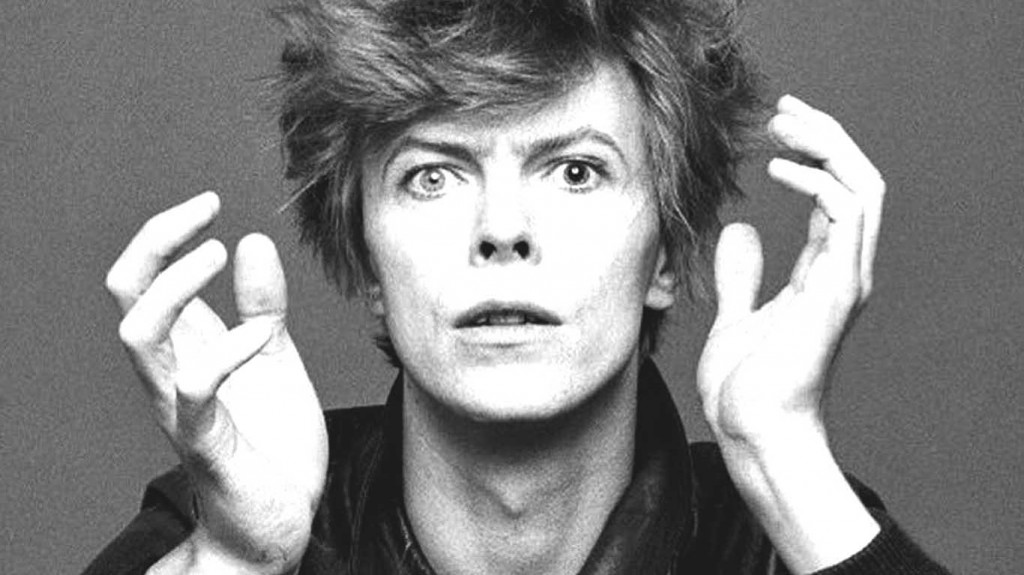 The first time I saw Bowie was when I was still a kid with no ability yet to appreciate his musical ingenuity. But I fell for him right away in the constantly bizarre Labyrinth. Labyrinth is a movie that feels like it shouldn't work, and yet because of Bowie, it does. "Magic Dance" was a karaoke standby for a college friend and I.
Bowie did a number of fun acting roles, including humorous cameos in Zoolander and a great voice role in The Venture Bros.
Yet, of course, it's for his music he'll be remembered. Even his 40-year-old songs feel so futuristic still today.
I'll always be grateful that Bowie collaborated with Queen, the only band of his time (maybe ever) that could match his sheer creativity.
And finally, my personal favorite Bowie song: "Heroes." It's not at all an original choice for favorite, and it might be his most played song. And yet, it gets me every time when his voice cracks with passion on the bridge starting at 1:59.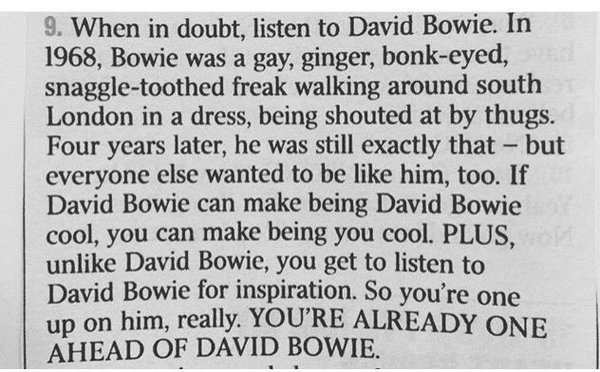 ————-
Alan Rickman
Start with Andy's piece lobbying for Rickman to have his own show, something that will sadly never happen. Reading through that collection of amazing quotes will bring you so much joy, just as Rickman did. As will that photo of Rickman sporting his Ken-doll lack of genitalia in Dogma — the man went all in, every time.
Go next to arguably his most iconic role (there may be some spirited Hans Gruber and Severus Snape debated today) in Die Hard. Gruber is justly recalled as one of the best villains ever, and for all Rickman's snide and smooth villainy, it's his calm meeting with Bruce Willis' John McClane that really takes him over the top.
And then there's Snape, of course. As beloved as J.K. Rowling's books are, Rickman's portrayal of Severus is far more delightful than her writing of the character. The tragedy of Snape is such an emotional peak that it's frankly hard to look at today. And yet, it's worth it. A one of a kind actor with a one of a kind role.
And then there's the personal favorite role of both myself and Andy, as Alexander Dane in the amazing Galaxy Quest. I called Galaxy Quest the best science fiction comedy ever earlier, and it is, but that might be too limiting. It's a legitimate contender for my favorite sci-fi movie ever (even if I give a slight edge to Empire Strikes Back), and Rickman is absolutely the best part. His put-upon demeanor in the role gave us so many incredible line readings.
And Dogma, in many ways the Kevin Smith film that holds up best, largely thanks to Rickman's caustic angel.
Sense and Sensibility, a marvelous romance that shows such a wonderful softer side of Rickman. You wouldn't expect from his villainous roles that he could have such chemistry with both Kate Winslet and Emma Thompson; he worked a few times with Thompson, and they were an underrated pairing. Rickman isn't the romantic lead, but I love how he even makes watching from a doorway the most compelling thing in a scene.
And yet Rickman's legacy will largely be for what a classic villain he was. Take Robin Hood: Prince of Thieves, a largely mediocre movie that Rickman's mania as the Sheriff of Nottingham single-handedly makes thoroughly watchable.
And I'm going to close Rickman's videos with a possibly bizarre choice: a slow motion video of Rickman making tea.
Rickman never says a word, and yet I can watch all seven minutes of that video without ever glancing away from him. That was his gift. The man did such a great range of roles, and captivated you no matter what he was doing. He made each role so mesmerizing that he always grabbed your eye and held for the entire time his was on screen — and even when he left the screen, you'd often find yourself looking off to its side, wishing he'd come back.
And that's how he left us today. Entranced, entertained, and wishing he'd walk back on that screen for even just one more moment.