Round 1 of Muppets March Madness is in the books, and let's get straight to the results. Here is your Muppets Sweet Sixteen; if you want to skip straight to voting, click here.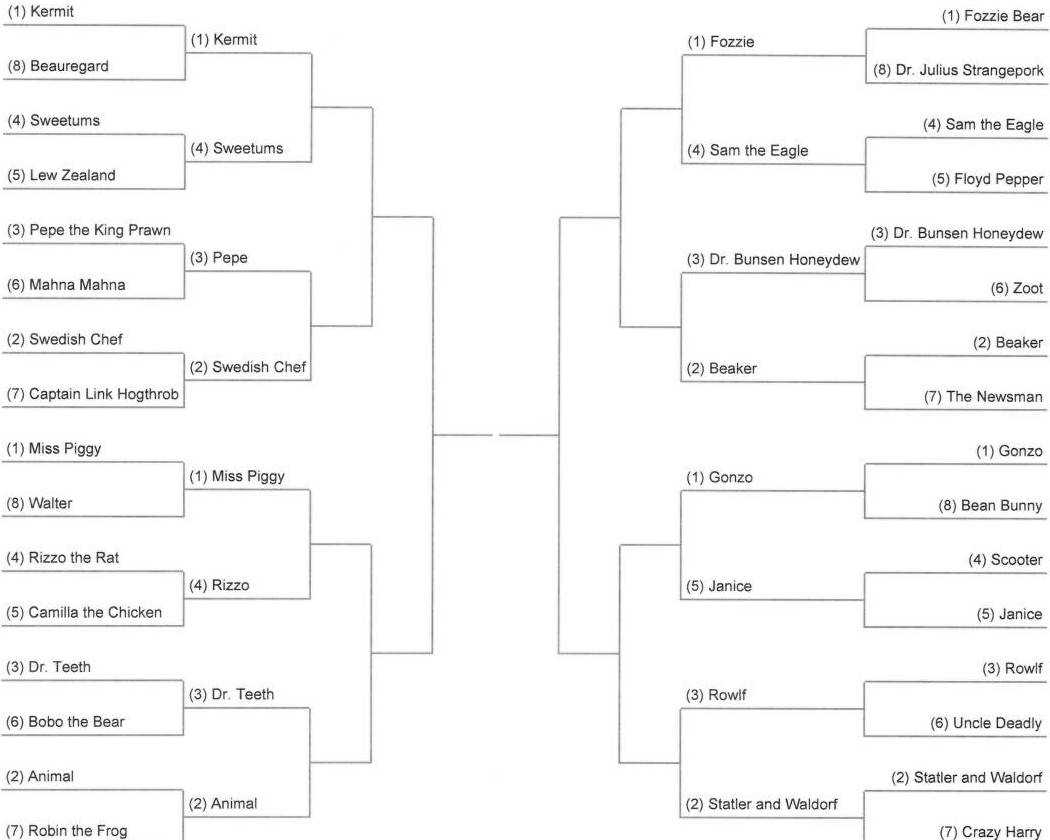 I tried to do the initial seeding based more on overall popularity than my personal feelings, and it appears that my guesses on popularity were fairly correct. There was only one first-round "upset," with 5-seed Janice squeaking by 4-seed Scooter by a single vote. Let's take a closer look at Round 1 results:
.
(1) Kermit (88%) defeats (8) Beauregard (12%)
Beauregard started as the janitor for The Muppet Show, and is a notable harmonica player, as well. But he never really stood a chance against THE Muppet.
.
(4) Sweetums (75%) defeats (5) Lew England (25%)
I thought Lew's eccentricities might put up a fight here, but Sweetums dominated. Perhaps we all still feel bad about how Kermit and gang accidentally drove off without him in The Muppet Movie. Sweetums caught up in the end, but does he stand a chance against Kermit next round?
.
(3) Pepe the King Prawn (55%) defeats (6) Mahna Mahna (45%)
One of our two closest votes, and the first one where I disagreed with the majority. No doubt, this was a difficult choice. Pepe's voice alone makes him a tough out, and he has had commercial success as a spokesman for the worst restaurant chain on earth. Mahna Mahna, on the other hand, was in very few sketches and has a smaller body of work. But he had presence when he showed up, and of course, gave us one of the most famous Muppets moments of all. So to celebrate him as he exits, here it is:
.
(2) Swedish Chef (89%) defeats (7) Link Hogthrob (11%)
Swedish Chef is going to be a tough out, I think. Next round should be a fun matchup of chef vs. would-be food, but my money is on the Chef. Link Hogthrob stood little chance here, but I was happy to see him get voters. His William Shatner parody persona was underrated, and practically made the spectacular recurring sketch Pigs in Space.
.
(1) Miss Piggy (78%) defeats (8) Walter (22%)
Miss Piggy will be interesting to watch. She's the second-most important Muppet, but her voice and diva persona can sometimes wear thin in large doses. I don't have a good feel for how far she'll go in this tournament. Walter, meanwhile, is the newest Muppet on the list, debuting in 2011's The Muppets. He looked far too plain for my Muppet tastes, but he was the heart of the film and contributed to the arguably the best Muppets song ever.
.
(4) Rizzo the Rat (78%) defeats Camilla the Chicken (22%)
Rizzo has a special place in my heart, so I was glad to see him go through. I thought Camilla might pose a little more of a challenge, as Gonzo's long-time love interest. She too had a great musical moment in the last film, with Cluck You.
.
(3) Dr. Teeth (78%) defeats Bobo the Bear (22%)
Dr. Teeth, the eccentric band leader of Electric Mayhem, deservedly moves on with ease. Bobo the Bear was always a reliable laugh, despite not being the smartest bear.
.
(2) Animal (100%) defeats Robin the Frog (0%)
Animal is the first of five Muppets who pitched a perfect shutout in Round 1, leaving nothing for small Robin, Kermit's nephew. Robin has unjustly been compared to Scrappy Doo, but he was really quite charming in Halfway Down the Stairs, and playing Tiny Tim in A Muppets Christmas Carol. Next round will give us Animal vs. Dr. Teeth in what should be an epic battle of bandmates.
.
(1) Fozzie Bear (100%) defeats Dr. Julius Strangepork (0%)
Another shutout, showing that our readers have appropriate Fozzie appreciation, thank goodness. Dr. Strangepork was amusing as the mostly incompetent doctor/scientist of Pigs in Space, but unlike Link, never got much play outside that sketch.
.
(4) Sam the Eagle (67%) defeats Floyd Pepper (33%)
I expected this to be a little closer, but Sam's matter-of-fact delivery was too much for Floyd Pepper's chill vibe. A pity anyone had to lose this one; Floyd was always the most talented member of Electric Mayhem.
.
(3) Dr. Bunsen Honeydew (89%) defeats (6) Zoot (11%)
Another member of Electric Mayhew goes down, this time at the hands of Dr. Honeydew. Zoot was cool and rarely spoke, but for this tournament, he may have been too mellow to last.
.
(2) Beaker (100%) defeats (7) The Newsman (0%)
Our third shutout. People love Beaker; I think he's a dark horse to win this whole thing. I don't recall seeing The Newsman in any of the films, but the Muppets News Flash segment of the show was always entertaining. This means we'll get Beaker vs. Bunsen in Round 2. Can Beaker get past his sometimes partner, sometimes accidental tormenter?
.
(1) Gonzo (100%) defeats (8) Bean Bunny (0%)
The fourth shutout, delivered by everyone's favorite Muppet alien. Bean Bunny is adorable but has had too few opportunities to impress voters.
.
(5) Janice (51%) defeats (4) Scooter (49%)
Our only upset, and also our closest battle: Janice won by a single vote. There are so few Muppet women that Janice was only the second in this tournament, but both advanced. This also means three-fifths of the regular members of Electric Mayhem are through to Round 2. Scooter came close, but he'd still be my ideal choice of go-fer. Janice now has an uphill battle against Gonzo, but at least she'd get Jasol Segel's vote.
.
(3) Rowlf (100%) defeats (6) Uncle Deadly (0%)
Our last shutout, and this one was a slight surprise to me. I voted Rowlf too, but I expected at least one Uncle Deadly fan. He was perhaps the best Muppets actor, and he got to unveil his good side at the end of The Muppets.
.
(2) Statler and Waldorf (88%) defeats (7) Crazy Harry (11%)
Statler and Waldorf have an advantage from being the only duo in the tournament, but how can you separate them? They're one grumpy identity in two Muppet bodies. But good for Crazy Harry getting some votes. We all love a little intentional destruction every now and then. Statler and Waldorf now face a tough challenge; Rowlf might have more popularity in this contest than I'd expected.
.