This past weekend, the IFFLA (Indian Film Festival of LA) took over the ArcLight in Hollywood for five days of Indian filmmaking. The festival proves that there's more to Indian cinema than Bollywood, with a dazzling array of premieres, galas, Q&A's, shorts and yes, classic Bollywood movies (I discovered and loved Taal).
On Thursday, I witnessed the Los Angeles premiere of Miss India America, a successful Kickstarter turned comedy that tells a worthwhile and necessary story from the Indian American perspective. I don't think anyone isn't familiar with the success-driven nature of the (stereo)typical Indian American family, with career and college placed above all else. But instead of showing strict parents stressing their kids out, Miss India America flips it around, with a kid who has grown up in that environment to become a win-at-all costs tyrant. Meet Lily Prasad (Star Wars Rebels' Tiya Sircar), the most self-absorbed character you'll ever see. She's had everything planned out since she was 13, and so far, everything is going according to plan: she was valedictorian, she's headed to Harvard to become a brain surgeon, and she's molded first love Karim (Kunal Sharma) and best friend/sidekick Seema (Kosha Patel) into props in her own life.

But both Karim and Seema want more. Seema wants to enter Miss India California, and drags Lily to a meeting to support her. Lily would be insulted by the entire thing if she deemed the concept worthy of any time whatsoever to think about it. This changes when Karim grows a pair, tired of being treated like a child, and asks for a break from their relationship. He immediately starts dating the delightfully air-headed Miss India America Reshma (Sameera Eligeti), which inspires Lily to not only join the pageant, but force Seema to withdraw and help her. It's an unforgivable act. After all, she wasn't going to win anyway, Lily tells her. So why can't you help me? For Lily, Seema only exists to help facilitate her dreams; she isn't allowed to have her own. It's a bizarrely on-the-nose rendition of "best friend" archetypes that unfortunately isn't parody (it's played as if "Judy Greer Is The Best Friend" was nonfiction).
Yet, Lily arguably treats Seema better than her own mother Gita Prasad (Meera Simhan, who also co-wrote the film with Ravi). Gita is a world-renowned poet, respected by her peers and Lily's peers, but she's blind to creative pursuit, essentially treating Gita's life and life work as a waste of time. I understand where Lily is coming from, indoctrinated to a culture of doctor-or-else, but this emphasizes that Miss India America has set up an almost impossible character arc to complete. It's going to take a lot for me to ever forgive Lily. And unfortunately, I never do completely.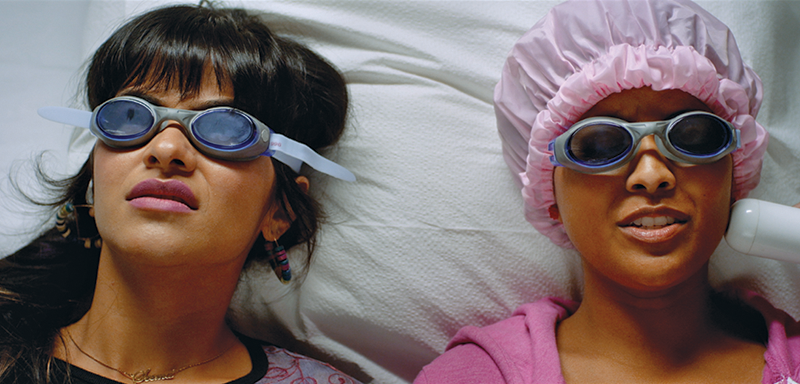 That said, and perhaps most importantly, Miss India America never stops being fun. The world of competitive beauty pageants is a perfect backdrop for such a story, and the absurdity of pageants never gets old, creating an environment stuffed with delightful comedic characters. The highlights are the adorably hyper Nita Nanji (Anushka Rani); at one point she mentions her talent involves playing tennis while dancing, and it's a crime to cinema we're robbed of seeing that. Hannah Simone of New Girl fame is perfectly cast as Lily's arch-rival Sonia Nielson, the perfect pageant contestant and the only real challenge for Lily's crown. Normally in a movie like this, Sonia would be fashioned as the villain, but in Miss India America, Sonia is who we want to win, and who deserves to win. Lily is the hero and the villain of her own movie.
When Lily finally has her breakdown, admitting to herself and her mother that she has a problem, it happens when her Dad's (Bernard White) in the hospital. We don't know if he'll even survive, and neither does she, yet at that moment, she's only concerned with herself. Even when Lily is kind of arcing, she's doing it in the most insensitive, self-absorbed way.

That's why, for me, Miss India America doesn't completely work, and it's frustrating, since the film is smart and well-made, with worthwhile themes and goals. But Lily never gets the comeuppance she deserves, and never truly completes the arc her character needs. We know she needs to learn to be okay with losing, but we never see it. It happens off-screen, because Miss India California (not Miss India America) takes an overwhelming amount of the running time.
After the film, writer-director Ravi Kapoor (best known as an actor on Crossing Jordan), even admits that in a key moment in the final act, he "gave [Lily] an out." That choice, ultimately, dooms the movie from being more than a comedic trifle.
To keep track of Miss India America, check out its website, like it on Facebook, and/or follow the film on Twitter.