Fox's Gotham is a show I had a bad feeling about, then grew to hate, then dropped from my viewing. Since its fall finale, I had not seen a single episode all spring. Last night, I randomly decided to jump back in and watch its season finale. The result was a surprisingly enjoyable experience. Gotham is actually a lot of fun if you look at it the right way — as a pure comedy show. Spoilers ahead.
The remarkable thing about jumping in for the finale after missing months of episodes was how little I felt like I'd missed. The gang war that was being teased relentlessly in the fall still hasn't wrapped up. Penguin is still trying to play both sides to come out on top, and somehow neither side had really caught on to that. I knew from promotional information that my long-time lady love Morena Baccarin had joined the cast as the great Bat-character Dr. Leslie Thompkins, and the "Previously on Gotham" intro filled me in that she and Jim were now an item, while his ex, Barbara, had gone through something traumatic with her parents and Peter Petrelli (or "the Ogre," whatever). The pre-Riddler has gone further down his path toward becoming a villain just because a woman rejected him. And something or other had taken Fish Mooney off the board, but she's back now (and looking even more ridiculous).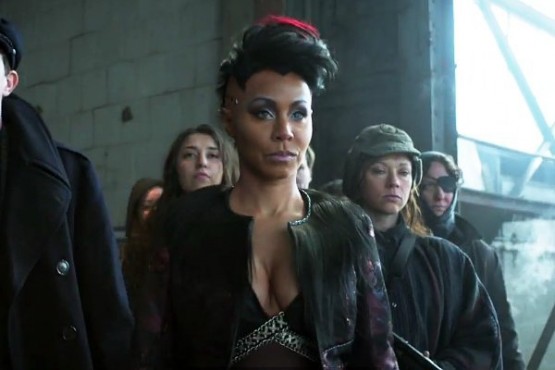 And that was all the setup needed for last night's batshit crazy finale that revolved around the end to the gang war and the damage done to Barbara's fragile psyche.
The gang violence starts when the current top dog ganster, Falcone, is picking out chickens (AS MOB BOSSES DO) when he gets attacked with a bazooka. He survives but ends up in the most empty hospital ever, where all his enemies plan to kill him. Luckily, our hero, the intrepidly stupid Jim Gordon, won't let that happen; he goes to the hospital to protect Falcone, and stops Penguin shortly before Oswald can deliver a finishing blow. Only then does he think to call his partner, Harvey Bullock, for backup. Bullock is definitely in this episode, but I couldn't tell you a single thing he actually does besides gripe at Gordon for doing his job. As far as I know, that's the only thing he's done all season.
This sequence began the series of not one, not two, but three separate times this episode when Falcone is captured and completely helpless, but his captor(s) spend a long time gloating before bothering to try to kill him, allowing something highly improbable to save his life each time. Of course this show is a comedy; that repetition of blunders was only missing some sharks with lasers beams on their heads from being an Austin Powers movie.
The would-be victor of the gang war from Falcone's should-be demise is rival mafioso Maroni. Unfortunately, he can't help but taunt his new ally, Fish, calling her "toots" and "babe" and whatever other 1950s jargon comes into his empty head, all the while grinning and laughing with his henchmen about how angry Fish was becoming. The only thing missing was Maroni yelling, "Boy, I sure hope this broad doesn't shoot me in the face!" Naturally, Fish shoots him in the face.
Gordon, Bullock, and Falcone escape in the ensuing fighting among gang members, but unfortunately, decide to hide in a metal crate that they don't really even close, then continue talking at full volume while they know Fish's people are searching for them right outside. Unsurprisingly, they're discovered — by the young Selina Kyle, who's graduated from playful crook to full-on evil henchwoman for Fish. It feels odd to me that Fish would rely so heavily on prepubescent labor, but then, I'm not a crime lord so maybe I just don't get it.
But our heroes (plus Falcone) escape a third time when Penguin comes in and shoots up the place, trying to kill Fish. Eventually, this gives us the final battle between Penguin and Fish and OMYGOD I JUST REALIZED THAT PENGUINS EAT FISH THAT IS SO FUCKING CLEVER. Anyway, Penguin pushes Fish off a ledge into some water, and I guess we're supposed to assume she's dead (BUT DON'T FISH LIKE WATER?), because Penguin then stands on that same ledge and yells that he's the king of Gotham. You can tell this is a young show still finding its comedic roots because they missed the golden opportunity to have Penguin slip and fall off while shouting.
The interaction between Gordon and Falcone is also amusing throughout the episode. Gordon doesn't merely want to save Falcone's life to put him on trial or something; he wants to save Falcone's life so Falcone can go back to being the top Gotham mob boss. The fuck, Jim? But in our hero's mind, Falcone's particular brand of evil is the kind that the city needs, or something. However, almost being killed repeatedly is enough to make Falcone decide on retirement instead; the episode ends with him riding off into the sunset after a fond farewell with Gordon. The two act like good friends, or even almost a father-son type of bond; Falcone gives Gordon a knife as a going-away present, telling him that Jim's dad once gave it to Falcone years earlier. You get the sense that Jim is losing a dear friend, even though what's actually happening is that a conniving mass murderer is deciding to go enjoy the fruits of his career of conniving mass murdering without ever facing any legal repercussions.
The B plot revolves around Barbara and Leslie Thompkins, with Babs asking Leslie for needed trauma counseling; apparently, the Ogre killed her parents in front of her. Leslie, Gordon's current girlfriend, reluctantly agrees to counsel his ex. As their session evolves throughout the episode, we realize more and more that Barbara isn't just grieving or hurt, she's gone literally insane. By the end, she confesses that it was actually her who killed her own parents, and then she tries to do the same to Leslie. This results in a girl-on-girl fight for life; luckily, they both wore sexy clothing for this therapy session (AS ONE DOES). Leslie wins narrowly, bashing Babs' head against the floor as Gordon enters. I have to say, actress Erin Richards' portrayal of Barbara's insane murderous efforts was far and away better than anything I saw from her in the fall; perhaps the show accidentally found the character's best destiny by making her a psychopath.
Two final subplots round things out. Pre-Riddler had apparently killed the man that a girl liked instead of him, then wrote her a note as that man, but had the first letters of each line spell out his name, Edward Nygma. She confronts him about this, he unconvincingly talks his way out of it, and then has a weird crazy conversation with himself about whether it was foolish to leave that clue. This show better be a comedy, because any serious drama would induce a lot of eye-rolling with how poorly written, acted, and directed that scene is.
Finally, we check in on the world's worst child and his shitty adoptive parent, Bruce and Alfred. Bruce is convinced his dead dad had some weird secret. Alfred is like, Nawwww. Luckily, Alfred makes some random-ass comment that makes Bruce realize where his dad would have hid his secret, then finds a remote hidden a book. Pressing it causes music to play, and then, the fireplace starts to open, revealing a hidden passage that goes down into … some sort of cave. As Bruce and Alfred stare, shocked, we hear a bat fly by  in the darkness. The implication is clear.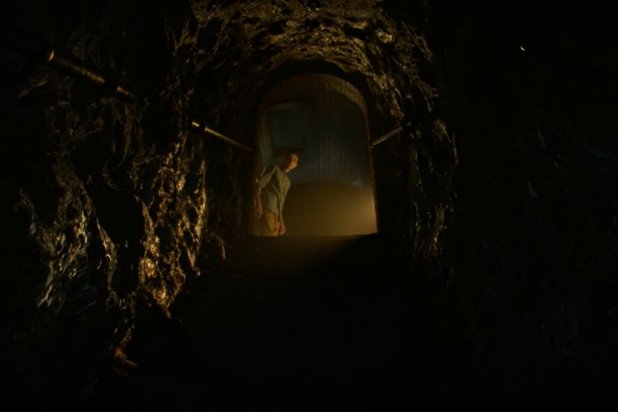 Bruce is about to become Catwoman.
And thus ends Season 1 of Gotham. I hope this show runs for 10 seasons. It's too funny not to. And I pledge to watch every season finale (but only the season finales) for as long as it lasts.