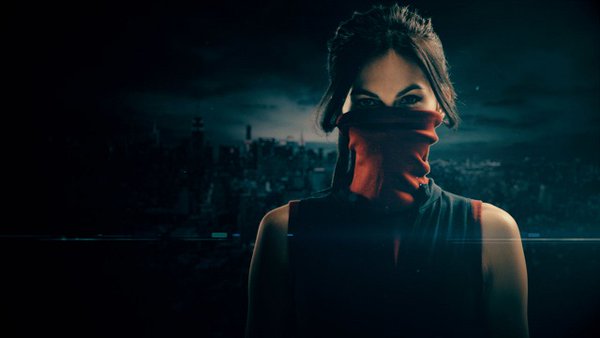 Let's start with three quick points.
1.  The use of a question in the title of this post is sincere. I do a lot of angry rants and hyperbolic praise on this site, because that manic vacillation is what I do best. But this is an instance where I'm genuinely unsure of the answer.
2. Despite whatever questions I raise here about the ending, I freaking LOVED Daredevil Season 2. I thought it was a masterpiece, even better than the great first season, and one of the best superhero stories I've seen play out in live action.
3.SPOILERS ahead for Daredevil, Season 2. And just to be safe, spoilers for a 30-year-old comic book (Frank Miller's Daredevil #181) and, in case you care (you shouldn't), the 2003 Daredevil movie.
So let's get down to it as briefly as possible. If you've made it this far into the post, I assume you're cool with that spoiler disclaimer and don't need a full recap of Daredevil Season 2 as preamble for what I really want to discuss. Let's skip straight to the season finale, "A Cold Day in Hell's Kitchen," and from there, straight to the climactic rooftop battle between Daredevil and Elektra and a host of ninjas from The Hand, which culminated in Elektra's death. Now, Elektra dying was probably one of the least surprising events of the season for anyone very familiar with the character. Dying is kind of what she does. The main suspense was how and when; I thought there was a decent chance the show would save her inevitable first death for Season 3, but if not, it was going to be in the finale. And sure enough, Elektra jumped between Matt and a blade wielded by Hand leader Gao, saving DD's life at the cost of her own. She then died in Matt's arms, and ended the season in a creepy Hand sarcophagus that had been teased for half the season. The bigger picture isn't entirely clear yet in the show, but obviously, her story isn't done. As the final denouement of the season, Matt reveals to Karen that he's Daredevil.
Here are my possible questions:
1. Was this the best way to kill Elektra?
2. Was this the right moment to make the inevitable secret identity reveal to Karen?
Let's start with the first one. It feels uncomfortable to discuss the optimal way to have an awesome female character be murdered, especially given the history of fridging women in comics. But since death has been inextricably linked with Elektra since her earliest stories, I think this is a special case. And I'm not sure the show really captured the possible drama of that moment.
First, there's the villain, Gao, who killed her. He appeared in a handful of episodes in Season 1, but only one episode with any prominence, the one in which he has an incredible fight against Daredevil and ends up burned alive. He returns this season, burnt but resurrected, as a shortcut for giving The Hand a Big Bad figurehead. He's effective enough, but hardly a dominating presence, particularly when compared with main villains the show has already produced (Kingpin, Punisher). He seems like he's probably middle management, or at least not the kind of iconic villain you'd expect to stand in for probably the most famous moment in Daredevil history. Elektra was originally killed by DD's arch-nemesis, Bullseye, in one of the most unforgettable comics scenes of all time: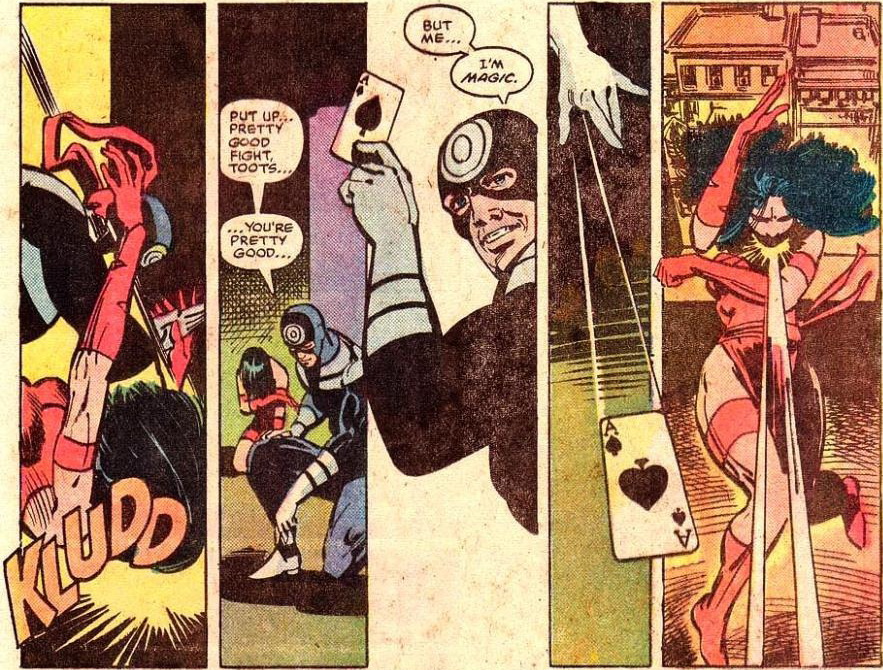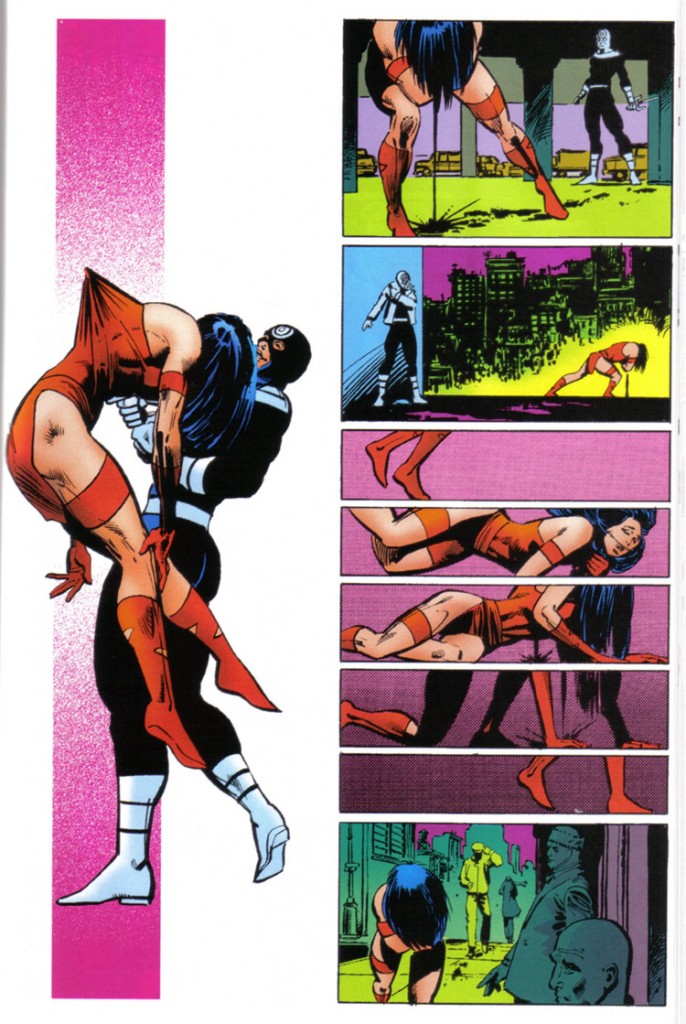 Gao hardly feels like a worthy stand-in for that moment, nor does Elektra's show death carry quite the same sense of drama. My first inclination was honestly to be slightly disappointed. If her death was going to come this season, I expected the sarcophagus tease to be a reveal of creating Kirigi, a Big Bad of the Hand whom Elektra killed herself not too long before that comic book death.
But if I didn't feel quite enough drama in the moment, I've warmed some to the show's concept since watching it. First, there's certainly nothing wrong with departing from the source material, especially in such a very loose adaptation. After all, the 2003 Daredevil film recreated Miller's scene almost verbatim, and is rightly reviled nevertheless:
Second, this Elektra isn't the comic book Elektra — and that's fine, too. Show Elektra was more vulnerable and more of a good person. Before her first comics death, Elektra worked for a while as an assassin for Kingpin, indiscriminately killing according to his orders. The show's Elektra is certainly a killer — a fact that gets a fair amount of discussion — but we don't really see her take out anyone who didn't arguably deserve it. Perhaps the show's ending was actually more appropriate than the cold-blooded duel with Bullseye. This Elektra had a much softer side, and sacrificing her life for someone else (as opposed to just losing a fight) was, perhaps, the perfect way to conclude her arc for the season.
Elektra and Matt had a really strong and co-mingled arc over the season, I thought. Both struggled with immense darkness and largely used each other as a tether to whatever goodness was within them. This was more obvious for Elektra, who felt betrayed (for good reason) by Stick and found out that she was the "Black Sky" of The Hand's prophecies. I think the show could have raised the stakes even more by telling us directly what the Black Sky is or means. We know it's a sort of messianic figure that is supposed to bring destruction, and for this season at least, that's probably enough. But it's rather unclear how Elektra would cause that doomsday that Stick and the Chaste fear; she's a badass, but Stick and Matt both seem to be at least on par with her as a fighter. Nevertheless, in her darkest moments, Matt can still pull her back from the brink.
More impressive to me, however, was how the show demonstrated Elektra's importance to Matt. Matt treated her reentry into his life as an imposition at first, but as the season went on, it became clearer that only with Elektra could Matt really be himself: something he stated outright shortly before they charged out onto the rooftop for the final time. There's been an oft-used idea in modern comics that for certain characters, their superheroic identity is the "real" person, and the civilian identity is actually the mask. It's most often applied to Batman — erroneously, I think, but that's another discussion. For Daredevil, though, at least in the context of this season, that concept kind of works. Matt Murdock has to pretend to be disabled in the ordinary way in which the world around him sees a blind man. As a lawyer, he's increasingly struggling to make a real difference for people as the season goes on; this is often his own fault for being absent, but those absences are also spurred by a sincere belief that he can do more good as Daredevil than as Matt. Daredevil is the truest sense of what he's capable of, where he can act to do the most good.
This arc for Matt leads into my second maybe-questionable choice: his reveal to Karen in the season's final scene that he is Daredevil.
Matt has a burgeoning romance with Karen Page early and through the middle of the season, because Matt belongs with someone like Karen who brings out the best of that identity. But Daredevil belongs with Elektra, the person who pushes him and frustrates him and disappoints him — but also accepts that identity unconditionally. And so much of Season 2 revolved around the idea that the character needed to be Daredevil more than he wanted to be Matt. Shortly before Elektra's death, he finally seemed at peace with all of that — that he needed this lifestyle, and as a result, that he belonged with Elektra.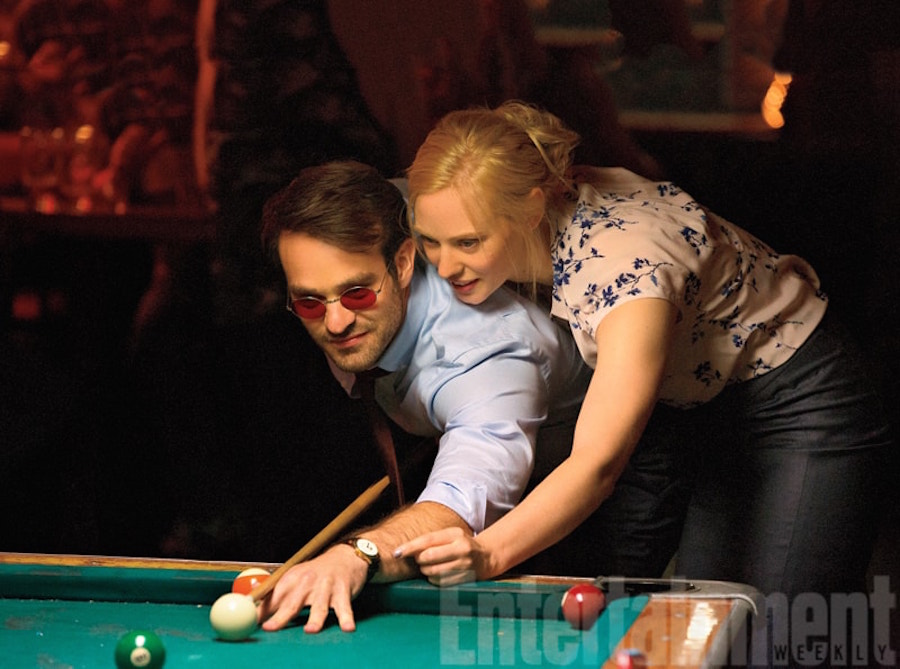 But then Elektra dies, and he comes clean to Karen. I think I get what the show was going for with this decision (besides a dramatic cliffhanger). After all the suffering he'd gone through and inflicted this season, perhaps Matt just wanted to unburden himself a little and stop lying to someone he truly does care about. But I feel like maybe the reveal didn't fit with where he was at that moment. A major theme of the season was that to choose Karen was to choose being Matt Murdock, and he's already turned his back on that choice. If the loss of Elektra is making him reevaluate the choice, that'd be one thing, but we don't see him trying to make up with Foggy, re-open the law firm, or do the other things he'd reasonably need to make an effort toward in order to really live in that direction. As near as we can tell, he's still resolute in the decision that he needs to be Daredevil more than he needs to be Matt.
But being Daredevil feels at odds with opening up to Karen; if anything, he's shown that he can't be Daredevil and accommodate Matt's personal relationships. I understand that the reveal had to happen eventually, and it's a tired trope that the hero's main romantic interest is almost always the last major character to find out the truth on these shows. But I wonder if they could have built up to Matt's decision to reveal the truth in a more consistent way if they'd saved that moment for Season 3 instead of tacking it onto Season 2 for a hard-hitting final scene. But again: maybe not; maybe this way was best. So much damage in Season 2 was at least partially the result of secrets. Maybe taking one off the table was the most appropriate way to end.
Again, I'm honestly unsure. Was Elektra's show death insufficiently big and dramatic and lacking in a worthy fight/villain, or was it a more appropriate way to play out the arc of her character's sincere moral struggle? Was Matt revealing to Karen that he's Daredevil a contradiction of the decisions he made this season, or a sign that he's growing and learning from these tidal waves of experience?
What I am certain of is that Daredevil Season 2 was unabashedly great, regardless of where I end up landing on those final sticking points. Its portrayal of the Punisher was superb, and I hope to see Jon Bernthal get serious award nomination consideration. It had insane action sequences, somehow even topping those of Season 1. It fixed the Daredevil suit to really look great. It brought back Kingpin in the perfect amounts and set up a lot for Season 3. And my goodness, Season 3 can't get here fast enough. In the meantime, we'll have to content ourselves with discussing that finale and what the show did or didn't get right.